ARC Music Festival is celebrating the spirit of Chicago by introducing stages, cuisine, and art installations inspired by the Windy City.
---
On September 4-5, Chicago will be overrun by house and techno fans from near and far who want to explore the sounds that the city birthed to the world at ARC Music Festival. Hosted at Union Park, the debut edition of the festival boasts of artists like Eric Prydz, Bob Moses, ZHU, and CamelPhat on the lineup, but what really makes this festival special is the homage it's paying to both the city and the history of house music with its art, food, and stages.
Related: Make sure to check out our top artists to catch at ARC Music Festival and stay in the know with the essential info!
House music has been blessing fans' ears for decades now, from the underground clubs of Southside Chicago to the beaches of Ibiza. But without artists such as Frankie Knuckles, Ron Hardy, and Larry Levan, house music wouldn't have existed. It's within the Windy City that this iconic genre of music was born, and ARC Music Festival has prepared for its attendees unique visual and interactive experiences in tribute to this amazing city. So read on for some of what's being offered at the debut of this festival and make sure to grab tickets if you plan on going!
---
ARC Music Festival's ode to Chicago's design and artistry will be on display at The Grid and Expansions stages.
The first of these experiences is The Grid. Inspired by Chicago's ingenious grid system, which will provide an environment for the house and tech house DJs to spin and really strut their stuff. At this stage, attendees can expect to see a stage made up of lights in bold horizontal and vertical lines. They are meant to replicate the system of streets, alleyways, boulevards, and expressways that make Chicago so easy to get around. This stage pays homage to the work and creativity that went into making Chicago such an easy-flowing city. With headlining artists like ZHU, CamelPhat, and Eric Prydz playing at this stage, it's sure to capture the hearts of anyone coming there to dance.
The Expansions stage, designed by Chicago artists Hoodie Salinas and John Schroeder, captures the essence of both the digital and the natural world. With large outgoing stalks that reach above the DJ decks and botanical decorations, attendees can expect a vibe and experience as immersive as the music that's being played. Luciano, Seth Troxler, Derrick Carter, and Cirez D, and more will be showing off their techno talents at this artistic stage.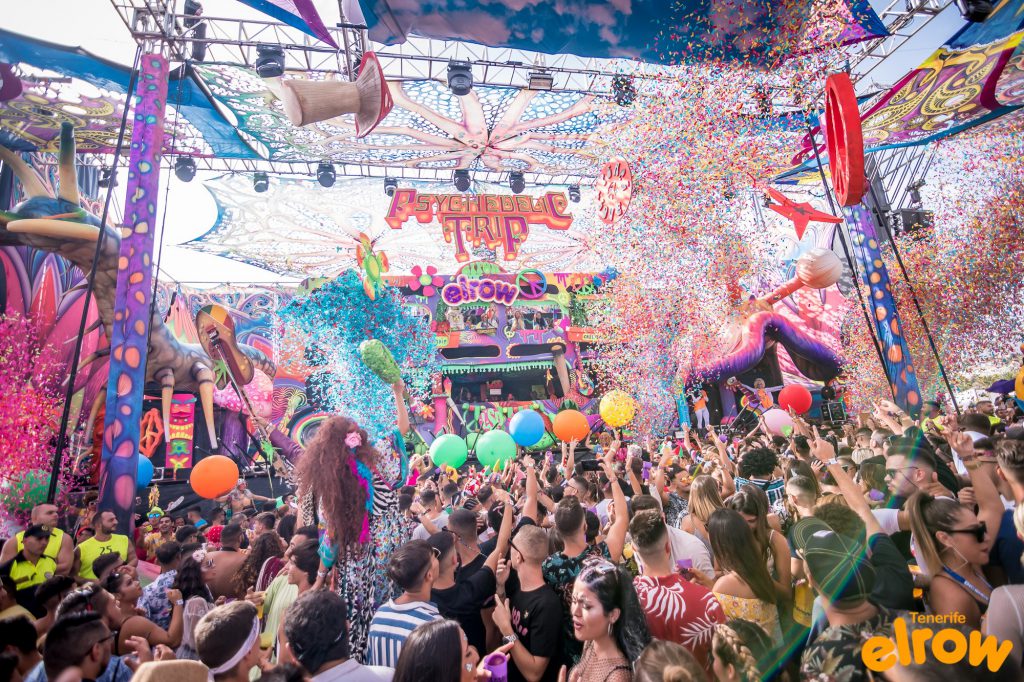 Elrow and The GoodBus will strut their stuff at the PSYCHEDELIC TRIP and The ARC CAR stages.
The PSYCHEDELIC TRIP stage is brought to Chicago by the legendary party-throwers Elrow who are masters of creating eccentric and crazy experiences for attendees. The stage will be decked out in colorful decorations to really immerse fans and capture the essence of tripping, so be prepared for performers, confetti, balloons, confetti, streamers, and even more confetti as artists like Hot Since 82, Fisher, and Patrick Topping take over the decks. Attendees will be stunned by this stage's vibe and kaleidoscopic features, and did we mention the amount of confetti this stage will have?
The ARC CAR Stage is brought to the festival by the popular Chicago party label The GoodBus. This is an actual school bus transformed into an insane mobile party unit that has appeared at festivals like Electric Forest in the past. This 10,000-watt mega powerhouse will feature incredible Chicago homegrown DJs such as Alex Kislov, GoodSex, and Inphinity, among others, and will be the perfect place to get down and groove at the festival.
From art design to food, ARC Music Festival is gearing up to be a completely Chicago-inspired experience all around.
The stages are just the beginning of how immersive this festival will be. Art installations and curated production elements will guide attendees from stage to stage and be seen all throughout the festival courtesy of Chicago artists Charles Gadeken, Xavi Penneton, and Hoodie Salinas. Culture and artistry are the heart of this festival and will be reflected through the music and art here.
Attendees can also enjoy the taste of Chicago through the food options at the festival as well. Bites to eat from Taco Mario's, Tandoor Char House, Quang Noodles, Sausagefest, El Campeon, and Connie's Pizza will be available for attendees while bopping to some great music. And if you're looking for a sweet treat then Zero Degrees Ice Cream will definitely provide something tasty to cap off your night.
Summertime-Chi is back with a vengeance and ARC Music Festival is slated to stun fans far beyond their imaginations. Will you be at the debut edition?
---
Follow ARC Festival on Social Media: