We caught up with VNSSA after HARD Summer to talk about her return to live shows, her meteoric rise as a DJ and producer, and her latest projects.
---
VNSSA has had an epic run over the past couple of years as a house DJ and producer. She's been a lover of music her entire life, starting her career in an indie rock band playing all kinds of instruments, and later transitioning into a one-woman show where she calls all the shots — and she hasn't missed a beat yet. Diving into her passion has led her to play some of the biggest festivals in the world, including her favorite festival of all time, Dirtybird Campout, where she's become a staple on the lineup.
Recently, she's graced the stage at Lollapalooza, then went straight to HARD Summer, then performed her first headlining show in her own hometown. We love to see her career coming full-circle and flourishing because her bubbly and kind spirit matches up with her addicting, bouncy house music.
Known for that uplifting, quirky house music, we saw VNSSA's style shift with her latest EP, Sinking, comprised of two tracks that are more mellow and pensive. Not only are these tracks an incredibly satisfying contrast and an absolute home run, but this EP is also her first vinyl release and is even accompanied by an NFT. Just a few days ago, she's continued to explore her sound with a remix for Peking Duk's "Chemicals." With emotional lyrics, an ominous intro, and head-bobbing breaks adding a dark and moody edge to the track, this remix has all the ingredients for a beautifully balanced banger.
We caught up with VNSSA after HARD Summer to talk about her recent accomplishments, and what we can look forward to in the rest of 2021. So make sure to snag a copy of the vinyl and read on to check out the full conversation!
Listen to VNSSA's remix of Peking Duk's "Chemicals" on Spotify:
---
Jessica: Hi, VNSSA, thank you for chatting with us today!
VNSSA: Hi! How's it going?
J: Good, great! You had just got back from Lollapalooza and then went straight to HARD, and you have a ton of shows the rest of the summer. What does it feel like to be back in the game after going so long without live shows?
V: It's amazing. I'm so happy to finally be back at it; I feel like I'm home again, you know? It's a strange, familiar feeling.
J: That's awesome. Yeah, I feel it too.
Hannah: You also recently had a daytime set Day Trip at Academy and an evening set at Day Trip Festival. Did you notice any differences playing the day versus at night? Or is there one like that you prefer over the other?
V: Actually both of them ended up being around the same time because the Day Trip show at Academy — I think I ended up playing around 6ish, which is kind of the same time I played at the festival. But I mean, both of them were amazing. The crowds were amazing. And it was just the perfect weather being sunny, hot, and everything you want from a festival.
J: Do you find that you like playing daytime sets more than playing at night? Or do you like both?
V: I like both. They're both definitely fun. For me, it's different vibes. Daytime — I'll play more tech house and disco and edit some kind of stuff like that. And if it's nighttime, I like to play harder tech house, house, and breakbeats. Because that's what I like to listen to during those times, so that's just what I like to play.
J: Right, that makes sense. Totally different vibes, but great vibes, both of them. And you've also been bouncing all over the place. How do you find time to recharge between shows? Do you have any rituals to get ready before a set and unwind afterward?
V: I just try to take a little bit of time to myself before the set, try to find some alone time in the green room, or just somewhere to take a few deep breaths and relax before going on stage. I feel like a lot of people don't realize how exhausting it is traveling, and it's not just traveling; socializing takes a lot out of me too. So sometimes I just need to take a step back, go to the green room, and reset before I go on stage. That's kind of usually what I do.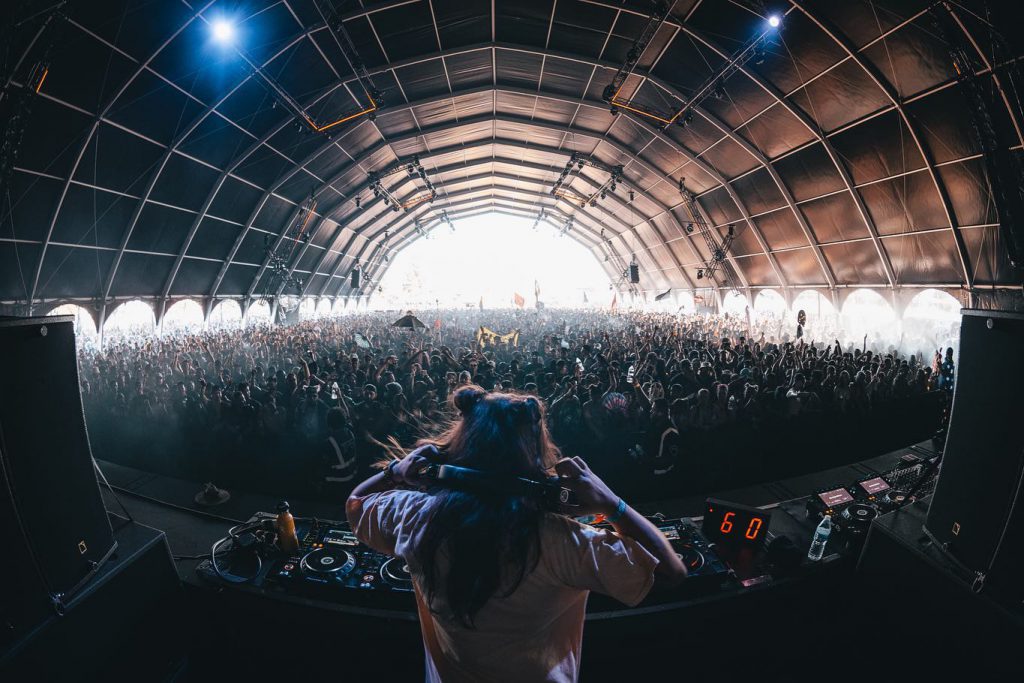 H: Awesome. So how was your relationship with music throughout the pandemic? Did you find yourself producing even more with all the free time? Or did you start listening to new genres of music?
V: I started with listening to a lot of different kinds of music. I usually listen to a lot of different genres, but specifically, different genres of house music. I was listening to a lot of breaks and a lot of deeper, more melodic music. I didn't produce more than I normally do, just because I felt really depressed at times. I tried to focus on other things and not pressure myself with making music. 
I think a lot of us also felt pressured that we have this time off, and we should be making music, but you kind of have to be in the right mental headspace to make music. It's not a thing you can just turn on whenever you want. You're either feeling creative, or you're not, and it's hard for me to force that. But I kind of just listen to what my body and my brain are telling me. If I'm feeling creative, I'll make music. And if not, then I usually don't because I end up just getting frustrated when I force myself.
J: Definitely; that makes a lot of sense. We absolutely loved the Sinking EP, by the way. These tracks did feel a little bit deeper and more emotional. Is there something that sparked that transition in sound? Congrats on the vinyl release also and the NFT! How does it feel to have your art enter the NFT space?
V: Thank you! I mean, I think Lenny and I were both kind of in a more somber headspace when we created that music. We had been in lockdown, had not seen our families or friends in so long, and had not been able to work for a year and a half. When we lost the club shows and the festivals, we didn't just lose our hobby or what we do on the weekends. We lost our livelihood; we lost everything. [Music is] our relief. It's how we cope with the world — listening to music, making music, and sharing it. And, we weren't able to do that as easily. 
So, I think we were both in a different kind of headspace when we made this, but I feel like we created something really pretty and beautiful out of it. So it's kind of how roses have thorns; some good can always come out of having that kind of inspiration and that atmosphere when you're making music.
H: You've come so far in your career in a relatively short amount of time, and congrats on announcing your first headlining show in your hometown! How does it feel looking back to when you started this whole journey?
V: It feels great. It doesn't feel like it was a short time, just because I've been on a musical journey my entire life. But, it feels really good to finally play my first headlining show in my hometown. It's kind of a full-circle moment to go back to where it all began. I might get emotional when I play because it's just such a crazy thing, you know?
J: Yeah, I can imagine being emotional and having that full-circle moment. What are some of the highlights of your musical journey that brought you here today? What do you feel have been some of your greatest accomplishments so far?
V: I'm really proud of myself for basically learning how to produce; it's one of the hardest things I've ever done. And I still don't consider myself a true expert, but I feel that's one of my greatest accomplishments — just sitting there in front of my computer for eight hours a day and forcing myself to like, learn more, trying to absorb as much as I can. Some people I feel like are just born with great talent, and other people have to learn it. And it's really hard to not give up. It takes a lot of drive. So I just feel like for me, that's one of my greatest accomplishments.
H: You've also secured your spot at Dirtybird Campout. You've graced the stage at HARD summer just now and Lollapalooza, back to back. What's next on your bucket list for the rest of 2021 and beyond?
V: I want to release more music on labels that I love. Hopefully more on Dirtybird, and playing bigger and bigger festivals. I think one of my goals for next year is going to be to start incorporating more live elements into my DJ sets. I used to play drums in a bunch of bands, so I'm looking forward to incorporating live drumming into some of my sets next year, but I just have to see how it works out and stuff. So hopefully I'll accomplish that.
H: I'm sure you will! That's so cool.
V: I really love what LP Giobbi does playing piano live, and I just want to do more of that kind of thing.
J: Yeah, we'll be looking out for that for sure. Well, that's all the questions that we have for you today unless there's anything else you want to share with our readers?
V: I also have a new track coming out on August 5. It's a remix for Peking Duck.
J: Nice! How did that come together, and what does the project mean to you?
V: They asked me to do a remix, and I kind of wanted to just do something a little bit different. It's a melodic, big room house song, and I wanted to make it a little bit darker. So I kind of just did an underground melodic breakbeat twist to it.
J: Wow, we can't wait to hear that! It was awesome catching up with you. Thank you so much for taking the time to talk with us!
H: Yeah, thank you! We'll see you at the next show!
V: Thank you! I'll talk to you guys soon.
---
Follow VNSSA on Social Media:
Website | Facebook | Twitter | Instagram | SoundCloud