Peking Duk Talks "Fake Magic", Live Shows, & More!
---
Adam Hyde and Reuben Styles make up the Australian duo Peking Duk, who have been bringing the summer vibes in full swing this year with hit track "Fake Magic". Their backgrounds in the music scene stem in hip hop and rock, both of which continue to show up throughout their productions and live performances to this day. Releasing their album Songs To Sweat To back in 2015, they made a name for themselves with tracks like "High" and "Say My Name" with fans both Down Under and in the US.
Playing festivals and shows all over the world, Peking Duk has taken the stage at Coachella in 2015, Stereosonic, and most recently blew our minds with a fantastic live performance at Splendour In The Grass. Check out their recap video of the live show below and read on for our chat with this dynamic duo.
Watch Peking Duk Live at Splendour In The Grass on Facebook:
---
Back in June, you released "Fake Magic" which we've been jamming out to all summer. What has been your favorite part about playing the track out live?
Reuben: We've recently started playing shows as a live band and my favorite part about this track, in particular, is the sheer danger of messing up that bass riff on the drop. Hilariously, at Splendour in the Grass festival in front of 20,000 people I tried to get tricky by flinging the bass over my head, it then whacked AlunaGeorge on the bum with the tuning pegs, and in turn was completely unplugged afterward. I had no bass sound coming out for the entire second drop. If for other shows I manage to keep it plugged in I still loathe the thought of playing it out of time, the fear is what makes it so exciting and nerve-racking!
What brought you together with AlunaGeorge to collaborate on the track?
Adam: We always wanted to get her on the track ever since we wrote the initial outline of the song over a year ago! It was a dream come true to have her onboard. She's a legend.
The recap video of your live performance at Splendour In The Grass blew us away. Does this mean we'll see more live performances in the future?
R: Absolutely. We hope to bring our full live show to the US sometime early next year. It is without a doubt the next step forward for Peking Duk. We've been DJing forever and it's time to challenge ourselves not only as musicians but as performers as well.
Does playing a set live with instruments change the way you approach things like transitions and track order?
A: Yeah for sure, we did a lot of DJ to live transition edits and vice versa. If anything it makes it a million times more fun being able to create exciting transitions into different songs and finding ways to make the crowd get excited about the flow of the set.
Having played at clubs and festivals all over the world, has there been a show that sticks out as special?
R: Probably Coachella 2015, it was still to this day the best crowd we have played to in the states but more importantly, the best festival for wandering around and seeing all your fav acts. We watched The Weeknd with DJ Snake and I was about to bounce and find a drink and Snake said: "hold up you don't wanna miss this…"
Then, not even 20 seconds afterward, all of The Weeknd's LED lights went red and his lights went off, he was merely a silhouette with a red background. Then there was a second silhouette, a song began, and we immediately heard the second figure on the stage was Kanye. The following 20 minutes were madness and I will honestly always remember this as the greatest festival moment of all time.
What differences do you feel there are between the scene in Australia compared to North America and Europe?
A: To America, I feel EDM is fairly new as it also is in Australia. In Australia, they vibe on more eccentric stuff it feels like, on the Flume tip. Americans seem to love big four to the floor bangers or massive trap head snappers. Europe has been on that shit for years which is dope so we can't wait to play over there for the first time hopefully soon!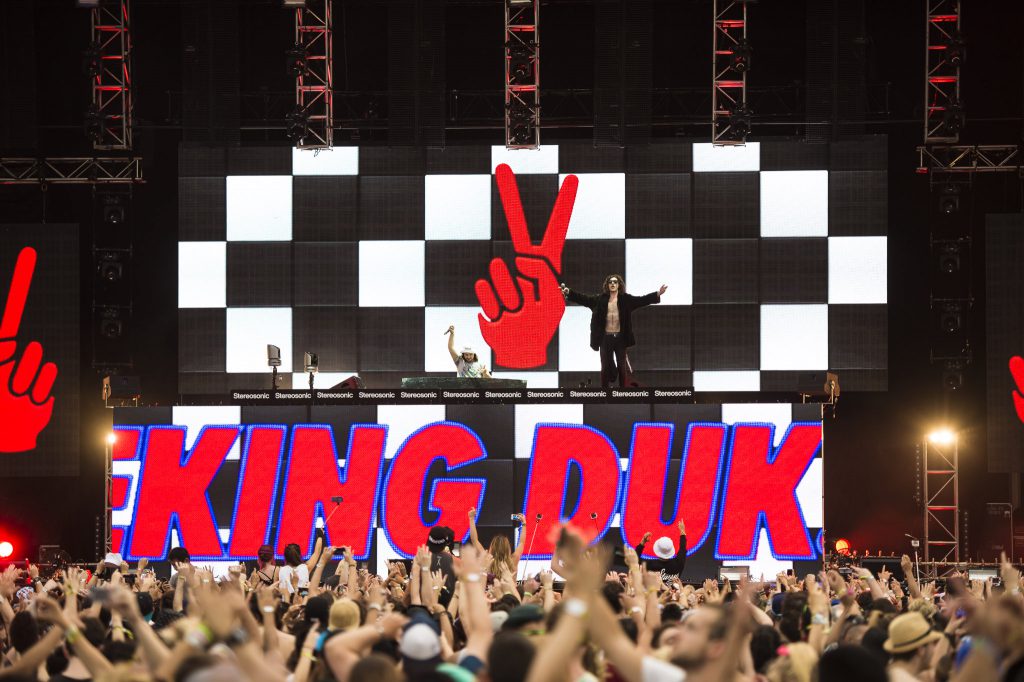 Not only are your original tracks fantastic, but there are plenty of remixes of them which shine too. How do you go about selecting the artists to produce official remixes for your tunes?
R: We want to find a remixer that will make the song sound nothing like the original. The Y2K remix of our song "Stranger" is a perfect example of this. The remix barely resembles the original but he's kept our vocal melodies and lyrics. Remixers that change the chords underneath the melodies, change the style of the drop, and grab things from the back of our mix and bring to the front of theirs are the best remixers.
If you could both go back in time to when you began Peking Duk and tell yourselves one piece of advice, what would it be and why?
A: Trim your pubes you sick fuck.
Who are some of your influences as artists that made an impact on your releases today?
R: There are too many. We've always been obsessed with Kanye and The Strokes, but we never would've got into dance music had we not come across The Bloody Beetroots, Crookers, and Fake Blood. At the moment we are easily influenced by anything from the sound of elevators to anime movies.
What is in store for fans of yours in the remainder of the year? Any releases or shows we can catch you at soon?
A: A lot more music and a lot more additions to our new live show. We can't wait to share it all with everyone
Finally, what are your top tips for beating the heat and staying cool during the summer?
R: Get a shiny yellow 'ghini, ride around town with your pants down.
---
Connect with Peking Duk on Social Media:
Facebook | Twitter | Instagram | SoundCloud | YouTube