After dropping his latest tune, "Doubt In My Head," Fryar chats with us about working with Mersiv, his favorite plug-ins, and more!
---
The underground bass scene is flourishing with countless emerging artists entering the game and showcasing their unique sounds. Amongst plenty of names to watch out for, Fryar remains at the top of our radar – and for good reason. Following recent releases "Doubt In My Head" and an EP with Mersiv, Paradise, he's gained even more traction with his atmospheric sound design comprised of walloping basses, hip-hop infusion, and transcendental melodies.
Having been introduced to electronic music his freshman year of high school, Fryar began his production journey as a teenager and hasn't let up since. Snatching the attention and support of fans and artists around the nation, he continues to push boundaries with mechanical expertise. And with an assortment of incendiary self-releases in addition to label releases with WAKAAN, Electric Hawk, SATURATE, and Wavecraft Collective, he only further proves how hypnotizing his otherworldly sonic artillery can be.
Now, as live events make their gradual return post-pandemic, Fryar is gearing up to grace stages with his powerful sound. Before he set off on his next run of shows, we had the pleasure of speaking with the artist about his recent releases, creative processes, and which artists he'd love to work with. Check out "Doubt In My Head" below or stream or download on your favorite platform, and read on for an inside look at the person behind the Fryar project!
Stream Fryar – Doubt In My Head on Spotify:
---
Hi Matt! Thanks for taking the time to chat with us! First off, let's unpack how you got started on your journey as Fryar. How were you introduced to the electronic music scene and what made you want to pursue producing?
I remember the first piece of electronic music I really got into was Skrillex's Scary Monsters and Nice Sprites during my freshman year of high school in 2012. My brother, who is three and a half years older than me, showed me Skrillex, NERO, Bassnectar, and a bunch of cool artists that were all new to me.
I hated it when I first heard it – I thought it was just computer music but I slowly came around by the end of my freshmen year and started to dive deep into how they made this music and knew I wanted to make it myself. I was always really into music before this, I played violin all throughout middle-high school and my brother taught me some guitar and had a drumset, so by the end of my freshmen year I started producing on a free online DAW called Audiotool and that's where it all began.
Even your earliest releases have such a distinctive and powerful sound. Have you always known what direction you wanted to go in sonically or did it take some experimenting to nail your trademark sound?
I still don't believe I have nailed it and I doubt a lot of artists believe they've hit their trademark sound besides the legends, it's a constantly changing thing. I just knew when I started that I didn't want my music to sound like anything else I've heard on SoundCloud in the scene. I have clear inspirations for my music, but getting caught in the trap of comparing my music with others is something I never set out to do which helped me settle on the music I'm making now. It's always evolving though!
Congratulations on your most recent release "Doubt In My Head!" Can you talk about the creative process behind this absolute banger?
Thank you! I usually write my songs backward from the drop and then back to intro/build and then to breakdown and second drop. It almost always happens this way. My techniques for sound design haven't changed much in the past year, I've stuck with the same general ideas when it comes to basses/melodies with some tweaks to achieve a consistent sound with past releases. I hope to come with something fresh for the Fryar project on my upcoming tunes, I think I've rinsed my current techniques out to their max.
Your collaborative EP Paradise with Mersiv is still making waves throughout both the underground and mainstream bass scenes. What was it like to work with Mersiv, and how do you feel your methods and sounds complement each other?
Mersiv is such a creative/hardworking individual and an all-around great dude. It was a lot of fun working with him, with most collabs I feel some push/pull when they send me the idea back and I don't like all of their changes so we compromise. I'm pretty open-minded but songwriting for me is a very personal process and everyone has their own idea of it. When making those songs with Andy I didn't experience that push-pull, it was really smooth and happened within one session of sending it back and forth. I would love to write a longer, four-track EP with him soon – which is what we've been talking about recently.
I know there's talk about a future collaboration with MIZE (at least, we all can hope), but if you could pick any artist to work with either within or outside of electronic music, who would it be and why?
Oh yeah, Ian and I have had like four ideas we've sent to each other so far, I really want to make one work with him. His melodic elements are so cool. Within the scene? I would love to work with Moody Good on a catchy tune like "Fall In Love" or even something heavy like "Squeaky Clean"/"Hot Plate." He inspires me more than any other artist currently.
Outside of electronic music, I would love to with the 1975 and produce some instrumentals for their lead singer Matty to jam on. I have a bunch of indie-style beats in that genre that are a lot of fun to make. I also really want to get more into punk production, The Story So Far is one of my favorite bands and I've always wanted to write a song like theirs.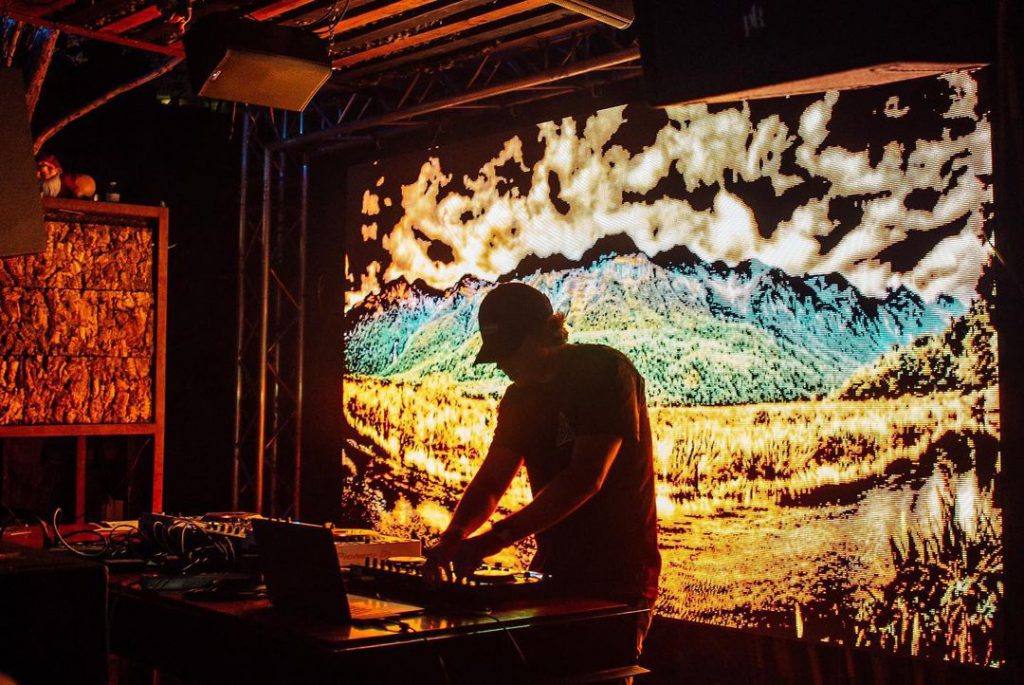 The layers to all of your tracks absolutely blow me away, and I'm curious to learn about the production process behind your music. What are some of your favorite plug-ins that your songs couldn't exist without?
Thank you! Whoever wrote these questions deserves a promotion. I use the hell out of serum's reverb, Ableton's vocoder on basses, and Soundtoys' crystallizer for FX/background noise that matches the tune of my tracks. Mainly reverb sweeps and crystalizer adds a lot of depth and layers to the tracks in the background while the main sounds take up the meat of the tune.
You tweeted the importance of taking a step back from music when you feel some writer's block coming on. What specific strategies do you use to recharge your mental health and reignite your creative drive?
Everybody, especially people that have to spend a lot of time on social media for music/exposure, needs to be able to take a step back when they feel burnt out or unhappy. That helps me with my mental and also physical health a lot since I find time to exercise or be active when I'm not on my phone. I like to read as well, mainly philosophy books, and working out whether it is lifting weights or running outside. Hanging out with family and friends is a good stress reliever as well if they're positive. I think all of those things improve my mood, which helps me when I sit down to work on music.
It looks like things are finally looking up for the live music industry after COVID. Can we expect to see Fryar grace stages any time in 2021?
Yes! August and September I am very active – I'm playing about four shows in August all over the East Coast, and then playing FireLights Fest on September 9 with a lot of talent. I'm most notably playing the Black Box in Denver on September 4 for the Electric Hawk takeover.
Here's a little bit of a fun question for you to wrap things up: If you had to use visuals from a movie to play the entire time while you perform, which movie would you choose?
Ah man, I think Step Brothers would be funny. I would like to loop the Boats N Hoes music videos as visuals during my sets. That might be a solid idea lol!
---
Follow Fryar on Social Media:
Facebook | Twitter | Instagram | SoundCloud