Champagne Drip is coming in hot with Champagne Trip, a release packed with some of the dirtiest and unique beats we've heard from him thus far.
---
Champagne Drip has been making waves since emerging on the scene back in 2015. Since that time, he's grown immensely as an artist, widening his sound design with every release. From his first release Radio Bikini to "Screw Up" to more recent releases like "Cold Case" with G-Rex, Champagne Drip continues to grow and highlight his versatility as a producer. Whether he's releasing dirty bangers or more light-hearted tunes, everything he touches turns into gold. Now, he's releasing one of the heaviest projects of his career with Champagne Trip, out now on WAKAAN.
This exceptionally talented producer came in swinging with his latest EP, putting on display an epic assortment of sounds. Typically sticking to the heavier side of his sound, fans still get a little taste of his sweeter side with "In My Dreams" with LINNEY. But aside from that, the other four tracks on Champagne Trip are enough to make the ground rumble under your feet.
With all the new music he's been releasing and events back in full swing, he's about to throw down some massive sets. Paired with the release of this new EP, Champagne Drip also announced a 50+ stop North American Tour. Set to kick off on Friday, August 13th in Florida and continue on from there. He'll be making stops at a handful of venues and festivals, including Red Rocks, North Coast, and Electric Zoo. So if you have yet to see a live set from Champagne Drip, this tour is the time to change that.
Stream Champagne Trip on your preferred music platform and read on for a more in-depth dive into his latest creation.
Stream Champagne Drip – Champagne Trip on Spotify:
---
Champagne Drip really went all-in on this EP and brought out the big guns.
"Initiate" is a banger of a tune, it's packed with tasteful distortion and deep, heavy kicks. I couldn't help but start dancing and throwing my arms around when I was listening to it and just thinking about hearing this one on a massive rig at a festival makes me grin with happiness. From there, the mood changes from a moment on "In My Dreamz." On this tune, listeners will hear that signature Champagne Drip sound, the one that feels like you're being rained down upon with each beat – and LINNEY's vocals are the absolute icing on the cake.
Next up is "Acid Drop," and the producer wastes no time getting right to the point. The intro quickly builds, filling listeners' ears with acid-like synths that lead them to a drop worthy of the highest praise. When fans hear this for the first time their jaws are going to hit the floor. There's not a moment during this track where you'll have a moment to catch your breath. Just heavy, disgusting, gut-punching bass hitting you again and again.
Things start off slow and hypnotic with the next track off the EP "Slam," easing fans in for what's to come.
When that first drop comes in on "Slam" it really does feel like Champange Drip and PIERCE are slam dunking on the ears of listeners. This tune is packed with static-like bass and a beat you can't help but bop around to. Then, the final track on Champagne Trip arrives and is full of surprises. "Technosexual" starts it off with dark techno beats getting listeners into the groove. Shortly after, he meets us with an impenetrable bass that would rip through any system it touches. Throughout the rest of the track's runtime, he continues to switch it up from the dark grooves to the monster heavyweight sounds as he blends the two genres together seamlessly.
Ending the track with such a dynamic tune was the best way to bring Champagne Trip together and showcase Champagne Drip's versatility as a producer. Now that we're finally given a moment to catch our breaths and unpack from the epic journey through his mind and vibrations, it only gives us one question: what can we expect from this rising bass behemoth next?
---
Champagne Drip – Champagne Trip – Tracklist:
Initiate
In My Dreamz with LINNEY
Acid Drop
Slam with PIERCE
Technosexual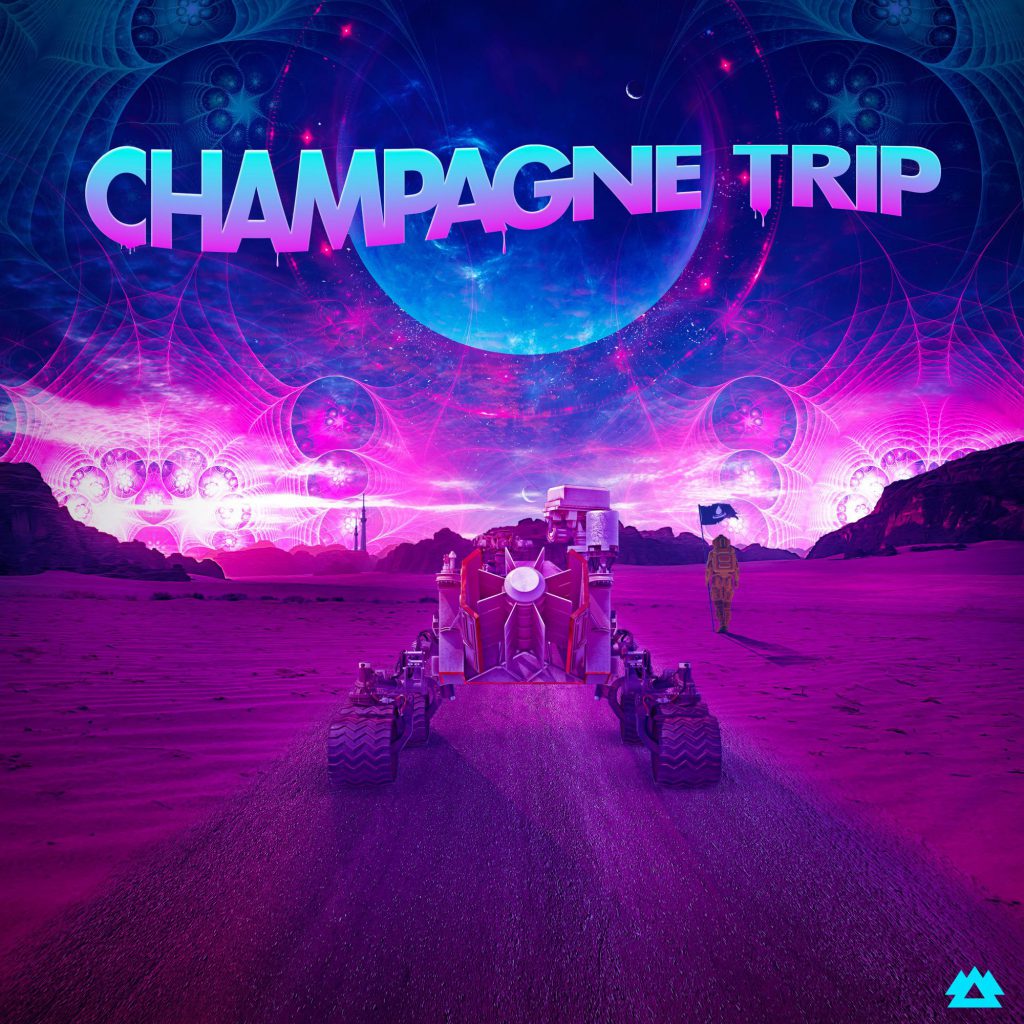 ---
Connect with Champagne Drip on Social Media:
Facebook | Twitter | Instagram | SoundCloud | YouTube