Underplayed is a documentary that sets off to explore the inequalities that many of the talented women in music have and continue to face.
---
The Electronic Dance Music industry is one that's male-dominated. And if you haven't noticed that fact by now, it's about to be very, very clear due to the work of Stacy Lee with her new documentary, Underplayed, which aims to bring visibility to gender inequality issues within the music industry.
This issue is not just limited to our favorite DJs and producers who are women, either. Sure, some of our music heroes are big names like REZZ, TOKiMONSTA, Anna Lunoe, Nervo, and Alison Wonderland, most of whom have even built strong followings (cough, cough, Cult of Rezz). But women from all sectors in the industry continue to experience sexism, underrepresentation, harassment, and ridicule on a daily basis. The sad fact is that even though we have come a long way, we still have a ways to go.
Underplayed comes out on September 19 and has already garnered a lot of praise as an official selection in both Toronto International Film Festival 2020 (TIFF) and Tribeca Film Festival. Check out the trailer below and head over to their website to learn more about the documentary and read on for more insight on the documentary!
Watch the trailer for Underplayed on YouTube:
---
Underplayed was shot over a period of six months as she follows the lives of female DJ's and producers such as TOKiMONSTA and Alison Wonderland, and others like Sherelle and underground artists such as Tygapaw. The best part? An all-female crew made it!
Director Lee is no stranger to gender inequalities and has faced the issue herself. Being a female filmmaker in an industry that is also very underrepresented, she's still managed to amplify her own voice along with many others. Her focus is primarily on humanity, music, and movement.
In the trailer, you'll see that only 5 of the 100 top DJ's were female. So while women in the industry do exist, many do not get the praise, recognition, and opportunities they deserve.
Documentaries like this are so important and hopefully will inspire more women to become musicians themselves. We're so grateful for artists like Alison Wonderland for talking about it now and giving a voice to a very real issue that needs to be talked about. Women are badasses who deserve to be lifted up and admired, especially for all of the obstacles they have to overcome and face every day.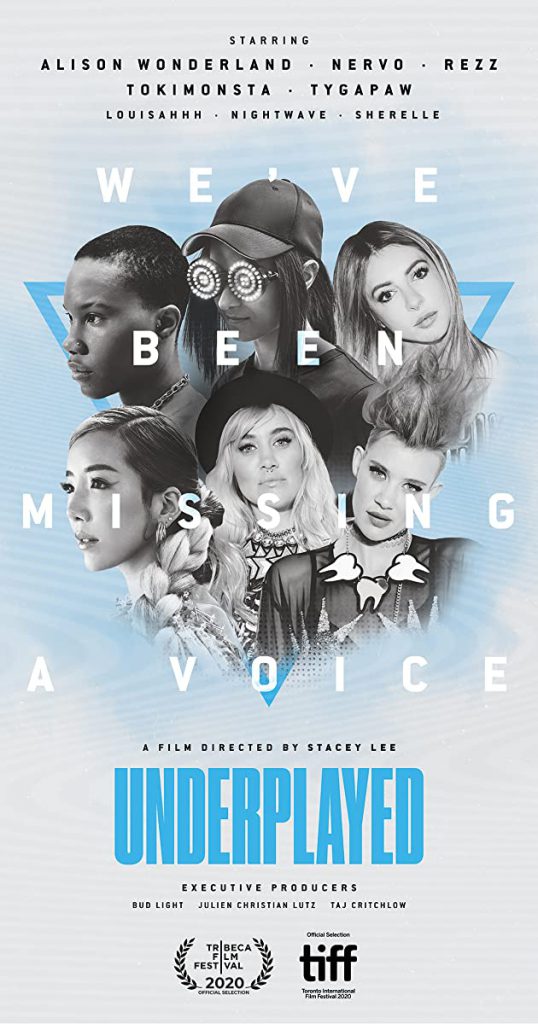 ---
Follow TIFF on Social Media for Updates on Underplayed.