After a fantastic debut earlier this year, JEANIE and GRL GANG are back with another GRLFEST featuring a stacked lineup!
---
Over the past year, JEANIE and the GRL GANG have been curating some unreal tunes while furthering their mission to foster support and empower women in the dance music scene. Carving out their space with compilations like RIOT and a plethora of stunning mixes, they kept the vibes rolling this summer even in the face of the pandemic with the GRLFEST livestream. Now, they've announced the second edition of the virtual event and it's filled to the brim with artists you simply can't miss.
Set to take place on November 14-15 over on the GRL GANG Twitch channel, GRLFEST 2 will dominate speakers with some seriously talented artists. Headliners who have been announced to play over the course of the weekend include COM3T, Huxley Anne, Jessica Audiffred, and KLO, but it dives even deeper from there with rising stars including TEK SAVVY, Vybrant Vibes, Pennywild, and D3vinity to name a few.
GRL GANG will donate 100% of the proceeds from GRLFEST to the Global Fund For Women a non-profit that helps fund women's human rights initiatives, so make sure to give back during the stream to support a good cause. For those interested in joining the community, GRL GANG has a Discord server where female artists and industry workers can connect and share their work. The sky is the limit for this amazingly talented group of women!
Stay up to date with GRLFEST on Facebook, follow GRL GANG on Twitch to know the moment they go live, and let us know who you're most excited to see in the comments below!
Watch GRLFEST 2 on Twitch:
---
GRL GANG GRLFEST 2 Set Times:
---
GRL GANG GRLFEST 2 Lineup: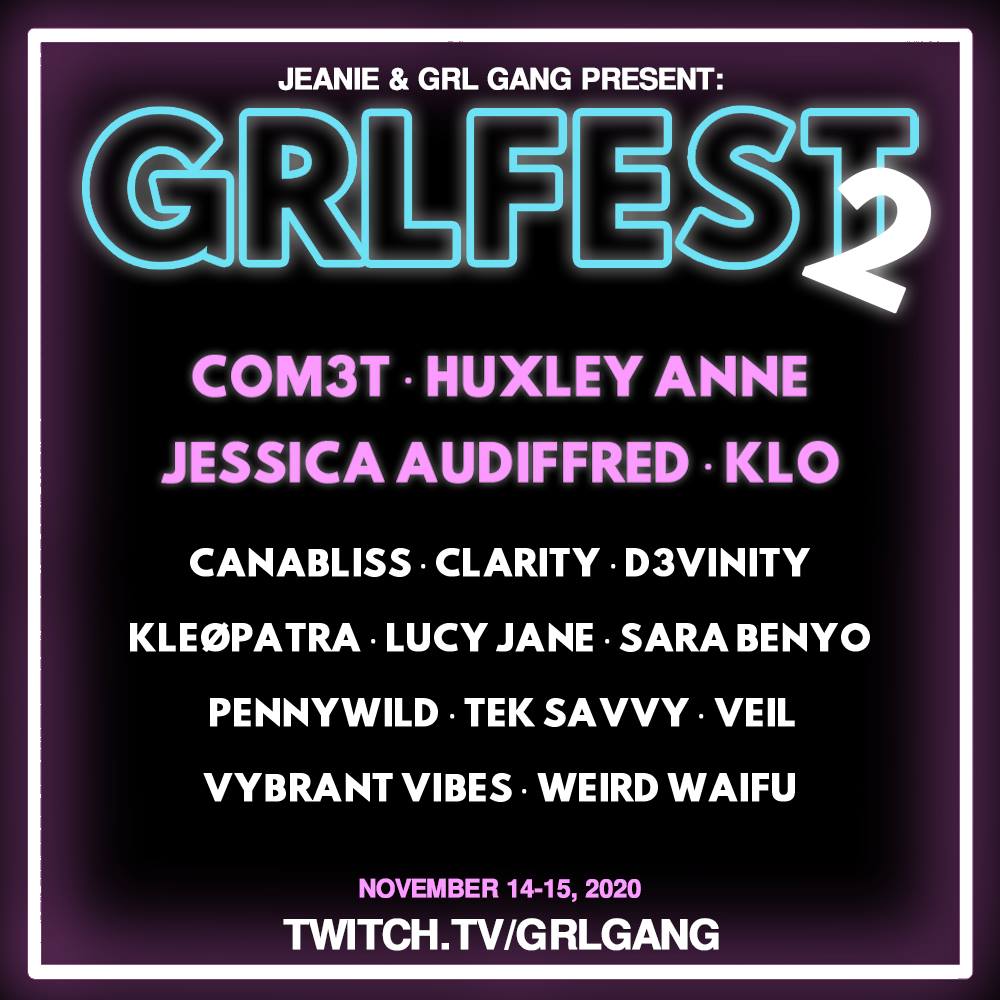 ---
GRL GANG GRLFEST 2 – Lineup By Artist:
COM3T
Huxley Anne
Jessica Audiffred
KLO
Canabliss
Clarity
D3vinity
Kleopatra
Lucy Jane
Sara Benyo
Pennywild
TEK SAVVY
VEIL
Vybrant Vibes
Weird Waifu
---
Follow GRL GANG on Social Media:
Website | Facebook | Twitter | Instagram | SoundCloud | Twitch