Biicla swung by to chat about "Getting High," life and the dance music scene in Russia, and where you should go when visiting Moscow!
---
It has been an exciting year for indie-electronic producer Biicla because although he is from a small town in Russia, his music has found its way across the airwaves around the world. This singer, songwriter, and multi-instrumentalist burst onto the scene with a fresh sound that combines the hard-hitting elements of future bass with grungy synths, hip-hop grooves, and experimental nuances – and he hasn't looked back since.
Over the past year, Biicla has kept busy releasing his debut album No Place, a plethora of singles and remixes, and most recently his Outside EP which beautifully showcases his unique production style and gives listeners an insight into his mind. Now, as he continues to take the world by storm, fans will finally be able to experience all the incredible productions Biicla has been working on in concert as he makes his way stateside performing at Insomniac's Lost In Dreams, Deadbeats Revival Tour, and Illfest, as well as direct support for EVAN GIIA and TOKiMONSTA on their upcoming tours.
Biicla has undoubtedly been releasing some of the most infectious dance tunes and should be an artist to keep on your radar for 2021 and beyond. And with that notion in mind, we jumped at the chance to chat with him about his recent releases, what's to come, and a taste of the scene in Russia, check it out and listen to his hour-long mix!
Stream EDMID Guest Mix 282 || Biicla on SoundCloud:
---
Hi Biicla! Thank you for taking the time to answer our questions ahead of the release of your Outside EP. Environment and music go hand in hand, so on a larger scale, can you speak more to the local scene and development of electronic dance music culture in Russia?
Hey! It seems to me that electronic music is not as popular in Russia as in the whole world. People love songs that you can sing along to, and pop remixes of hip-hop hits are played in clubs. Actually, the techno scene is developed quite well in my opinion; but as for experimental electronic and bass music, it's definitely a little better in the States.
Fans got their first taste of the EP in the form of its first single "Getting High". The song has a melancholic, almost withdrawn feel to it, that fits so well with the vibe you've created. Were you feeling this specific way when you produced the track or was it more a manifestation of something else?
When you listen to the track "Getting High" for the first time, you think it's about a girl, but it's not quite true. This is a song about addiction, the main character is definitely not getting along with himself and he tries to relax and disconnect from problems in this way. During the addiction, he finds a muse, whom he asks to stay. 
Actually, it's not about me, but I like to present such stories and create a whole concept from the track that conveys the mood.
You also released an accompanying music video for "Getting High" which was filmed in your apartment. Directing the video, what was it like working on a visual component and what was your vision for the video?
When I made this track, I already knew what the music video would look like. This is exactly the mood I was in, at that moment. I like simple and clear visuals. The whole shooting process took only a couple of days along with the installation. The difficulty was to make a static video diverse and interesting. I like what happened in the end, and most importantly, I like to do everything myself.
The second release from the EP is a track titled "Outside" which follows the theme of "Getting High" as we were all stuck inside the last year and a half – but are now able to get out of that rut. How much of "Outside" was influenced by the healing of the world?
To be honest, it is difficult for me to judge such things. I just do what I like and I am sincerely happy when people find a response in my music.
Last year, you released your debut album No Place, how did that album come to be and how did you envision the tracks coming together? Will your forthcoming release follow the first album's vision or do you have a new one in mind?
Now I just want to collect my best music and share it with people. I feel that I must complete the story with a trilogy. I have prepared the most interesting tracks for the upcoming album. I like to experiment and the next chapter will be the final one. Next, I would like to work with big names. So keep an eye on what will happen in the future!
Another one of your recent releases that I personally love is your remix of Emmit Fenn's "We Could Have It All". What was it about this track that made you want to put your spin on it?
I was delighted with Emmit's vocals, having heard some of his earlier work. When I was offered to work on the remix, I already knew how the remix would sound. This remix was a great experiment for me, as it was the first time I recorded live guitars with my friend. It turned out to be very cool in my opinion.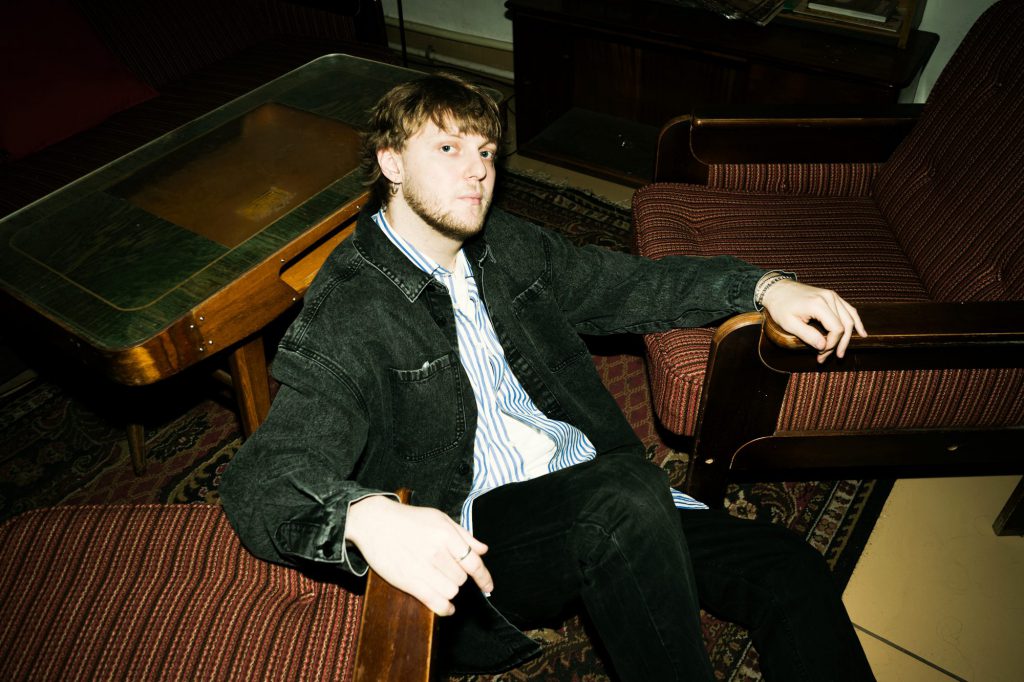 You are set to play a handful of shows across North America in support of EVAN GIIA on her tour, as well as at Lost in Dreams, on the Deadbeats Tour, and illfest. Can you share any details about your show and performance to hype fans up?
This is all a great adventure for me. It's all happening so fast and it's amazing. I've been playing as a DJ for several years and listeners in the States should be interested in what unusual things this guy from Russia does in his sets, a country with a completely different mentality.
What other exciting projects and visions are you working to bring to life that you can share details about?
Right now I'm focused on my album and preparing new music for upcoming shows. Everything should be perfect and meet the expectations of the audience.
And, finally, just for fun, for anyone that wants to visit Moscow for music, what venue, club, dive bar, do you recommend for music and where should they eat before/after?
Cool question! I think the main thing is not where, but with whom to spend time. Russia has very hospitable people, there are a lot of very friendly people here. So you should definitely get acquainted with someone and they will tell you everything and show you the local scene. Personally, I'd advise you to visit the Mutabor club, as well as Blanc and Powerhouse. Drink real kvass and eat borscht with lard, smoked fish, and pancakes with red and black caviar.
---
Follow Biicla on Social Media:
Facebook | Twitter | Instagram | SoundCloud | YouTube