Are you getting pumped up and prepared for HARD Summer this year? Stay in-the-know with this essential info and take solid steps to beat the heat.
---
It's getting real! HARD Summer 2021 is taking place in just a few days. Each year there are two things for certain that happen for this beloved SoCal festival. First, the lineup is ALWAYS stacked, and second, it's going to be hot, hot, hot. With an absolutely fire lineup of diversified talent, and weather forecasts in the high 90's in San Bernardino, 2021 is taking us right back down the same familiar path we know and love.
As fun as HARD Summer is, dancing in the heat is no joke. But as long as you're prepared, you're sure to have a blast. Since this year's event is at the NOS Events Center, I have hopes that there will be more shaded areas and places to cool down compared to previous super-sunny LA venues — but it's still a gamble, so wear something you're ready to sweat in and remember to stay hydrated! You'll also want to bring a light sweater with me for nighttime, just in case the temperatures drop a bit.
In order to beat the daytime heat and have a safe time, we recommend bringing some (or all) of the following items: sunscreen, sunglasses, a fan, a hydration pack, a cooling towel, hand sanitizer, and maybe a handheld mister fan. Take care of yourself, your friends, and your fellow festival-goers! Check out our Playlist, Top House Artists and Bass Artists to Catch, and read on for all the crucial info below on what to bring, do's and don't's, and venue information… we'll see you on the dancefloor!
---
HARD Summer 2021 Essential Info:
Dates: Saturday, July 31 – Sunday, August 1
Hours: 2pm – 12am, daily.
Will Call Hours: 1:30pm – 11:30pm daily.
Venue Address: 689 S E St, San Bernardino, CA 92408
Tickets: This event is sold out. Join the waitlist here.
Facebook Event Page: RSVP HERE
Acceptable Forms of Identification for Entry
Any US government-issued driver's license or ID card containing a photograph and date of birth
US or foreign government-issued passport containing a photograph and date of birth
Foreign government-issued driver's license/ID with color photocopy of passport (Not valid for 21+ wristband. To purchase alcohol or enter VIP+ areas, a physical passport or US ID will be required.)
Temporary DMV documents proving you are currently renewing a license—ONLY if accompanied by passport or expired license
Unacceptable Forms of Identification for Entry
NO School ID
NO Consular ID
NO Birth certificate
NO Expired ID of any kind
NO Photocopy of any ID (except as noted)
NO Temporary DMV license without passport or expired license
---
Reminder To Mind Your Belongings:
Unfortunately, many people have reported pickpockets, bag slashings, and theft of wallets, smartphones, purses and other valuables during this festival season. While this small number of bad apples in the bunch doesn't define an entire crowd, there are opportunistic people who come to these events to take advantage of unsuspecting partygoers and it's important to be mindful of your valuables while at HARD Summer.
Looking for tips to keep your belongings safe? Check our post highlighting some ideas!
---
HARD Summer 2021 Set Times:
---
HARD Summer 2021 Festival and Parking Maps: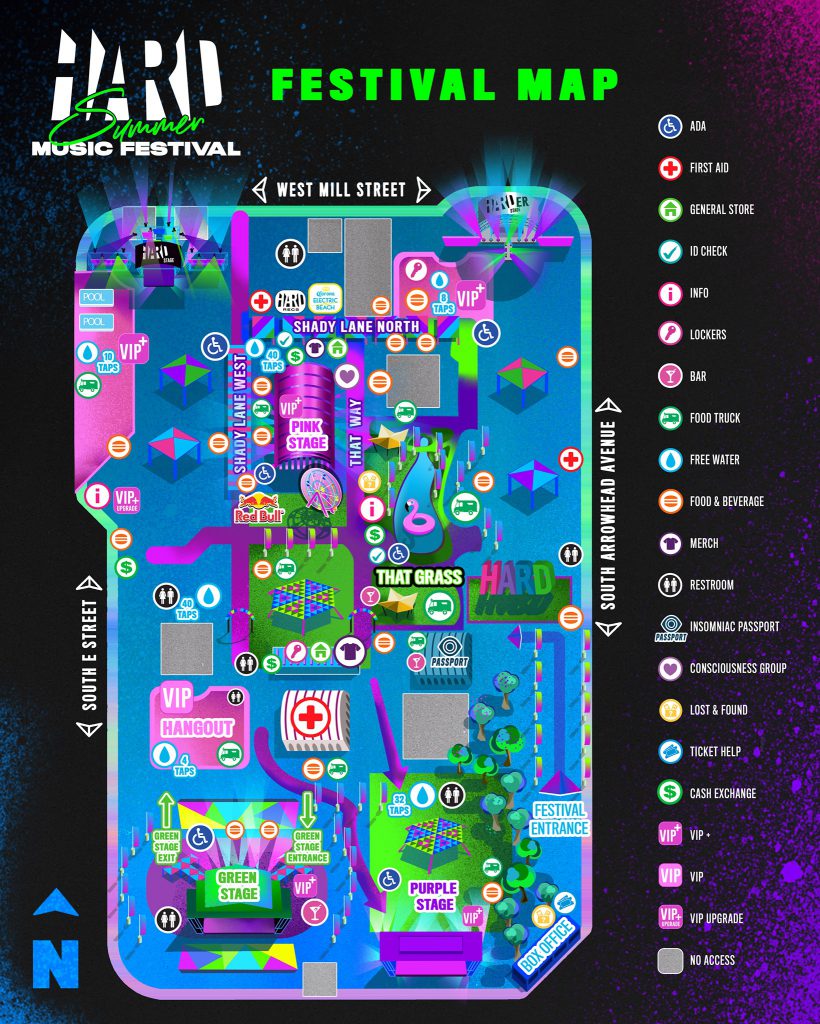 ---
HARD Summer 2021 Do's & Don'ts:
Prohibited Items
NO Aerosol products/cans
NO Air horns
NO Backpacks
NO Balls or Frisbees
NO Blankets
NO Bota bags
NO Costumes resembling law enforcement, life guards and/or first responders
NO Drones, remote-controlled aircraft, toys
NO Drugs or drug paraphernalia
NO Unsealed E-liquid or E-juice of any kind (a selection of premium E-liquids will be available for purchase inside the venue)
NO Eye drops (available inside festival at the general store)
NO Gas masks
NO Glass, cans, cups or coolers
NO Helium balloons
NO Illegal substances
NO Large chains or spiked jewelry
NO Large purses, bags or backpacks (over 12″×12″)
NO Laser pointers
NO LED gloves or LED microlights used for light shows
NO Lightsabers
NO Liquid makeup
NO Markers, pens or spray paint
NO Massagers
NO Open packs of cigarettes (upon entry)
NO Outside food or beverages (including alcohol and candy)
NO Over-the-counter medication (available inside festival at general store or from a first aid station)
NO Pacifiers
NO Pets
NO Professional photo, video, or audio recording equipment (no detachable lenses, tripods, big zooms or commercial-use rigs)
NO Stickers, flyers
NO Stuffed animals or dolls
NO Unsealed tampons or pads (upon entry)
NO Tents, large umbrellas or chairs
NO Toy guns, water guns, slingshots
NO Weapon or weapon accessories of any kind, real or fictional (including whips, lightsabers, pocket knives, pepper spray, fireworks, fake weapons/props, etc.)
NO Wind chairs/sofas
Permitted Items
YES Cell phones and portable chargers/external batteries
YES Cigarettes and lighters (cigarettes must be sealed upon entry)
YES Deodorant (must be sealed upon entry)
YES E-cigs/vapes (refillable liquid chambers OK, must be empty upon entry—factory-sealed E-liquid or E-juice is OK)
YES Earplugs
YES Fanny packs
YES Festival totems or decorated pool noodles—height 5 ft. or less, no solid poles, no metal more than 1″ in diameter (see Totem Guidelines)
YES Flags/banners or handmade signs (no corporate/company-branded and no hard flagpoles)
YES Glowsticks & glowing/illuminated costumes or jewelry
YES Gum (must be sealed upon entry)
YES Hula hoops—including LED hoops
YES Hydration packs with no more than two main compartments and one smaller compartment—must be empty upon entry
YES Inflatables (must be deflated upon entry)
YES Juuls (one sealed Juul Pod OK at entry)
YES LED pois & orbitals
YES Lip balm, lipstick & gloss (must be sealed upon entry)
YES Non-professional flash/still cameras, handheld video devices under 6″ (Sony Action Cam, GoPro, Polaroids, etc.)
YES Personal misting fan, bottle must be no larger than 1.5L (empty upon arrival)
YES Powder makeup (liquid makeup is prohibited)
YES Physician-prescribed medication that is not expired (must show physician's prescription and consult with a safety officer upon entry)
YES Rain ponchos and umbrellas measuring less than 10″ when collapsed
YES Selfie sticks
YES Small bags, single-compartment backpacks, plush backpacks, purses (maximum 12″x12″)
YES Sunglasses & hats
YES Sunscreen lotion (inspected upon entry)
YES Tampons and pads (must be sealed at entry)
YES Any water bottle, excluding glass bottles (must be empty upon entry)
YES Wet wipes (must be sealed at entry)
---
Connect with HARD on Social Media:
Website | Facebook | Twitter | Instagram | YouTube | Facebook Event Page