Sacha Robotti swung by to chat about his new music, life on the road, and mental health as he begins the second leg of his Jumping Back In tour!
---
House, techno, and sloths. When you hear these words the name that should immediately pop into your head is, Sacha Robotti. From Europe to the United States, the beloved beatmaker has used his world experience and classical training to create lasting memories on the dancefloor. Since his journey began as a solo artist, he's become a staple on labels like Dirtybird and Desert Hearts delivering monster solo offerings and collaborations like "King Midas," "Ol' Dirty Hearts," and "Do Or Die."
Turning a new chapter, Sacha Robotti has been dedicated to cultivating unique underground flavors through his own imprint, Slothacid. His inaugural offering, Welcome To Slothacid, caught us hook, line, and sinker and from then on, the music that has flooded out of his studio has been jaw-dropping! Whistle Tippin, "Pharmacopeia," "Undulate," and "When U Clackin'," are tunes fans are obsessing over and when it comes to featuring outside talent – just take a peek at Niles Shepard's Interlaker or Sammy Legs' Clamtastrophe and expect to be blown out of your socks.
With his label flinging out incredible music it was time to take it on the road and after the initial Welcome To Slothacid tour and his Great American Road Trip, Sacha Robotti is back in action, taking his Jumping Back In tour all over the country! This adventure began back in May of 2021 and after a break in June for hiking and self-care, Sacha will be heading to a city near you! You may even be lucky enough to hear his latest release, "Fuck The Pain Away," on the big speakers – so grab your tickets and read on for our chat with the iconic, Sacha Robotti!
Stream Sacha Robotti – "Fuck The Pain Away" on Spotify:
---
Hello Sacha, thank you so much for taking time to chat with us today! In May you dipped your toes into your Jumping Back In tour, so, first and foremost, congratulations! How have the shows been so far? Any fun stories you can share with us?
Thank you! The shows have been amazing! It's great to see smiles on the dance floor again and it's a relief that the event industry in the US can start back up, thanks to the percentage of vaccinated people in the country. Lots of fun stories experienced while "Jumping Back In" as always when I tour, but to be honest the best moments I had was while reuniting with friends I hadn't seen in over a year, for instance, Kevin Knapp who flew over from Germany to play Seismic in Austin with me.
Since we're essentially rebooting the scene, what kind of new energy are you bringing to the tour that makes this adventure different from your Slothacid tour?
The energy is different in that most of us have isolated ourselves during the pandemic, and it seems like many people are kind of starting to catch up to the shows and festivals that have been canceled and postponed because of the pandemic. People are talking about this as the new "Roaring 20s" and "Summer Of Love 2021" which I coined "Horny Summer" for laughs. There's a lot of pent-up energy that's getting released right now everywhere. I suspect that "rebooting the scene" on a global level will take another year or two though… fingers crossed!
You have gone from a year of minimal live performances to getting thrown right back into a busy tour schedule. What are some lessons you've learned during your history on the road that has helped you to mentally prepare for your current tour?
For me, touring and playing shows have been a major part of my life and lifestyle for the past 16 years! It has also been my main source of income for all that time. When we were forced to stop touring last year, it was a blessing and a curse. I am addicted to the kick of playing music in front of a crowd, so missing that part of my life was definitely a loss and not only a loss of income.
We didn't know how long this pandemic would last and still don't know when it will be fully over, so we were all in some kind of limbo, especially people working in industries that have been deeply affected by the pandemic. Also, I've not stayed in one place without flying somewhere for a show for more than a month since 2005, so this slowdown was at the same a blessing, as I was able to rest and take care of things that I needed to.
The main lessons I learned during #tourlife over the years are to try and be the best person I can be on the decks, be grateful, be open to new experiences, and expect that anything can happen! During the pandemic, I played much less than in any of the years before but still went out on the road as much as I could to play sanctioned shows according to safety guidances all over the USA. I even rented a van and drove through the country to five gigs, over 9000 miles, and called it the "Great American Road Trip."
My team and I connected with promoters who pioneered safe ways to throw events during the pandemic, like the Midway in SF in July 2020 who coined these social distanced "Outdoor Dining" parties, or Elements Festival who had two-part testing already in September 2020, or Drive-In shows in Chicago and Arizona.
Bringing music to people is my purpose right now, so instead of staying home and fearing life on the road and the virus, I wanted to show that it can be safe to play and have a good time – even when a president gaslights the world, even when there's a global pandemic raging, even when the pandemic has shed light on major injustices that have been existing in this society. We all need light, connection, and self-expression.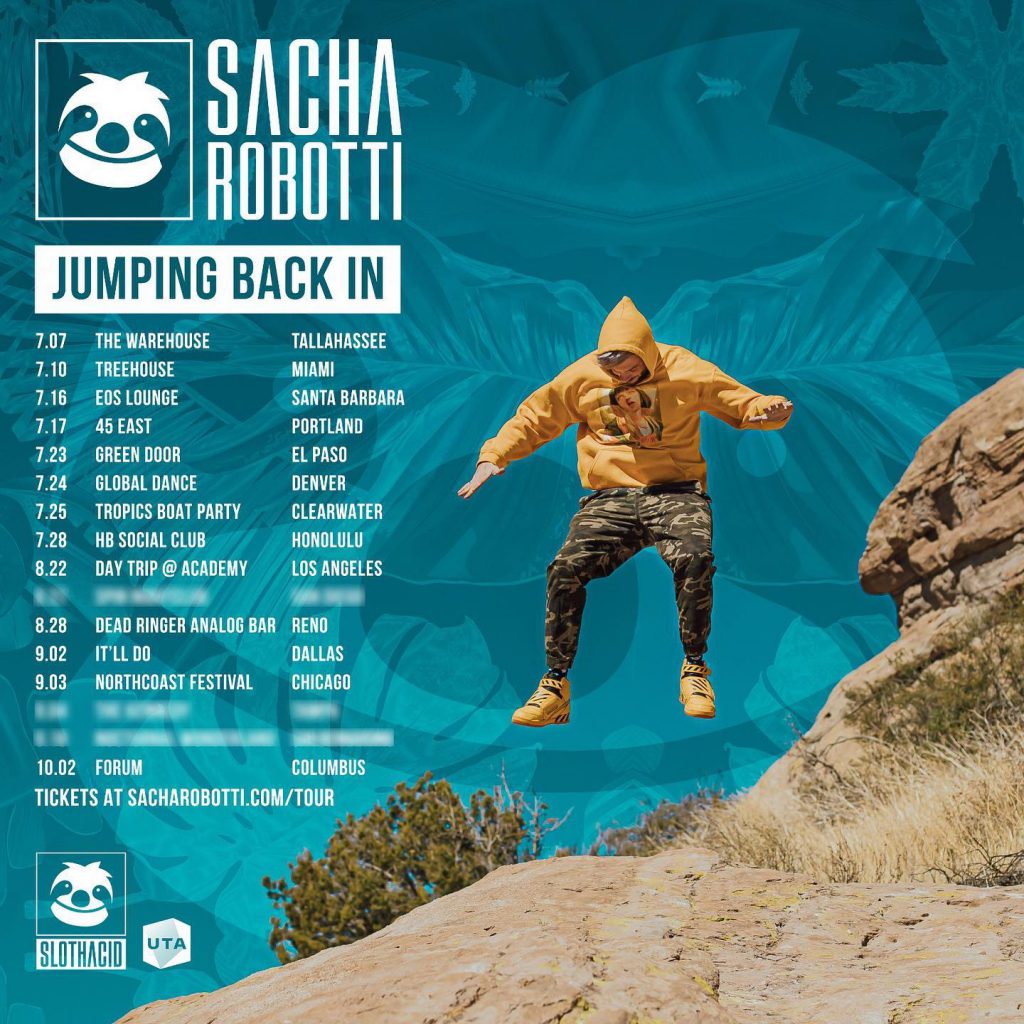 Since we're on the event topic, you recently played at the amazing Seismic Dance Event in Austin, TX. On social media, you mentioned you could live there. What is it about that city that you loved so much and can you tell us about your experience at the festival?
I have a lot of love for Austin ever since I played there for the first time about five years ago. The pace of the city is chill and comfortable, but there's still a lot happening all year round. I also love the artsy vibe of the city, the food, the lake life, and I have a lot of people there that I can call friends. There's a community feeling I've been missing a bit in LA. At times I felt that I have more friends there than here.
Seismic was dope! This was the second time for me to play at the festival. Andrew and Kelly at Real Music have been doing a great job for the past years, putting on events in the city, which makes Austin a more attractive place for musicians and DJs to play. At this year's Seismic, while I played, there was a huge rainbow over my stage. I take it as a sign!
When you're not working hard in the studio or rocking the dance floor, one of your non-music related passions is hiking. Can you talk about what getting out into nature does for your mental and physical health and can you talk about the coolest place you've ever hiked?
I love getting out into nature so much, it grounds me and lets my mind rest. The sun makes me happy, she'll always be my first love. Hiking combines exercise and soaking up the beauty of the planet! I appreciate also not having any service and being away from the noise of civilization and people. I've been to over 40 countries through my music, so there are many places I was lucky to experience/hike/visit before. In the States, I loved Yellowstone and the Grand Canyon, both of which I visited last year while I was doing my "Great American Road Trip."
While you're hiking everything is peaceful and you have time to reflect and get into your head. Does this type of inspiration lead to track ideas? If so, can you talk about a track you've released that was born from being out in nature?  
It certainly does inspire! I don't have a specific track idea in mind that happened specifically while I was on a hike, but balancing the city life with nature is one of the ways I recharge my batteries, my creativity, my drive.
You've officially released your cover of Peaches' "Fuck The Pain Away" and it is fantastic! However, it has been circulating in your sets since 2018. Why the wait?
Thank you! I'm so excited that we were able to make it happen! I'm a big fan of Peaches' work and her original has been an influential track for me, not only when it was released in around 2000. I've premiered my version of "Fuck The Pain Away" at Desert Hearts Festival in 2018, which was a remix featuring the original Peaches acappella, and I've been rocking it out for three years mainly at Festival shows.
We tried to clear the vocal with her label and publishing for over a year but this wasn't possible – so while in the studio with my mentor Mark Bell and my homegirl BabyGirl, we were messing around and recorded BabyGirl performing "FTPA" for laughs. It turned out to be such a good performance that we decided to make it an official fully sample-free cover version! Thank you Thrive for the support on this one.
You also got together with your good friend Mikey Lion on "Do Or Die," featured on Mikey Lion's debut album, For The Love. I'm interested in knowing how you guys broke up the production responsibilities on this one? Can you walk us through the process?
Mostly when I make music with someone, the content, idea, and arrangement come out more from a flow state rather than a strategy. Like, creative things just happen out of having fun together, rather than forcing them to happen. In the case of "Do Or Die," which I made with Mikey about two years ago, we just jammed at his house. I think I came up with the bassline, and he came up with the vocal idea, and we just arranged it. I don't think we did more than two sessions on it!
In honor of personal growth, what was something you learned about yourself during the pandemic and are there any changes you'd like to make in your professional life going forward?
I learned a lot about myself last year! I made some fundamental changes and gained new perspectives on the way I think about myself and the world. I felt like kind of a mess when I went into quarantine, having had a CPTSD for years that I hadn't had the time and courage to face. This made it worse over time as trauma upon trauma added up without the proper time and space for me to take care of them.
As a consequence, I suffered from depression and anxiety, and I numbed myself to not feel these things so it became a vicious cycle of unhealthy lifestyle choices and negative experiences. The isolation and loss the world suffered definitely affected me additionally, as I am very empathetic. Also, my family was/is in Europe as I'm an immigrant in the USA, so I felt the distance strongly. My dad is quite an old gentleman so I was worried about him, I haven't seen him in three years and I hope to see him soon.
Because of all these factors, I went into the first lockdown in March 2020 with daily major panic attacks. I realized by the end of April that I needed to do something about my situation or I would not survive this! On that note, I wish that some of my friends who didn't make it because they overdosed or took their own lives last year, were still here.
The main things that helped me get better were moving to better living situations, going sober for a while, starting a heavy workout routine, and cutting out everyone from my close circle who was in some way harmful to my growth and health, which I came to realize, was literally 80% of my environment.
I did a ton of shadow work to understand my psyche and why I was feeling certain things the way I do or did, which helped me readjust the way my mind works, find more love for myself, forgive people who caused harm, and forgive myself. Talk therapy was part of this healing process, going out into nature was too, and Ayahuasca helped me as well. Safe to say that I'm a different person now than a year ago, or even six months ago.
Finally, what's up next for Slothacid? Any new talent you may be featuring soon, cool collaborations you're looking forward to, or solo projects you're hyped about?
Yes, I'm super hyped about all the music that I've been working on and that's coming out, as well as the next Slothacid releases. Bot is releasing a record on my label called "Change You" in July. That's a massive banger and I have some dope Andreas Henneberg demos I'm trying to figure out when to release. JTJ has a few tracks on hold that feature me on the vocals, which will hopefully see the light soon!
I met Dantiez Saunderson at CRSSD, the last big event I played last year before lockdown. We decided to collaborate on two tracks, "Motor City Angel" and "Power Of Choice," one of them will be released on Roger Sanchez' label Undr The Radr, and the other one is coming out on Junior Sanchez' and Demuir's label Kultur, with remixes by Demuir and Luca Donzelli.
I've also been working on some disco-infused house, as well as techno, pop, all different musical moods, which has even spurred the idea of releasing under different aliases. Who knows what the future holds, but it feels like there is a perspective again, and I'm excited to create and play. Stay tuned!
---
Connect with Sacha Robotti:
Facebook | Twitter | Instagram | SoundCloud