After being forced to postpone the debut of Primavera Sound Los Angeles in 2020, they've set their sights on greener pastures in 2022.
---
Back in 2019, one of the most beloved festivals on the planet, Primavera Sound, announced that they would be heading to sunny Southern California and making their debut in the United States. Unfortunately, last year didn't go according to plan, as the festival organizers were forced to postpone Primavera Sound Los Angeles due to the ongoing pandemic while also facing the same fate in 2021 as well.
After announcing an absolutely stacked lineup for the return of their massive festival in Barcelona next year, Primavera Sound looked to satiate the cravings of their faithful following in North America with news about the edition in the City of Angels. The debut of Primavera Sound Los Angeles is now set to take place on September 16-18, 2022 at the LA State Historic Park. Those new dates also indicate the festival's debut will be expanding from two days to three, which means those who plan to attend can expect more music to catch next year.
Related: Looking for a taste of the diverse sounds Primavera Sound brings to the stage? Check out the insane lineup for their 2022 edition in Barcelona for a peek at some artists we hope will be playing the festival.
Additionally, those who previously purchased tickets for Primavera Sound Los Angeles can either keep their tickets and use them for the rescheduled dates or request a refund via their Front Gate Tickets account. All refund requests must be made by July 29, 2021, at 9:30am PT. Stay tuned for more updates from Primavera Sound Los Angeles including the lineup and more details for their debut in Southern California.
Are you planning to attend the debut edition of Primavera Sound Los Angeles next year? Let us know in the comments!
---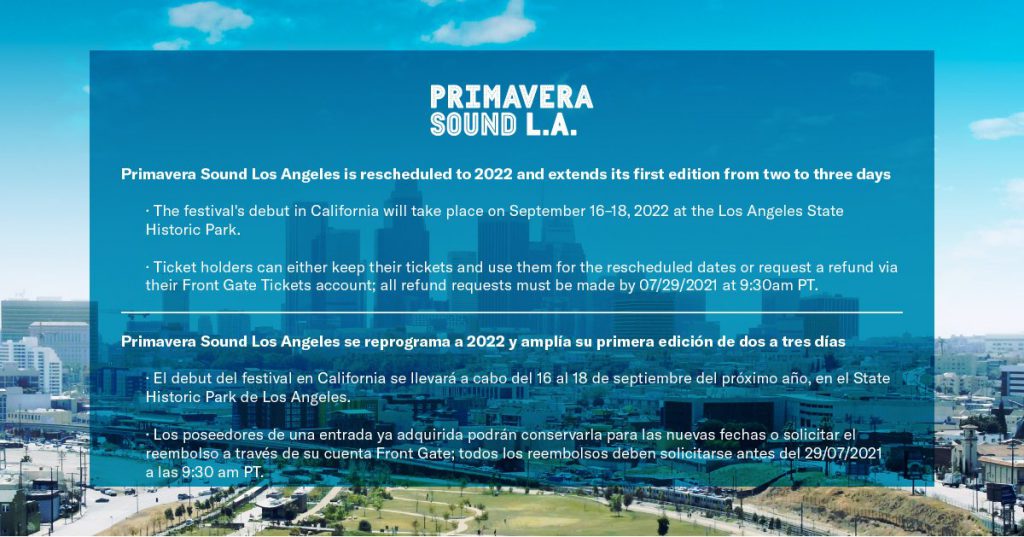 ---
Follow Primavera Sound on Social Media: