Ternion Sound brings the heat with four stunning collaborations on DUPLOC043, the latest to land on the renowned imprint.
---
As concerts come back in force, Minnesota-based trio Ternion Sound has established themselves as a can't-miss act. The "three-headed beast" of bass music first connected at the 2016 edition of Infrasound, where they played an impromptu b2b2b under their own aliases. Since then, they have dazzled bass music fans around the world with music that pushes sonic boundaries while paying homage to the genre's roots. Their success is well-documented: they've released music on labels like Deep Dark & Dangerous, Artikal, and Chestplate, and made appearances at renowned festivals like The Untz and Croatia's Outlook Music Festival.
With all this success under their belt, the trio is continuing to push forward into new territory. Their new release, Ternion Sound & Friends (DUPLOC043) on the famed DUPLOC Label is a testament to that, as it features four unique collaborators for the first time ever. Not only that, the collaborators are some of bass music's brightest stars. The EP features ENiGMA Dubz, Lost, Opus, and smith. across four tracks that seamlessly blend with Ternion Sound's unique style, all of which were produced via Zoom at the height of the COVID-19 pandemic.
Ternion Sound & Friends is available on all major platforms, with a vinyl copy available for pre-order as well. Ternion Sound also released a pin commemorating the album that features the album's artwork. Fans of deep dubstep will no doubt want to get their hands on these items, so head to Ternion Sound's online store and grab yours before it's too late.
Listen to Ternion Sound & Friends (DUPLOC043) on Spotify, download or stream the release on your preferred platform, and read on to hear our thoughts on the EP!
Stream Ternion Sound & Friends on Spotify:
---
Ternion Sound and ENiGMA Dubz come out swinging with "The Engineers" to kick off the release.
"The Engineers" is the perfect start to this EP. A collaboration with Birmingham, England-based producer ENiGMA Dubz, the track is dark and heavy with a masterful blend of bassy punches. One of the standout aspects of this track is how well both artists use minimal sound in the buildup to create a more impactful drop. The bass layering within the rhythm takes this tune to the next level as well.
Next up is the collaboration with Lost, who continues to amaze with "Catacombs." While the term "infectious" might be used to describe a variety of rhythms, "Catacombs" with London's Lost might be the most infectious rhythm of them all. While not overly complex, the wall of bass forces you to take note and fall deep into the pocket of the groove. Your head will bob almost reflexively as you listen to this one, and personally, I can't wait to hear it on a big stack of Funktion Ones.
Opus teams up with Ternion Sound soon after to change up the vibe on "Mediator."
While "Mediator" features much of what we've come to love about Ternion Sound, it has a different feel from the rest of the tracks on the EP. High synth-based melodies reign supreme on this tune as they cascade over a driving drumbeat to create a truly impressive soundscape. The London-based producer Opus leaves a clear mark on this track, which showcases the talent that earned him a spot on DUPLOC's 2020 Selects compilation.
Ternion sound then looks to smith. to help close out the release with the masterful "Heart Machine." The opening on this track is straight out of a horror movie, but before long the demonic laughs and creepy ambiance give way to a truly impressive array of bass. This is just par for the course for Denver-based producer smith., who has earned numerous accolades including a release on DUPLOC and support from some of the biggest artists in the scene. It runs the full gauntlet of bass from wobbly to gritty and brings this release to a proper close.
Ternion Sound & Friends is yet another masterclass from the bass trio.
Once again, Ternion Sound has shown why they're a force to be reckoned with in today's bass music scene. They bring an incredible amount of diversity in their sound while staying cohesive and consistent throughout. I can't wait to hear these tracks played out in a live set and I'm counting the days until Ternion Sound announces some dates near me!
---
Ternion Sound & Friends – Tracklist:
The Engineers w/ ENiGMA Dubz
Catacombs w/ Lost
Mediator w/ Opus
Heart Machine w/ smith.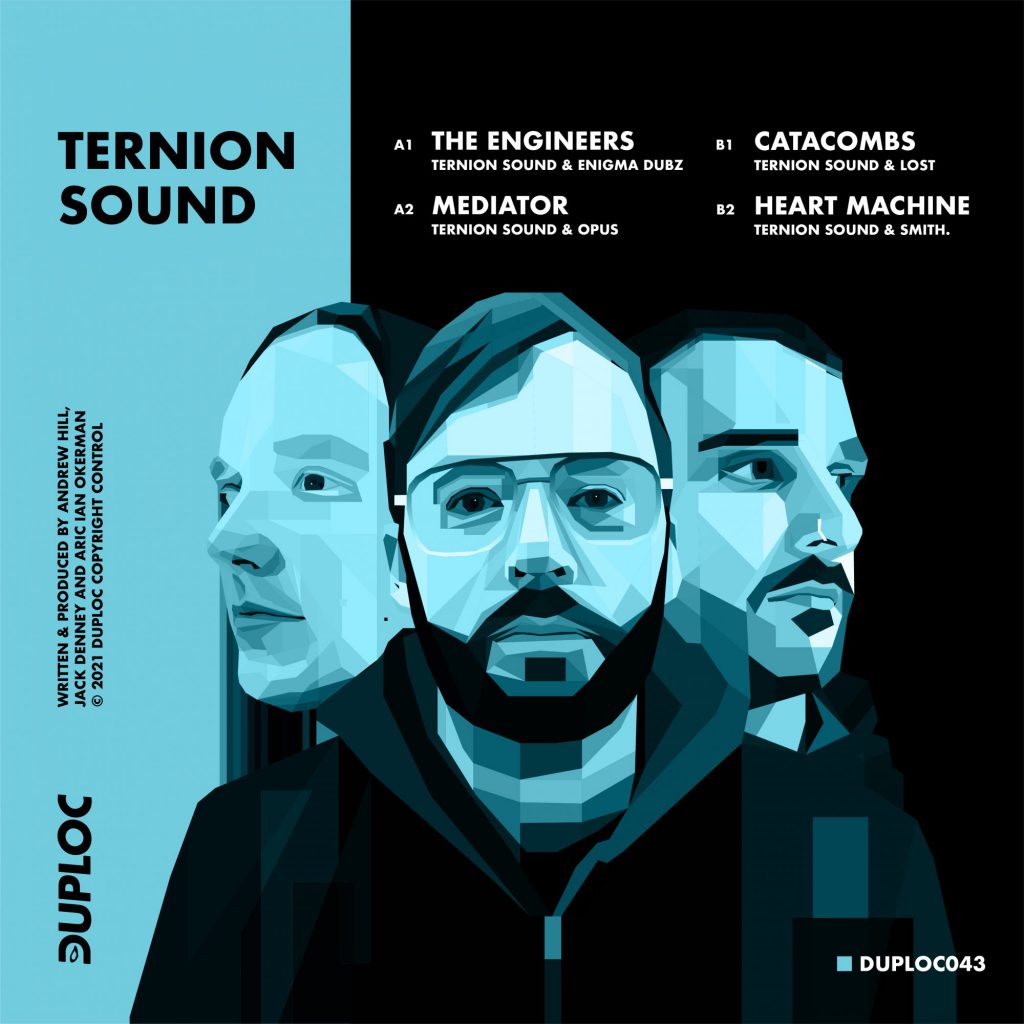 ---
Follow Ternion Sound on Social Media:
Facebook | Twitter | Instagram | SoundCloud