David Pomareda, aka TechNeekz, delves into the details behind where it all began for up-and-coming Miami-based imprint Dark Shades.
---
After an accidentally successful house party took place at David Pomareda's mother's backyard in 2016, which featured a few larger Dirtybird artists who were originally scheduled to play at Space Miami, Dark Shades quickly began to take off as one of the local scene's hottest party curators. And over the past few years, the Dark Shades parties have blossomed and played host to names like Florida-native Sage Armstrong, as well as Shiba San and Bijou, just to name a few.
The trio behind the project, Takshak, TechNeekz, and Burn1, are all producers themselves, so soon after they debuted the brand they shifted the focus to becoming a label as well. In 2017 Dark Shades Records became a reality, dropping their first release, "Groovy Girl," by none other than the three brains behind the label itself. Since then, their passion for music and vision for an eccentric, fun-loving imprint has helped it grow to feature a plethora of releases from talent, both big and small, that have been recognized by artists and listeners worldwide.
Their most recent release, an energetic two-track EP from Stanley Kubrix titled All Out, garnered support from some of the scene's biggest names as it climbed the charts. After the release, David, aka TechNeekz, took the time to swing by and give us the down-low on everything Dark Shades, from the label's first parties to competing in Miami's music scene and even their future plans for the label.
Stream Dark Shades Radio Series on SoundCloud:
---
Hey David! Thanks for carving out the time to chat with us today about Dark Shades Records. Before diving into what the Dark Shades crew has going on today, tell us a bit about the main people behind the label and some background on how and why you guys developed the idea for the label.
So a few years back in 2016, I was the resident DJ for Club Space Miami in the techno loft. Around this time, Space was going through a transitional period. A few Dirtybird artists that were booked to play at Space didn't get the chance to due to complications. So, in response, a couple of Holy Ship friends of mine and I got together to book these artists for a free event. This party was at my mother's house in the backyard. That is where all the magic began to happen.
The first artist we got was Billy Kenny, who at the time was loved by many but has since been canceled by our community. This kickoff event had about 150 people in the backyard, which turned into an out-of-this-world BBQ. Word of mouth spread like wildfire, so the second event was even better. This time we had a special double headliner featuring Will Clarke and Sage Armstrong. We received so many RSVPs, that we hired security in case the crowd got out of hand. It was the most memorable time I have experienced thus far.
Later that week, I was talking with a few producer friends of mine – Burn1, Takshak, and Drasen. We were all involved in a collective at the time named 'Mastermind'. We were brainstorming names for the party and as I was looking through the pictures from both parties I noticed something. Everyone was wearing sunglasses. I quickly ran to my phone to go to the group chat and tell the boys "I got it. Let's name these parties Dark Shades!" Everyone loved the name and instantly the future crew as we know it was born. Never in my dreams did I think that in four short years we would be recognized worldwide.
When you originally started Dark Shades, it was with the vision of "curating a movement in the house music scene." Can you elaborate on what exactly that means to the Dark Shades team?
Yes, it means we wanted to be more than another party or just another label. We wanted to have a culture similar to Dirtybird, which is a label we look up to.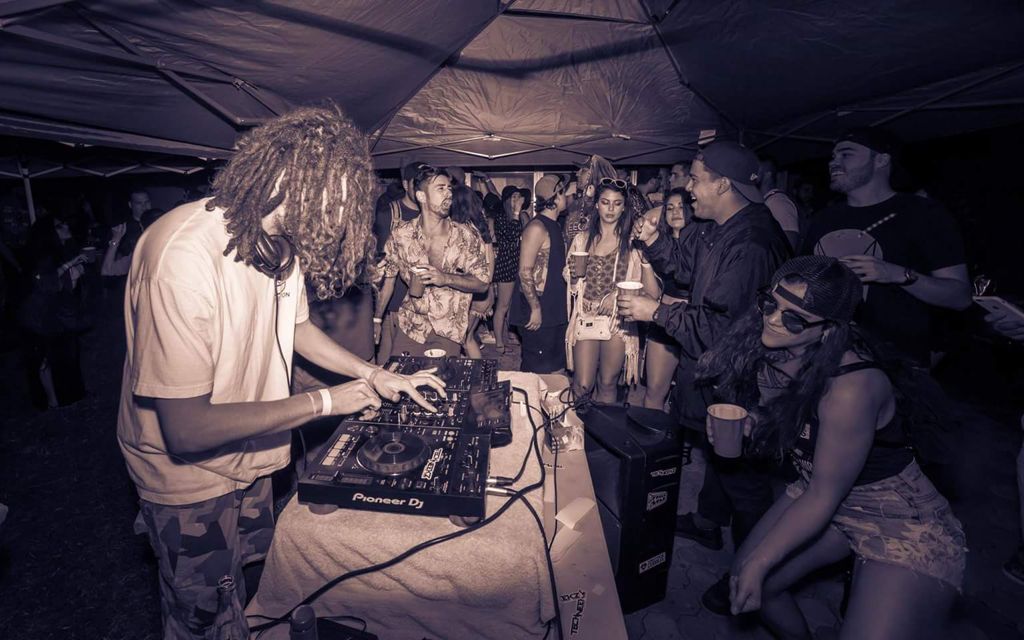 Being based in Miami, a hotspot for house and techno in the US, I'm assuming the scene there is pretty saturated. But even so, you guys have managed to create an impressive amount of noise around the label. What have been some of the hurdles you've faced to get the label to where it is today?
I guess at this time we were looked at as the black sheep of the community because we weren't really techno or tech house. We were going for that Dirtybird style of house, which in Miami isn't that popular unless the artists playing are already well established. One of the most difficult hurdles I'd say was to get a club to give us a shot. At the time, if it wasn't strictly popular techno or house music, promoters and venue managers wouldn't be interested.
Luckily one venue gave us a chance – this small bar located in South Beach named Commonwealth. I told the promoter at the time, Stephen Pineda from THCNO Co, who is still a good friend of mine, that we had over 250 RSVPs. He kind of giggled and said that there weren't many people but I told him "trust me our people will show up." Unfortunately, we didn't get the turnout we expected so it was back to the drawing board.
We knew this time it had to be a daytime party that served food and we needed to have a headliner, not just any kind, but a Dirtybird headliner. Of course, we couldn't afford a top-tier Dirtybird artist so we booked an up-and-comer at the time, Lux Groove, for our rooftop pool party at Dream Hotel in South Beach. We ended up having well over 300 people. It was such a great moment for us. From then on, we continued to host daytime parties.
After that, we got the opportunity to host a party at Treehouse Miami with Worthy and Mark Starr. Later on, we established a nice relationship with Wynwood 5th Ave which gave us a home to bring artists such as Sage Armstrong and Wood Holly. That helped Dark Shades become well recognized in Miami. Then we expanded to Fort Lauderdale Beach over at McSorley's Beach Pub, where we've had artists such as Sacha Robotti, Maximono, and many other legends. It was at this point that the label side took off.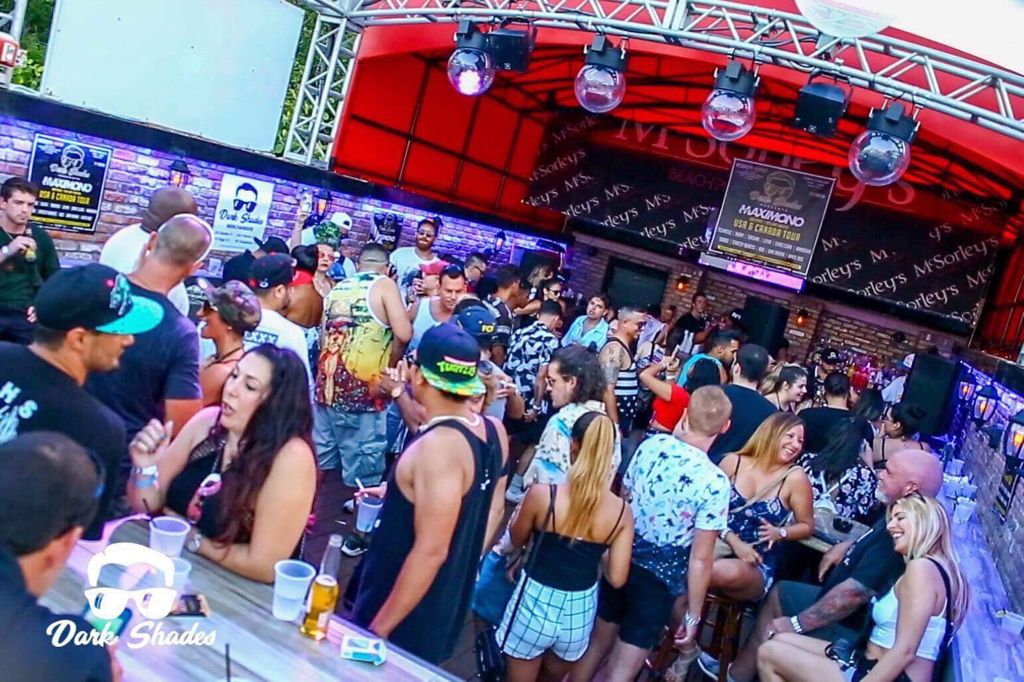 You guys just had a high-energy release from Jungle Punk drop a few weeks ago and a super successful EP from Stanley Kubrix, which just dropped at the end of May. Is there a certain sound or something in particular you look for when deciding what tracks to sign?
In the beginning, we were going for the Dirtybird inspired sound but with our own twist. Now we're focused on the more traditional faster pace, minimal tech house vibe. We are inspired by labels such as Solid Grooves, La Pera, Huambo & Blanc, just to name a few. We like incorporating more sample and vocal-based music, like Hip Hop to provide some nostalgia.
I saw on SoundCloud that you guys were hosting a radio series previously, seemingly with the focus lying on local and up and coming talent. Is there a plan to bring that back? And if so, are there any artists in mind that you'd like to have on the show?
Yes, we are curating these shows around any upcoming EP releases with artists from all over the world. This will be another platform for the artist to showcase more of their style to our audience as well as their own.
Now that we are beginning to move past the pandemic, can you reflect on how the COVID situation affected Dark Shades? Did you guys have to restructure at all or was it essentially business as usual?
We definitely did some restructuring both as a team of music production and label heads. On the music production side, we shifted our focus on making more music during this time. On the label side, we've been contacting up-and-coming artists we'd like to work with. Our goal is to sign new artists that can help us push the label in the direction we'd like it to go.
House Music is always changing and our love for the more niche tech house side continues to grow. We want to expand the label's style in order to reach a wider audience. We want to take more risks and keep pushing boundaries. This pandemic has been a good refresh and we're very fortunate to be affected by it in a positive way.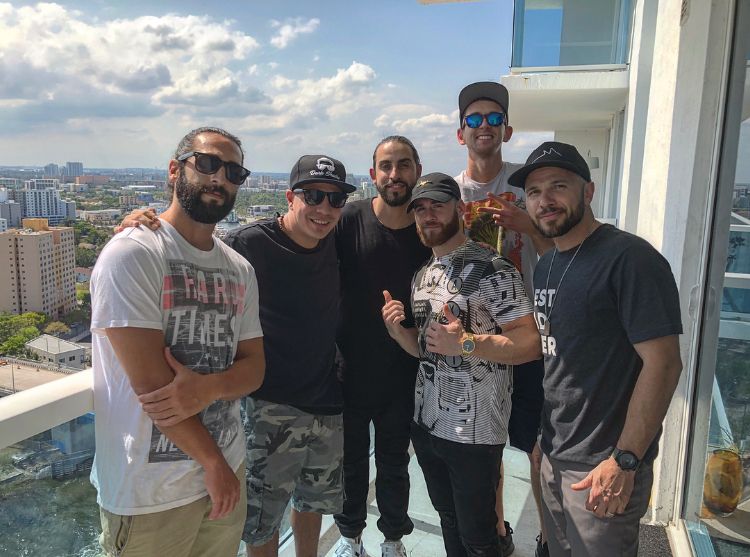 Moving forward, does the Dark Shades team have a certain vision in mind for the label? Any big plans in the near future that you can share with us?
We are always trying to be innovative, and want to take more risks as mentioned before. Changing our sound was the first step we needed to make. We've been working with other local promotion groups to plan some big event ideas. Learning new marketing strategies has helped as well. We're constantly looking for new ways to take the music and the brand to the next level, such as reaching out to bigger artists, radio stations & podcasts.
I saw the next Dark Shades event that is listed is for the end of next month for your birthday. Happy early birthday by the way! Are there any events between now and then that fans can look forward TechNeekz?
Yes, June 10 is a fairly new Thursday party at Los Altos for a Dark Shades Invades Showcase with our co-founder Burn1 as well as Xeno and Strictly Bizness. We are also kicking off a monthly pool party at Rok Bar Day Club in Fort Lauderdale Beach on Saturday, June 19. This will be another Dark Shades Showcase including Burn1, Takshak, Strictly Bizness, and myself. Plus there are many others to announce in the coming months.
Is there anything you'd like to add about Dark Shades that I did not touch on?
The only other thing I can add is that I'm super grateful to have Burn1 and Takshak by my side. They have helped with business decisions I couldn't make on my own. They have also helped improve my music production skills. It is always good to have a core group of friends to bounce ideas off of each other. Also thankful for our current label members Strictly Bizness, Moguie (formerly known as Oddöø), ODK, UZEF, Mandehh, and Get Bad. Also can't forget to mention a couple of our original members Leyva and Chris Clark. Day one homies from the beginning till now. They have since branched off to create their own movement 'Lost Minds Records'.
Even though I am the face of the label, literally – the logo is inspired by face and hairstyle – all of these guys have helped me never give up. There have definitely been some ups and downs along this journey. They continue to inspire me and believe in what we're doing. We will continue to keep moving forward and build our label into an empire of amazing, talented, and well-established artists, as well as new rising stars!
---
Follow Dark Shades Records on Social Media:
Facebook | Twitter | Instagram | SoundCloud | YouTube