The first release from Subtronics' Cyclops Recordings is here and you won't be dissatisfied with the offering of tracks on Boot Camp.
---
Subtronics is a name that needs no introduction to those in the bass music scene as this producer has been dominating the decks at festivals like Electric Forest and speakers in the homes of his growing fanbase, the Cyclops Army. This year has seen him continue to prove that his wonky sound will win over the hearts of anyone who listens and to cap off the year he also launched Cyclops Recordings to help showcase his tastemaking abilities.
The freshly minted imprint will play host to artists within the bass music realm and Subtronics is celebrating the launch in style by dropping a massive collection of tunes on Boot Camp. Featuring experimental artists like EAZYBAKED, MOLOKAI, Saka and Abelation to heavier dubstep artists like Al Ross and Calcium, the debut release on Cyclops Recordings is filled to the brim with stunners that will take over your senses.
Boot Camp, which clocks in at 19 tracks in total, delivers beats from diverse artists across all reaches of the bass scene. To help guide listeners, it's split into three different sections, High Knees Headquarters, Psychedelic Division, and Heavy Artillery. While headbangers will be doing backflips for the angry "Deathwish" from Calcium, leftfield/experimental bass lovers will be slowly getting wiggly to "On The Block" from G-Space and Caveman. There's something for everyone on the release so give it a spin.
Stream Boot Camp on Spotify your preferred platform and read on for an in-depth review of this debut compilation on Cyclops Recordings!
Stream Cyclops Recordings – Boot Camp on Spotify:
---
Boot Camp kicks off with Subtronics' own tune "Tractor Beam" that pulls listeners in immediately.
Subtronics has a signature, wonky sound filled with pew pew pew ray guns, heavy kicks, and crunchy synths. "Tractor Beam" is the perfect way to describe his music as a whole and this track will make any bass lover gravitate to it immediately. Akeos is up next with "Makura," and following that was Syzy with "Poison Muffins." Both of these tracks have that scratchy, slowed BPM that still packs a punch. Riddim fans will be ready to hop in a mosh pit when they hear these go off on some serious speakers once festivals are back.
Next up on Boot Camp is Al Ross and his firey track "Malfunktion," and the moment the first drop happens it's all systems go. Al is an absolute wizard in the studio who can mix up the perfect potion of smooth yet heavy sounds with kicks that will make speakers shake. Fair warning, this one is sure to make some mean stank faces.
"Wheel Up" by phonon and MAD DUBZ carry similar vibes to the previous track with the slower dubstep sounds that still manages to pack a punch. Listeners are sure to throw finger guns to this one. Then, Leotrix comes in swinging with "Dissatisfied" and believe me, if you are a fan of distorted synths and gut-punching kicks, this tune will definitely not disappoint.
As a self-proclaimed sucker for experimental/leftfield bass, the next tracks on Boot Camp were right up my alley.
Chee and Subtronics collaboration "Point Breeze" is filled with smooth and bouncy bass with a touch of wobble. "Killjoy" from EAZYBAKED, MOLOKAI, and Saka is disgusting, but in the best possible way of course. These three artists' sound design meshes so perfectly together. The drippy synths and analog sounds come together to make it a standout experimental track on Boot Camp.
Abelation is going to be "Killin' Em" with his track that's featured on the compilation. He may be young but he is one of the most talented producers in the scene right now. He puts his skills in creating wubs on display and will have listeners blasting off through space with his signature, crunchy sounds. When the build-up arrives in "Killin' Em" it feels like you're being pulled back in a rubber band and shot back into a goopy pile of bass pudding.
Smith. also comes in hot with "Swing" as he mixes old-school, Hip-Hop beats with his own unique sounds. You'll be swinging your hips the moment the sounds of this track enter your ear. Seeing his name on this compilation is great because he's one of the most talented producers in the underground scene. What a great track.
Continuing on with the experimental sides of Boot Camp are G-Space and Caveman with their collaboration "On The Block."
These two artists mix scrunchy, deep bass, and synths that will have listeners feel like they're pulling sticky strings out of the air. BLVNKSPVCE's "Component – 17″ arrives next to take anyone who tunes in to the cosmos as it's filled with that sweet alien bass. Even though this was a slower song it still has that subtle, dirty bass intertwined throughout. Kill Feed also has that nasty, distorted sound with "Foolish" that also has kicks that echo back at the listener.
Things get heavy again with Control Freak and Vanfleet's "Water Weight" as well as the final few tracks on Boot Camp.
"Water Weight" is a crispy and loud dubstep banger that will make car windows rattle with each and every sound. "Deathwish" from Calcium is another heavy-hitter that's filled with rage. This track just gets louder and gnarlier the more you listen to it and might even break a window or two depending on how high up your volume dial is turned. "OTM" from Jiqui continues that vibe as well with a soundscape that evokes imagery of fighting battles in space, its system malfunction sounds will tickle eardrums in the best way.
The rest of the compilation wraps up with Nosphere's "Gaussian Traveler," LEVEL UP's "Satan Works Alone," and a VIP edit of Subtronics' "Scream Saver."
All three of these tunes will make headbangers get up and start hunting for the nearest rail. "Gaussian Traveler" is a wobble-inducing track with eerie synths that highlights the skills that Nosphere brings to the table. LEVEL UP sucks you into a vortex of heavy bass and gut-punching kicks on "Satan Works Alone," while the "Scream Saver VIP" throws it back to Subtronics' 2019 set at Electric Forest. That high-energy, bass-fueled tune just keeps you guessing for what's next and makes for the perfect way to wrap up the first release on the label.
After just one listen to Boot Camp, it's clear that Cyclops Recordings is going to be a great platform for so many underground artists to have their music get the recognition it deserves.
Huge congrats to Subtronics for not only killing it as a solo artist but creating a new label that can shine the light on multiple genres within the bass realm and bring them together. This unity is just what the scene needs and we cannot wait to see what Cyclops Recordings has up their sleeves for the future because Boot Camp is just a taste of what's to come.
---
Cyclops Recordings – Boot Camp – Tracklist:
Subtronics – Tractor Beam
Akeos – Makura
Syzy – Poison Muffins
Al Ross – Malfunktion
phonon x MAD DUBZ – Wheel Up
Leotrix – Dissatisfied
Chee x Subtronics – Point Breeze
EAZYBAKED x MOLOKAI x Saka – Killjoy
Abelation – Killin' Em
Smith. – Swing
G-Space x Caveman – On The Block
BLVNKSPVCE – Component – 17
Kill Feed – Foolish
Control Freak x Vanfleet – Water Weight
Calcium – Deathwish
Jiwui – OTM
Nosphere – Gaussian Traveler
LEVEL UP – Satan Works Alone
Subtronics – Scream Saver VIP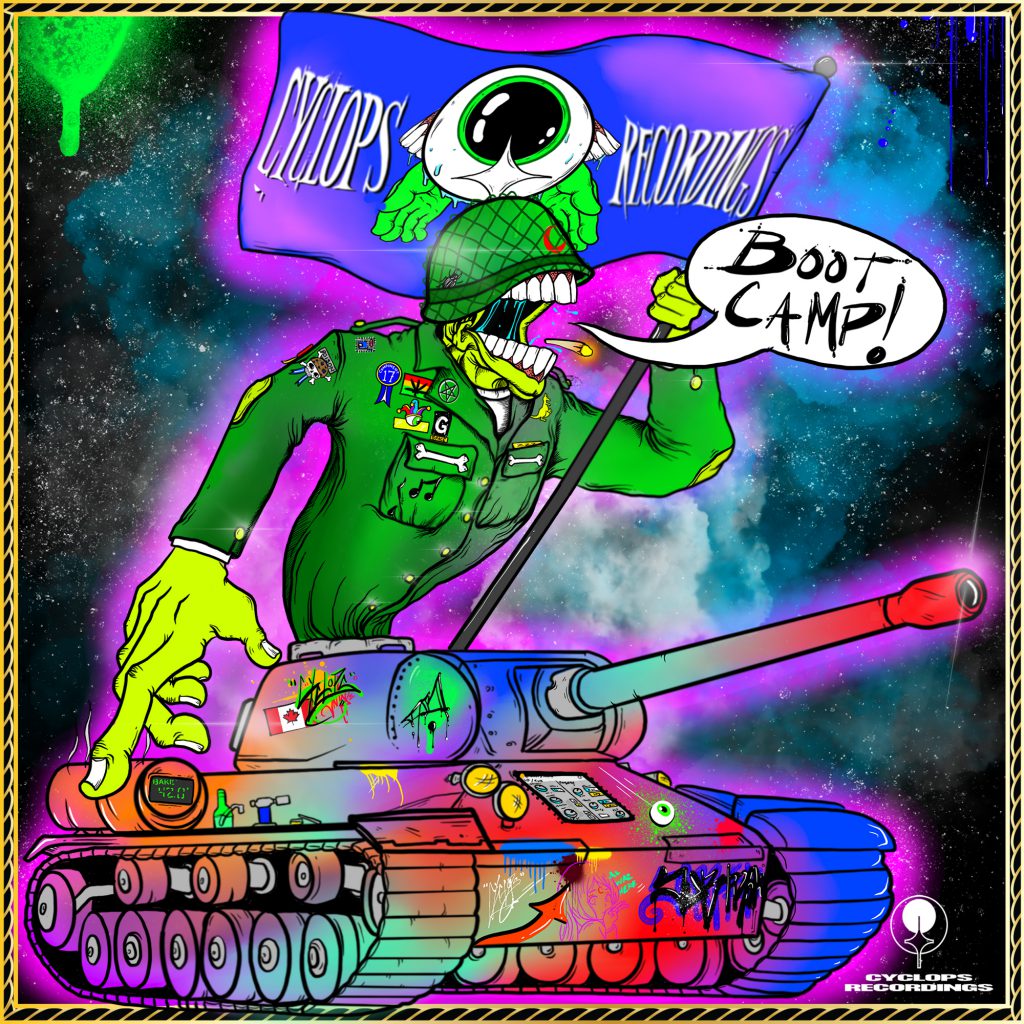 ---
Follow Cyclops Recordings on Social Media:
Facebook | Twitter | Instagram | SoundCloud | YouTube | Twitch