As the release of their second album Cyclorama approaches, Polo & Pan gives us their latest single along with 2021/2022 tour dates.
---
As Polo & Pan are coming up on a decade of music together, their anticipated sophomore album Cyclorama is top of mind for fans. The Parisian duo consisting of Paul Armand-Delille (Polo) and Alexandre Grynszpan (Pan), has produced lots of original music, yet this second album is a milestone as most of their previous material consisted of EPs and singles.
Their unique style is hard to describe but can loosely be categorized as lighthearted and trippy electronic dance music. This comes as no surprise when we consider that their influences are thought to include Nepalese psychedelic rock and mystic trips in the desert. "Ani Kuni" was the first release from Cyclorama and it definitely fits into this broad musical category. It is certainly lighthearted with childlike vocals, a luscious flute track, and a meandering rhythm.
The new release, "Tunnel" sees the duo team up with Channel Tres and has a distinctly different vibe, being more focused on the dancefloor. The underlying beats are tight and drive the track forward, while the vocals are strong and direct. The opening of the track is a slow build that gives the impression the vocalist is whispering a secret to you. As it progresses, the vocals, synths, and rhythm, all come together in a place that will have you chair dancing and longing for a night at the club. Despite the song's tight focus, there are several variations to mix it up and keep you on your toes as well.
Further, as the pair have performed around the globe over the years, the release of Cyclorama arrives at a perfect time. As COVID restrictions are slowly easing up, Polo & Pan are excited to get back on the road to support the new album and see their fans dancing along to their tunes. They've announced a flurry of tour dates for North America and Europe as well. Kicking off in Boston this December, the duo will be gracing the stage in cities including Chicago, Toronto, Seattle, and Denver before jumping over to Europe in the spring of 2022 for a run of dates.
Listen to Polo & Pan and Channel Tres' "Tunnel" on Spotify or your favorite platform, pre-save Cyclorama ahead of its release on June 25, and be on the lookout for tour tickets going on sale starting June 11 via their website.
Stream Polo & Pan – Tunnel (feat. Channel Tres) on Spotify:
---
Polo & Pan Cyclorama Tour 2021/2022 – Dates & Venues: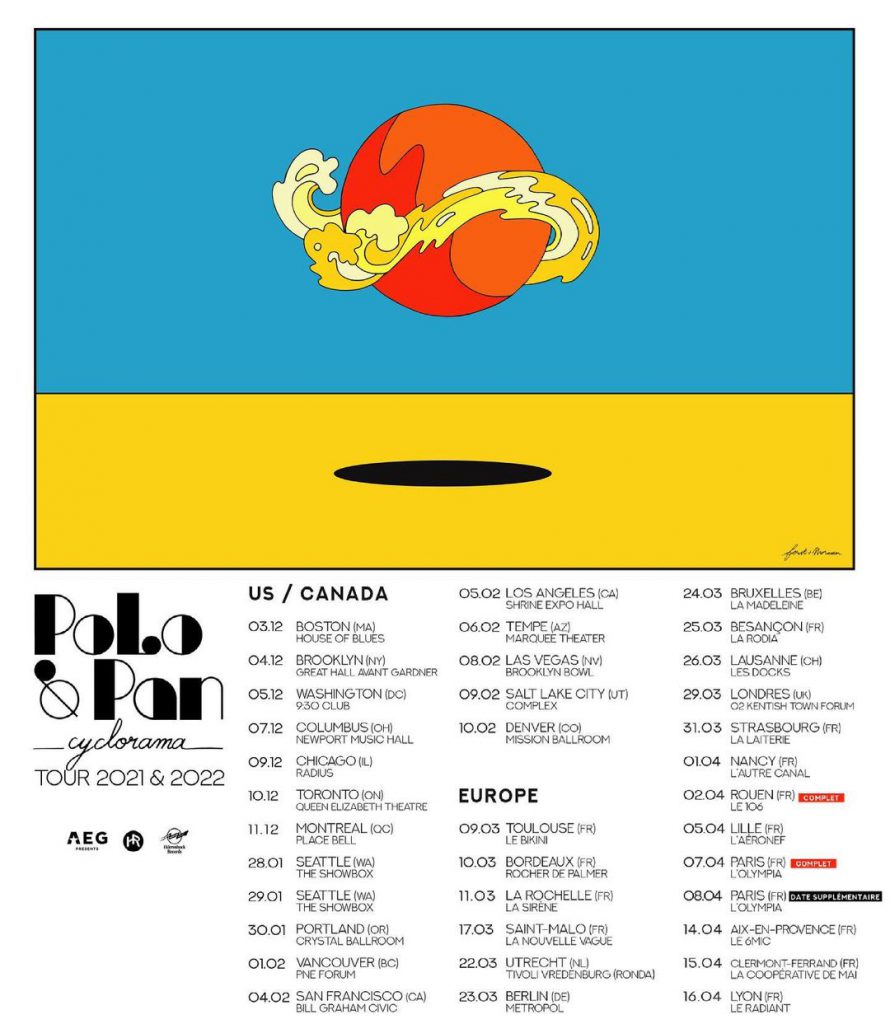 ---
Follow Polo & Pan on Social Media:
Website | Facebook | Twitter | Instagram | SoundCloud | YouTube