Two Tails' James Vadner returns to House of Hustle with Vicky, his dynamic, debut album featuring 13 fresh house tunes to groove out to.
---
Minneapolis-based DJ and producer Two Tails has been on a steady rise in the scene with releases spanning impressive house imprints like Dirtybird, Box of Cats, Nightenjin, and more. Originally a duo comprised of James Vadner and Ashley Bergquist, they split up in December 2019 with James continuing to carry the torch and solidify himself as one of the most promising up-and-comers in the house scene.
Since then, Two Tails has wasted no time in jumping back into production, pitching a full-length LP to House of Hustle shortly after. Having had successful releases on the label previously, the UK-based imprint was all for it. Ironically, with the pandemic shutting down any chance of touring for the next year, the timing was perfect to turn his energy to creating his first artist album – and we're so glad that he did.
Two Tails' 13-track album Vicky is brimming with diverse sounds that seamlessly meld tech-house, bass, and hip-hop influences to create one unforgiving, unique LP that us house heads won't soon forget. Its lead track also includes vocals from Anna Brinckmann, the new half to make Two Tails a duo once again. And if its reception so far is any sign, Two Tails is clearly paving their way to becoming one of the scene's mainstays.
To create even more hype surrounding this album, Two Tails is hosting a virtual album release party on Friday, May 21 on Twitch. Hosted by House of Hustle, Two Tails' label Artichokes Are Yellow and Mr. Koolaid, the livestream will see him play alongside various artists featured on Vicky including Colossi Rah, Contribe, Hot Pot, Lucy Knox, and Story of One.
Get ready to shake your tail feather and listen to Two Tails' Vicky on your favorite platform and read on for a deeper dive into the tracks on the album.
Stream Two Tails – Vicky on Spotify:
---
Kicking off the album is a tantalizing house track titled "Make It Out Alive."
Featuring vocals from James' newfound partner Anna Brinckmann, "Make It Out Alive" builds into two driving drops that intertwine Anna's airy sample, deep strings, keys, and bumping, thick bass. Acting as the introduction for his future work with Anna, it's exciting to see what's to come in the near future from these two.
The album then moves into a bouncy tech-house record "Moving Ting'" with Colossi Rah, followed by a buzzing house tune "Murder Hornet" with Boston up and comer Hot Pot to get the energy pumping. Then "You Be You" follows soon after, which is a warm track that sees synths that rise and fall, sizzling hats, and an airy vocal layered over a vigorous, unforgiving bassline.
While making the album, James took the time to experiment with different sounds and genres that inspire him, and that is evident through the following two tracks "Kinda Always Maybe" and "Dance Like You." "Kinda Always Maybe" sees him team up with Aylene, and it begins with a hip-hop-inspired beat but quickly moves into a high-powered house groove with heavy low-ends and spacey synths. Meanwhile, the downtempo, bassier tones on "Dance Like You" came after he listened to Porter Robinson's "Get Your Wish" and further illustrates his impressive knack for sound design.
Title Track "Vicky" is a fiery tech-house cut that pushes the boundary with 303 sounds and pounding kicks.
Meant as a parody love song to one of his close friends, Vicky, this high-energy groover combines Dirtybird-esque "booty-house" with trippy acid lines to create a dance floor shaker that is sure to make the crowd lose their minds. We know we lost ours when we heard it first. Following that jam is the piano-heavy belter "Two Much" with CARZi and jacking house record "Hurry Up!" with fellow Minneapolis-based producer Contribe that helps everyone groove into the start of the latter part of the album.
An in-your-face track with dripping sounds, sharp hats, and a resonating, low-end kick arrive on the horizon next as Two Tails sets the mood with "Candles." Teaming up with Lucy Knox, the track was the first time James utilized his own vocals, as even though they appear on "Vicky," this tune came before it in the studio. As the journey on Vicky comes to a close, the tech house sound is kicked up another notch on "Funky Pills" with Chris Khaos and "Lights Crash Distraction" with Story of One to further put Two Tails' dancefloor energy front and center.
Then, "Breath" hits ears with menacing synths, a thumping kick, and dark, brooding bass to round out the collection of tunes on the debut album. The pads on this tune are layered over stinging hats and a pushing bassline as the first drop of the track hits the ears. Soon after, a melodic breakdown featuring a drum break and ethereal vocals moves listeners into the second drop which is even more unrelenting than the first. A dynamic dancefloor destroyer, "Breath" finishes the Vicky album off with a bang and will leave listeners craving more from this rising star – and we can't wait for that day to come!
---
Two Tails – Vicky – Tracklist:
Make It Out Alive w/ Anna Brinckmann
Moving Ting' w/ Colossi Rah
Murder Hornet w/ Hot Pot
You Be You
Kinda Always Maybe (feat. Aylene)
Dance Like You
Vicky
Too Much (feat. CARZi)
Hurry Up! w/ Contribe
Candles w/ Lucy Knox
Funky Pills w/ Chris Khaos
Lights Crash Distraction w/ Story of One
Breath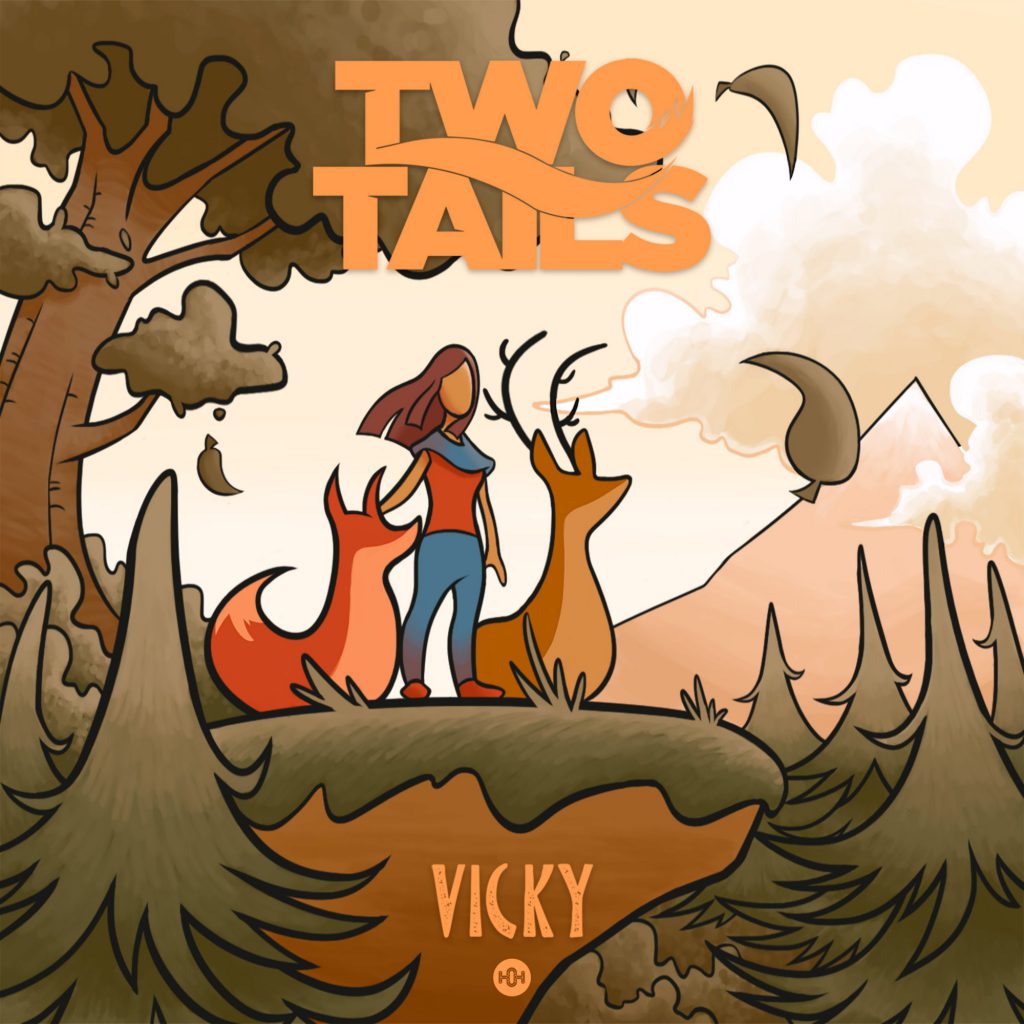 ---
Follow Two Tails on Social Media:
Facebook | Twitter | Instagram | SoundCloud | YouTube | Twitch