GRAVEDGR has risen from the depths of the earth to haunt the world once more with his latest monstrous EP, RUN WHEN YOU SEE ME.
---
A little over a year ago, the world finally got to meet GRAVEDGR through his debut album 6 FEET UNDER that dropped on Heavyweight Records. This album revealed the origin of our mysterious being and his unusual desire for revenge, bloodshed, and destruction. After unleashing great havoc with that album and subsequent releases, it finally seemed that everybody was safe from his wrath…
But nobody is ever safe as GRAVEDGR has risen from the dead to terrorize the world once more. This time around he's delivered a brand new EP called RUN WHEN YOU SEE ME that is available now for your listening pleasure on Bassrush Records. This hard-hitting, five-track EP continues the story of GRAVEDGR.
Speaking about the EP itself, GRAVEDGR said "Starting with the first single, 'Run When You See Me' tells a story of you, the listener, running from your worst nightmares. The subsequent tracks on the EP take you on a frightening path, with each song growing more aggressive." So if you didn't run away from him after the release of his debut album, then you're too late now because this time he's here to bury bodies and collect souls.
Take part in the destruction by streaming GRAVEDGR's RUN WHEN YOU SEE ME EP on Spotify or your favorite platform, and read on for a deeper look at this EP.
Stream GRAVEDGR – RUN WHEN YOU SEE ME EP on Spotify:
---
RUN WHEN YOU SEE ME bends the rules and pushes the sound of raw trap to its absolute limit.
The entire EP is a journey through the listener's perspective as GRAVEDGR paints out their worst nightmares through the use of heavily distorted screeches and eerie melodies. The opening track, "DISTORTION," is a collaboration with Mexican producer Haradaak, who has proven time and time again that hard dance is his for the taking. Both producers get to showcase their technical skills as this record mixes both raw trap and its predecessor, rawstyle. This tune is followed by "RESONATE" where your doom really sets in. You'll want to "let this resonate" and listen with caution.
The next two records continue the story as "RUN WHEN YOU SEE ME" and "SHOW UP" with Kurxco appear to dominate speakers. Both of these were previously released on Bassrush and Basscon Records, respectively, but that doesn't take away from the damage that they cause. "RUN WHEN YOU SEE ME" is the final warning before facing GRAVEDGR's destruction as it triggers the fight or flight senses in your mind. "SHOW UP" cranks up the tempo with another cross between raw trap and rawstyle, and this collaboration exists for the sole purpose of being brutal and destructive.
After collecting everybody's soul, "SCUM BAG" with Decim8 marks the conclusion of this epic chapter. It starts off with a post-apocalyptic vibe and a gritty announcer telling us that "the time of freedom is over" and leaves us with the idea that "now it's [our] time to face the system." Think of this as GRAVEDGR's call to war against the very forces he wants revenge against, and we all play a part in fulfilling our anti-hero's desires.
Apart from storyline and lore, this EP is one of the best productions GRAVEDGR has unveiled so far, and it has truly allowed him to showcase his evolution of the raw trap sound. The genre isn't going anywhere thanks to producers that push the envelope every release, and this EP solidifies itself as one of the key releases in the short, but storied history of the genre.
---
GRAVEDGR – RUN WHEN YOU SEE ME EP – Tracklist:
DISTORTION w/ Haradaak
RESONATE
RUN WHEN YOU SEE ME
SHOW UP w/ KURXCO
SCUM BAG w/ Decim8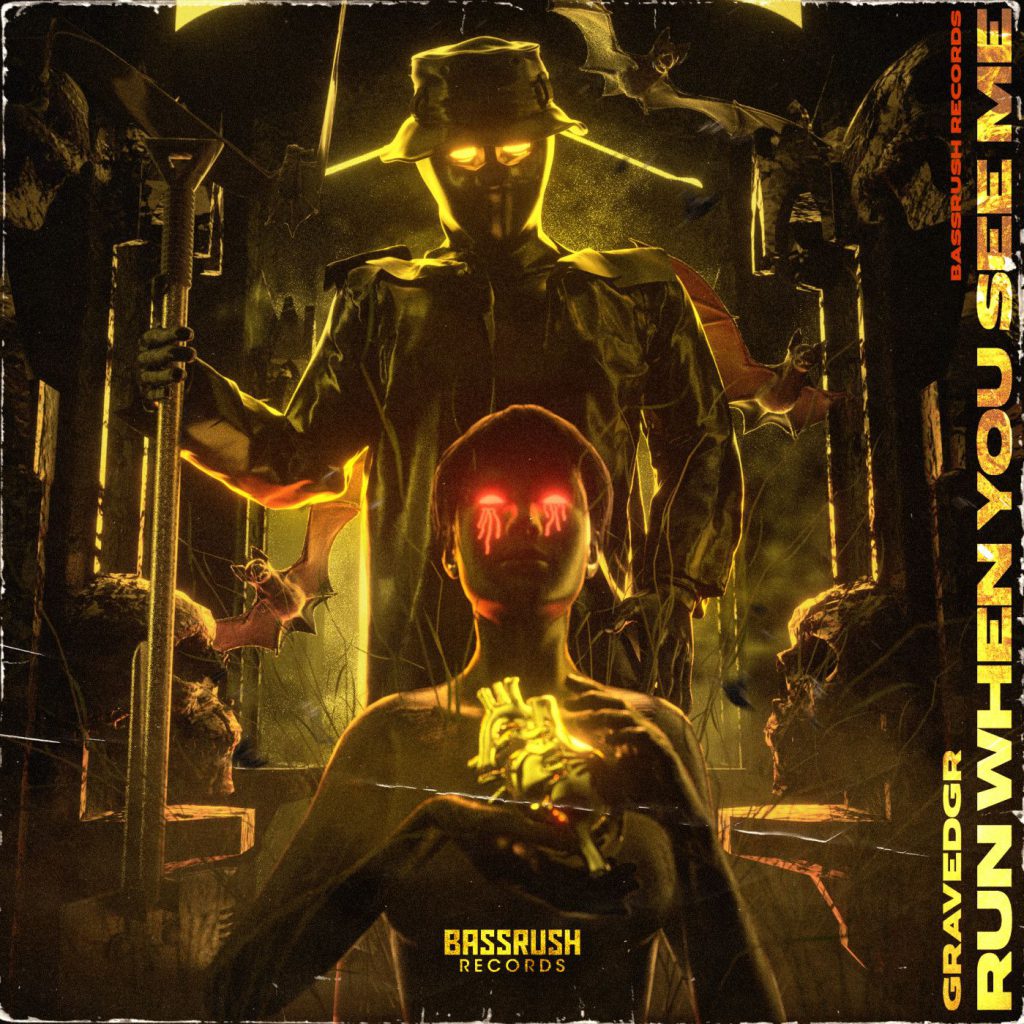 ---
Follow GRAVEDGR on Social Media:
Website | Facebook | Twitter | Instagram | SoundCloud | Twitch