Koven dropped their album Butterfly Effect last year and now has put an acoustic spin on it to give the tunes even deeper emotion.
---
Koven is a duo that makes magic together both in the studio and behind the decks – and absolutely smashes everything they do. As a result, making them a force to be reckoned with in the dance music scene. The duo has a wide variety of sounds and does not pin themselves to just one genre which was highlighted in full on their album Butterly Effect, which dropped on Monstercat last year. This album was packed with a multitude of sounds, including drum and bass to straight-up nasty, heavy bass bangers.
Now, Koven has added even more emotional layers to the original with their acoustic version of Butterfly Effect – and there's not a moment during its runtime that it won't be pulling at your heartstrings. Katie's voice is haunting, but in the most gorgeous of ways, and truly captures the mind of anyone who listens.
An example of this comes from the new cut of "Worlds Collide." Originally a fast-paced drum and bass tune that keeps you moving throughout its entirety, that mood is completely flipped and now has an all-new feel to it with the acoustic version. Listening to that track and the rest of this acoustic album feels like getting swept up in a sea of emotions while you try your best to come up for air.
There were a few other tunes packed into this gorgeous collection of acoustic sounds that truly stood out as well. Especially the new versions of "Good Enough" and "Light Up" that are completely hypnotizing. Hearing "Stars" with just a piano and vocals really helps you connect with the depth of the lyrics as well. Katie's voice pulls you in, puts you in a trance, and quickly snaps you back to reality. There's just something about hearing these songs on an acoustic scale that gives them an almost spiritual feel while it simultaneously highlights what a powerful voice she has.
Make sure you have a box of tissues close by when you listen to Butterfly Effect (Acoustics), you're going to need them. Listen to the album on your preferred music platform and let us know which acoustic track you were feeling the most in the comments below.
Stream Koven – Butterfly Effect (Acoustics) on Spotify:
---
Koven – Butterfly Effect (Acoustics) – Tracklist:
All For Nothing (Acoustic)
Butterfly Effect (Acoustic)
Gold (Acoustic)
Good Enough (Acoustic)
Speaking Through Smoke Detectors (Acoustic)
Stars (Acoustic)
Worlds Collide (Acoustic)
Light Up (Acoustic)
Numb (Acoustic)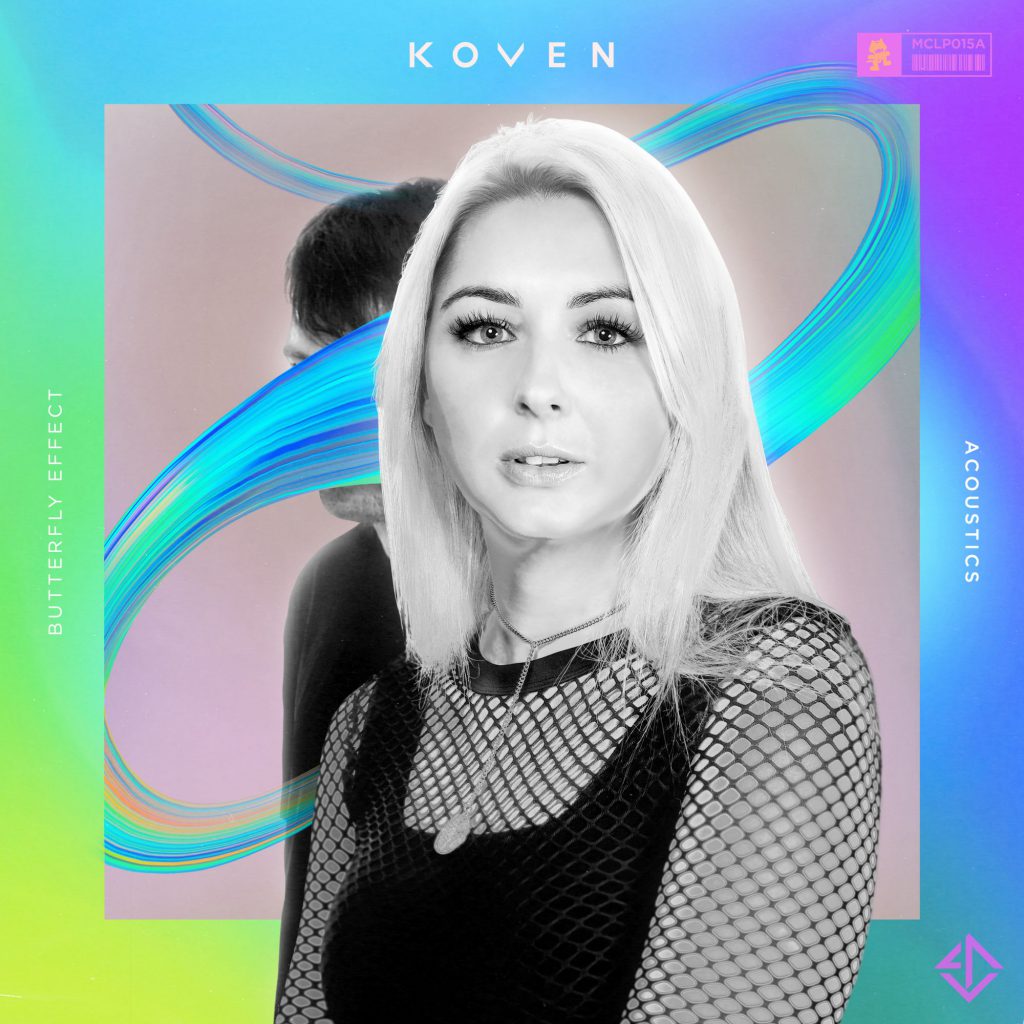 ---
Connect with Koven on Social Media:
Facebook | Twitter | Instagram | SoundCloud | YouTube