Morelia calls upon Luke Andy, Ocean Roulette, Dipzy, Kasto, Galo, and more for the latest edition of Morelia & Friends on his imprint Teethy.
---
Ever since making the jump from Denver to Southern California, Tanner Munn, aka Morelia, has been on a mission to not only grow his project to new heights but to take his label Teethy to the next level as well. After dropping Morelia & Friends I over a year ago, Morelia is ready to sink his sharp fangs into the eager minds of house heads with Morelia & Friends II. The second volume is an insane 12 track compilation that features a variety of styles from bass house to breaks and some club-ready anthems that are sure to spice up your Cinco de Mayo and beyond.
Morelia aimed to take a different direction than the previous edition for this go-around by bringing in a squad of talented producers from all over the world rather than his own releases. Speaking about the difference between the two volumes, he said, "Morelia & Friends I was all collaborations between myself and homies, whereas volume II is giving all the homies full space to drop some original bangers. I'll likely keep this pattern going with the M&F compilations; Collabs, Homie Tracks, Collabs, Homie Tracks."
So what are you waiting for? Press play on the compilation below or grab a copy on Beatport to immerse yourself in these fresh tunes, and read on for a deeper dive into Morelia & Friends II.
Stream Morelia & Friends II on Spotify:
---
The compilation starts off with a bang from San Diego-based artist Luke Andy with his track "Low Limbo."
Beginning with a slow house beat which then gradually changes to a much faster tempo, Luke Andy puts his versatility on display in a dynamic fashion on "Low Limbo." It acts as a great introduction to the compilation by allowing the listener to strap themselves in and prepare for the rest of the tracks to come. From there, it goes straight into "Finger Breaks" from standout artist Ocean Roulette, followed by a massive tune titled "Tonight" from Giant and Contribe who joined forces to make this one come alive.
By featuring so many artists of different skill sets, Morelia wants to show everyone in the electronic scene the direction that Teethy is looking to head towards going forward. For many artists, it can take a long period of time to dial in their sound to perfection but Morelia seems to have quickly done just that and is ready to get wild with it, nothing is off-limits here. The fourth and fifth tracks on the compilation, Jako's "The Underground" and "UMC" from PVJAMVS and Wurmhole are excellent examples of this – they're tunes that aim to contribute new, unique sounds and look to expand the mind of the listener.
Then, the real meat of this stacked compilation takes hold of speakers as Kasto, Sour Boys, and Dipzy enter the fray.
The middle of the compilation features a number of bass bumping tracks such as "Werk That" by Kasto, "Bailar" from the Sour Boys, and "The Show" by Miami's own Dipzy who has been on an absolute tear ever since his Wobble Like EP dropped on Dirtybird in 2019. Morelia & Friends II also has some new kids on the block in MANSHN with his track "Melted Chocolate" and in Nico The Bishop with his track "Flexin." Both of these artists absolutely blew Morelia away when they sent in the demos of these tunes and are surely artists to watch out for with a close eye in the future.
Rounding out the compilation we have Tampa-based producer Galo with his huge track "Feel Like" which will without a doubt make you feel some type of way. Arguably his biggest release to date, he was especially excited to make his way onto Teethy after having the label on his radar for a long time: "I've been following Morelia for a few years now, and I think he's one of the most talented producers in this scene. I've been sending him my music for a while now and he would still always give a listen and even rinsed some on his radio show, it's sick especially as a new artist."
Lastly is a collaboration titled "In Your Arms" from House of Hustle's Fantom Freq and Minør.
Keeping listeners on their toes by bringing a bouncy drum & bass element to the table, these two knocked this one out of the park with the addition of a catchy vocal throughout the track. This is a tune like none other on the compilation and is a great way to cap it off in style by adding to the diversity of genres on the compilation.
Morelia & Friends II is filled with high-energy tracks that are perfect to spin throughout the rest of the spring and well into the future. It's an unbelievable follow-up to the first volume that really showcases the vision that Morelia has for his label. And the series also gives an excellent platform to bring many of these up-and-coming artists to the surface that they are only beginning to scratch.
As for Morelia & Friends III, fans from all corners of the world will be excited to hear what is in store for the next edition of the compilation series. "That's going to be another collaboration comp. I have tons of collabs in the works right now, so none are set in stone for that specific release, but regardless, it'll be heat," he said. "I'd love to drop one of these collaborations with VNSSA, Freak On, Boondok, and Sterium. We shall see!"
---
Morelia & Friends II – Tracklist:
Luke Andy – Low Limbo
Ocean Roulette – Finger Breaks
Giant & Contribe – Tonight
Jako – The Underground
PVJAMVS & Wurmhole – UMC
Kasto – Werk That
MANSHN – Melted Chocolate
Nico The Bishop – Flexin
Sour Boys – Bailar
Dipzy – The Show 
Galo – Feel Like
Fantom Freq & Minør – In Your Arms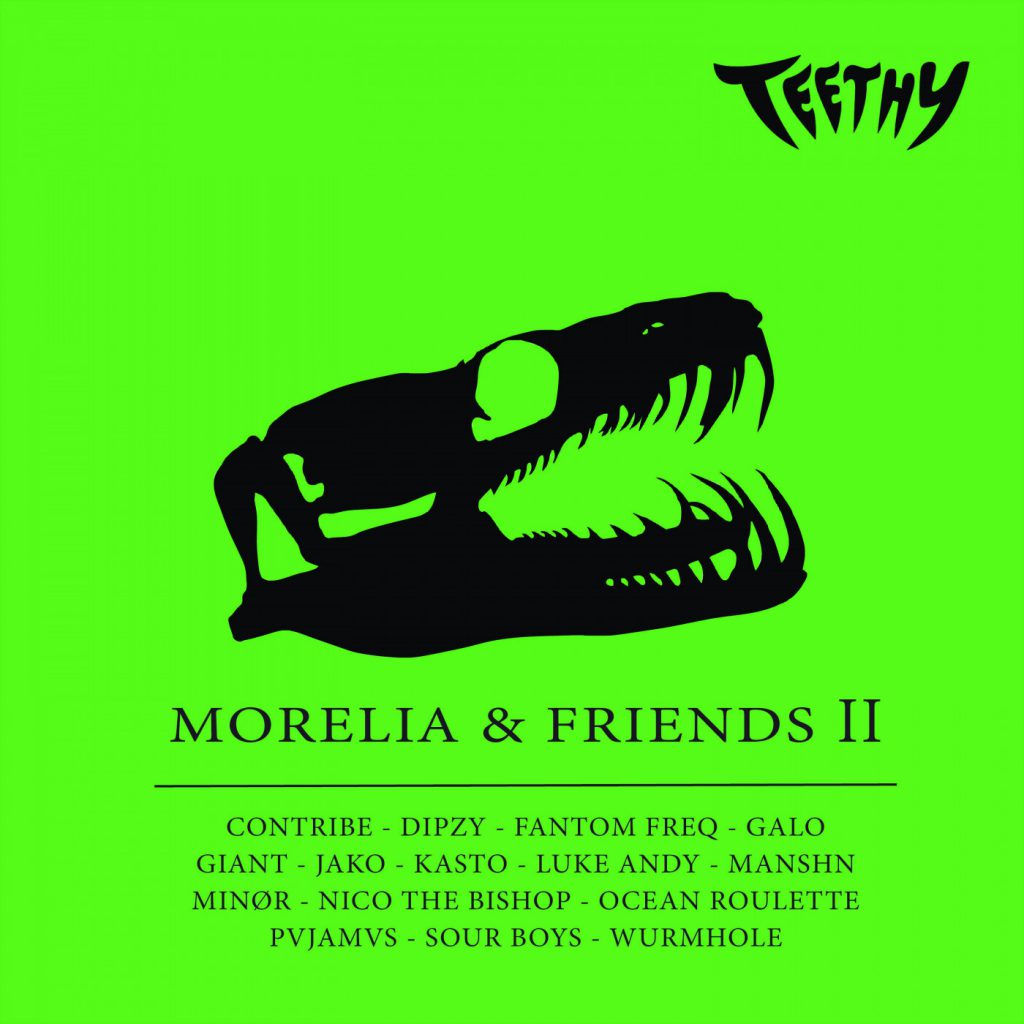 ---
Follow Teethy on Social Media:
Facebook | Twitter | Instagram | SoundCloud