Hatcha and some of bass music's pioneers have teamed up for a massive live stream event benefitting mental health charity, Mind.
---
It's been nearly a quarter of a century since dubstep first emerged in the UK. Since those early days, the genre has blossomed into something much larger, crossing international borders and spawning a lengthy list of sub-genres. There is, however, one constant: the pioneers of that early sound have continued to push the genre into new realms while staying true to the sounds birthed in the UK's underground. Now, over 20 years later, Hatcha is continuing that journey with a massive 50-hour livestream featuring some of the biggest names in bass music history.
Conducted in partnership with Phase Transition and Heritage London, this event will be "a nonstop, 50 hour journey through dubstep, drum and bass, UK garage, and grime." It will feature 26 hours of music from artists like Shiverz, Sukh Knight, FuntCase, and more, as well as a 24 hour set from Hatcha himself. The festivities kick off on May 14 at 6 PM UK (11 AM PT) and end on May 17 at 12 AM UK (4 PM PT), and will be available to stream for free across a variety of platforms. Donations raised during the broadcast will benefit Mind, a UK-based organization dedicated to improving mental health support across England and Wales.
It's no surprise that Hatcha, one of the most influential electronic artists of all time, is behind this event. As early as 2003, he played shows on Rinse FM, sharing dubstep with thousands of new listeners. He also inspired one of dubstep's biggest stars: while working at Big Apple Records in his hometown of Croydon, UK, he began to play a genre called "dark garage," an early precursor to dubstep. His employee, Oliver Jones took a deep interest in the music and began to learn production. Today, he is best known by another name, Skream, and he too will be joining Hatcha for this epic experience.
It's rare to see a single lineup with this many legendary names, so make sure you catch some or all of this incredible music marathon. You can catch Skream, HATCHA, and many more of bass music's finest by tuning in on May 14 to Facebook, Twitch, and YouTube. Make sure to follow Phase Transition on Instagram for more information!
---
HATCHA and Friends Livestream Lineup: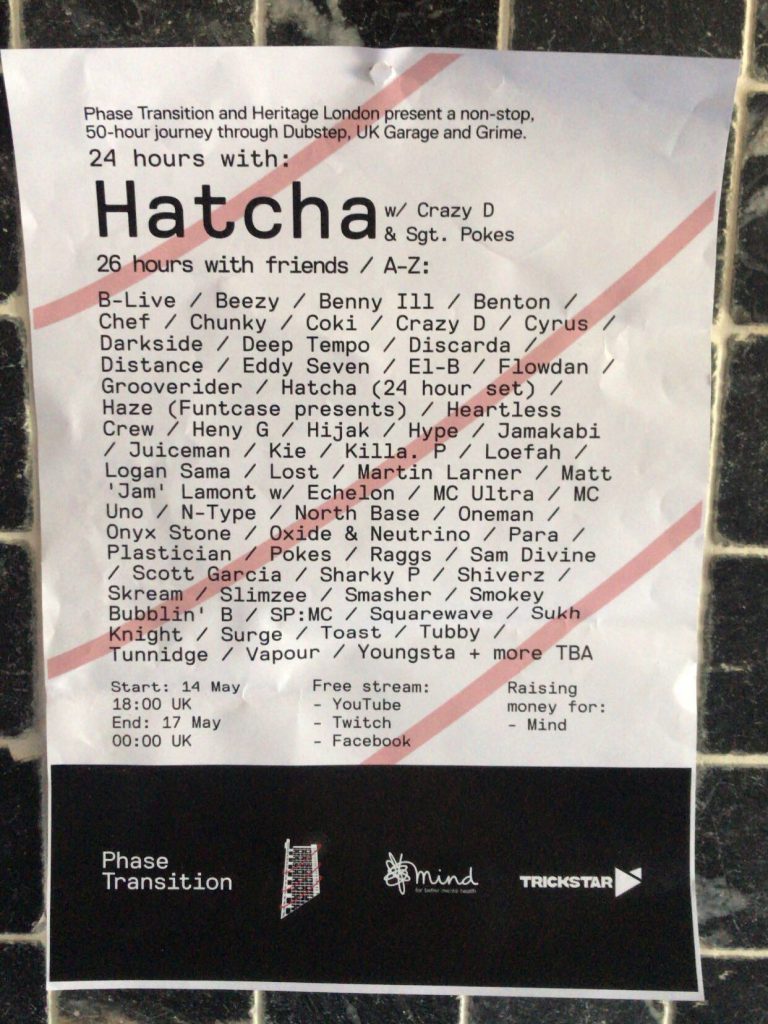 ---
HATCHA and Friends – Lineup By Artist:
B-Live
Beezy
Benny Ill
Benton
Chef
Chunky
Coki
Crazy D
Cyrus
Darkside
Deep Tempo
Discarda
Distance
Eddy Seven
El-B
Flowdan
Grooverider
HATCHA (24 Hour Set)
Haze (Funtcase Presents)
Heartless Crew
Heny G
Hijak
Hype
Jambaki
Juiceman
Kie
Killa. P
Loefah
Logan Sama
Lost
Martin Larner
Matt 'Jam' Lamont w/ Echelon
MC Ultra
MC Uno
N-Type
North Base
Oneman
Onyx Stone
Oxie & Neutrino
Para
Plastician
Pokes
Raggs
Sam Divine
Scott Garcia
Sharky P
Shiverz
Skream
Slimzee
Smasher
Smokey Bubblin' B
SP:MC
Squarewave
Sukh Knight
Surge
Toast
Tubby
Tunnidge
Vapour
Youngsta
+ more TBA
---
Follow Hatcha on Social Media:
Facebook | Twitter | Instagram | SoundCloud | YouTube