The latest compilation from WTF's That Sound will have you wanting to crawl into a speaker so you can immerse yourself in its massive sounds.
---
Just like their name implies, WTF's That Sound is a label that consistently brings those jaw-dropping heaters. Whether it's a livestream, massive compilation, or single release, they shine a light on some of the most forward-thinking artists in the underground. And to top it off, their WTF's That Compilation series always has such a wide variety of sounds on them but all will leave you wondering "WTF's that sound?" So add some spice to your weekend and vibrations to your speakers and bump the latest volume as has some of the fattest wobbles we've heard in a minute.
WTF's That Compilation Vol. 4 shines a light on up and comers that deserve to be in the spotlight. There's nothing like a good experimental bass tune to sends shivers down your spine and gives you goosebumps from head to toe, and each track on this compilation is sure to have you bouncing and the hairs on your arms stand up.
Artists featured include the likes of Kyral x Banko and REISHIO who bring wobbly bangers, while Niraya will have your hips swinging along to the beat. And you can't ignore GDubz (CAN) and Bassgazm who also dropped a VIP of their collaboration "Badboy Flow" as well. But that's just a taste of what's in store across the compilation's seven tracks, so give it a spin.
Start doing your stretches and get ready to wiggle to WTF's That Compilation Vol. 4. Stream it on your preferred music platform and read on for a more in-depth take on the compilation.
Stream WTF's That Compilation Vol. 4 on Spotify:
---
Kyral x Banko kick things off with their track "OMG WTF" and the title absolutely lives up to the disgusting bass they bring with it.
Kyral x Banko have such a knack for creating dirty sounds and they put that on display with "OMG WTF." The track starts off with glitchy, almost foggy sounds, but then the subtle bass slowly begins to creep in. In fact, there's not a single moment you'll be sitting still while listening to the tune with its bouncy bassline and distorted, crunchy synths.
Speaking about the creation of the track, they said, "It was pretty much the first time we ever started a track and brought it to 100% completion in a matter of a couple of days. It's also been one of the few deep dub tunes we've ever made, and it's something we're excited to be trying out more in our production."
Not only will you be shouting "OMG WTF" to the previous tune but to "Badboy Flow" VIP as well. I had chills the entire time this tune played and it made me feel like I was stuck inside a speaker being blasted by its vibrations.
Then, Niraya switches up the mood a little with his banger of a tune "Street Knowledge." He shows no mercy from beginning to end and is sure you have you sweeping the floor with your booty. This is another track packed with heavy distortion but the beat will have you swaying and curling your lip from the filth. "Street Knowledge" is like a seven-layer dip that just keeps getting better and better the deeper you go into it.
A name that many might not know yet but is highly recommend to keep on your radar is REISHIO. His sound design is utter, wobbly madness, and "LAVA" perfectly highlights that. I imagine this is how your brain would feel if you were stuck inside a volcano, trying to climb out. Each distortion of this track would be like falling deeper and deeper into the depths of the hot gooey lava.
Oh, your car is almost on empty? Don't worry, Xenotype is about to have you instantly back to full with "GAS."
Xenotype has that premium, high-octane bass sound with his track "Gas." This thick, distorted banger will have you going from 0 to 100 in a matter of moments. He eases you into that track, adding little sounds here and there as the thud of the bass comes in as do static and other distortions. Quickly after that, the drop comes in and from there things get stanky.
Following that is a personal favorite off WTF's That Compilation Vol. 4 – Buutler's "The Limits." Buutler is bringing in those dark, slow vibes to this compilation and I loved every second of it. There are caws of crows and other animal growls that just add an even spookier mood. There are evil laughs that he layers within the bass and these clean yet crispy synths that will tickle your eardrums. If aliens are on Earth they are going to love this tune.
The compilation then wraps up with Peakie's "Understand," a track that starts off slow but around a minute in changes things up. You'll be eased into this one with piano-like keys and lighthearted sounds before a voice comes in and repeats the word "understand." Then, it builds up and another voice says "you have you understand" before Peakie displays impressive sound design skills and packs the track full of warped sounds and thumping bass to bring everything to a proper close.
---
WTF's That Compilation Vol. 4 – Tracklist:
Kyral & Banko – OMG WTF
GDubz (CAN) x Bassgazm – Badboy Flow (VIP)
Niraya – Street Knowledge
REISHIO – LAVA
Xenotype – GAS
Buutler – The Limits
Peakie – Understand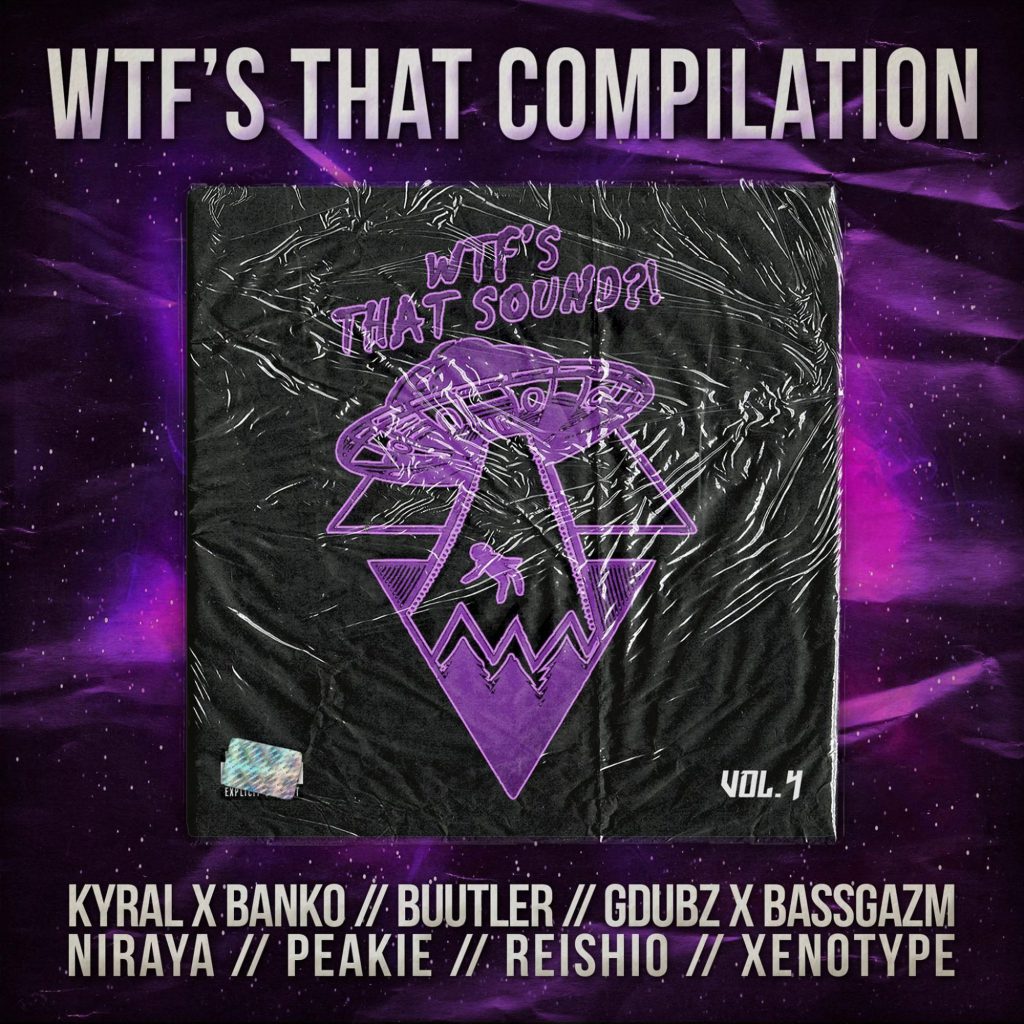 ---
Follow WTF's That Sound on Social Media:
Facebook | Twitter | Instagram | SoundCloud | Twitch