Andrew Rayel is celebrating 250 episodes of Find Your Harmony with the release of a new anthem and tour spanning the US.
---
It seems like just yesterday that Andrew Rayel set off on his journey with the Find Your Harmony radio show in tow. Since its debut, the show, which bears the same name as his renowned 2014 album, has continued to provide listeners with some of the freshest tunes in the scene. Now, Andrew Rayel is celebrating the latest milestone he's reached in style. Not only does Find Your Harmony 250 bring forth a new anthem and rebrand of his label but a tour that will take him across the US as well.
Earlier this year Andrew Rayel showcased "My Harmony" during the initial broadcast for the 250th episode, but it wasn't until last week that the track became available for his fans around the world. Paired with its release was a rebrand of his label inHarmony, which now will take on the Find Your Harmony name moving forward much akin to the event series and radio show itself.
With much of the United States beginning to open back up as vaccinations continue to increase, Andrew Rayel looked to celebrate the milestone with his fans. Starting on April 22, he'll set off on a tour across the country that will take him to cities including Miami, Orlando, Atlanta, Chicago, and Phoenix. He'll also be taking the stage during the forthcoming Dreamstate Park N Rave on May 1 as well for those who live in Southern California.
Tickets for select dates of the Find Your Harmony 250 US Tour are available now. Head over to Andrew Rayel's website to purchase or be notified of when they're on sale, and listen to the anthem on your preferred platform or Spotify below!
---
Find Your Harmony 250 US Tour: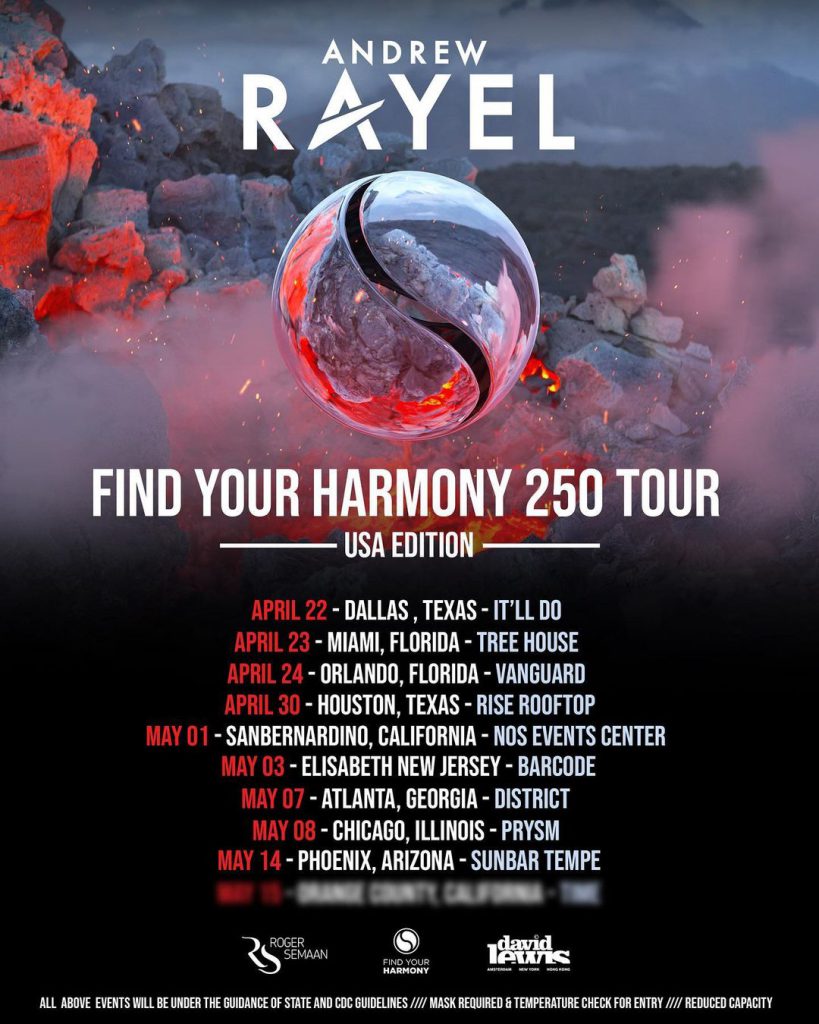 ---
Find Your Harmony 250 US Tour Dates:
April 22 – Dallas, TX – It'll Do
April 23 – Miami, FL – Treehouse
April 24 – Orlando, FL – Vanguard
April 30 – Houston, TX – Rise Rooftop
May 1 – San Bernardino, CA – Dreamstate Park N Rave
May 3 – Elisabeth, NJ – Barcode
May 7 – Atlanta, GA – District
May 8 – Chicago, IL – PRYSM
May 14 – Phoenix, AZ – Sunbar Tempe
?????
---
Connect with Andrew Rayel on Social Media:
Website | Facebook | Twitter | Instagram | SoundCloud | YouTube