While fans might be used to G-Space throwing down the wobbles, The Path Of Least Resistance shows off another side to his sound.
---
One artist in the scene who has immense talent and musical capabilities is G-Space. Not only does he whip up some of the heftiest beats, but he also knows his way around a piano exceptionally well – and his glowing character has further cemented his place in the bass community. More recently, he celebrated his birthday by dropping a massive album The Path Of Least Resistance, that showed off his innate musicality.
This gifted producer has magic at his fingertips and The Path Of Least Resistance proves that with its mixture of wobbly, dense beats and a whole lot of sweet chord progressions. From beginning to end G-Space has listeners entranced by each and every sound and he even puts his own vocal flairs on multiple tracks on the album. His pals Ruku and Miss Tiddy make an appearance on "Lucy Drippin" and tiedye ky and Uncle Mike come together for a very special track called "Are You Reminded" with the late and great Pipus.
Speaking about the album itself, G-Space said, "This album is about following your heart, it is the path of least resistance. That is when magical synchronicities start to happen in your life because the universe begins to flow through you. It will put you exactly where you need to be, and you will meet the people you are supposed to. The universe always flows in the path of least resistance, you can see evidence of this in nature, animals, outer space, and everything."
Follow the path of least resistance and stream the album on your preferred music platform. Press play and read on for a more in-depth take on it below.
Stream G-Space – The Path Of Least Resistance on Spotify:
---
From the start, G-Space reminds us that despite our "Differences" we need to put aside the hate and try to come together in unity.
"Differences" starts off with calming chord progressions, slowly bringing in the beat of a drum. This track leans on the instrumental side of the album and gives fans a taste of the other talents G-Space has when it comes to creating. There is a sense of peace and tranquility that surrounds you throughout the entirety of this tune. The next tune, "The Road is So Cold" kicks off with repetitive drum patterns and an almost western vibe. The playful beat intertwines perfectly with the lyrics and strumming of the guitar.
"Solstice" begins as you hear the sliding of a guitar and orchestral strings that send chills down your spine. Soon after G-Space adds in a deep beat that hits continuously. We also are graced by his beautiful ability to play the piano at the beginning of the track as well. A little over a minute in the focus is on the sounds of the keys, and soon after we hear more classical strings. There are so many sounds blended into this track that truly make it feel like a summer solstice, with a sprinkle of hope on the horizon.
Following that track is "Oh Years Ago" which feels like a look back at youthful days, during simpler times. The beat's sure to have you bobbing your head and stomping your foot, as you sing along to the catchy lyrics. We also hear G-Space's signature wobble, subtly throughout the track.
"Lucy Drippin" and "G Shuffle" will have your lips curling from how nasty and wobbly the bass is.
On "Lucy Drippin" we are graced with the dexterity of Ruku and Miss Tiddy's (Tessa Pasian) flow, which seem meant to be layered over those drippy, low-end gangster beats. In "G Shuffle" those wobbles do not stop, this track is dark and sure to have listeners slowly moving their hips to the beat. The bass in this is so thick it'll shake you to your core as the subtle drum progressions click throughout the track and add that little extra something. G-Space eases us out of the track with his expert piano skills, making you feel like you could float away.
Things get a little sad for these next few tracks but G-Space shows off a very real side that listeners can relate to.
"I Been Depressed" has a slow beat, lead by a simple yet hypnotic drum pattern. There is a grungy bass that rips and pulls throughout the track and mixes within the other instruments being played. This track feels like G-Space giving fans a glimpse inside his mind and being raw and honest with us.
"Are You Reminded" features tiedye ky and Uncle Mike, and kicks off with sweet sounds of a harmonica that will make you want to start tapping your feet. Piano progressions begin to play and soon after we hear the voice of Pipus, a beloved friend of many who's missed dearly. The vocal snippets from Pipus make this a sad, yet beautiful song as well as a reminder of cherished memories with friends who've passed on.
Then, The Path Of Least Resistance wraps up with "Plasma," a dreamy downtempo track that blends in other instruments. Parts have almost classical sounds to them that gently lay over the beat, but he throws in those dirty wobbles in certain sections to keeps you guessing what's next. After listening to it in full, it's clear that G-Space has immense talents and it's exciting to see what he does next – especially if it involves more of what we heard on this album.
---
G-Space – The Path Of Least Resistance – Tracklist:
Differences
The Road is So Cold
Solstice
Oh Years Ago
Lucy Drippin – feat Ruku, Miss Tiddy
G Shuffle
I Been Depressed
Are You Reminded – feat. Pipus, tiedy ky, Uncle Mike
Plasma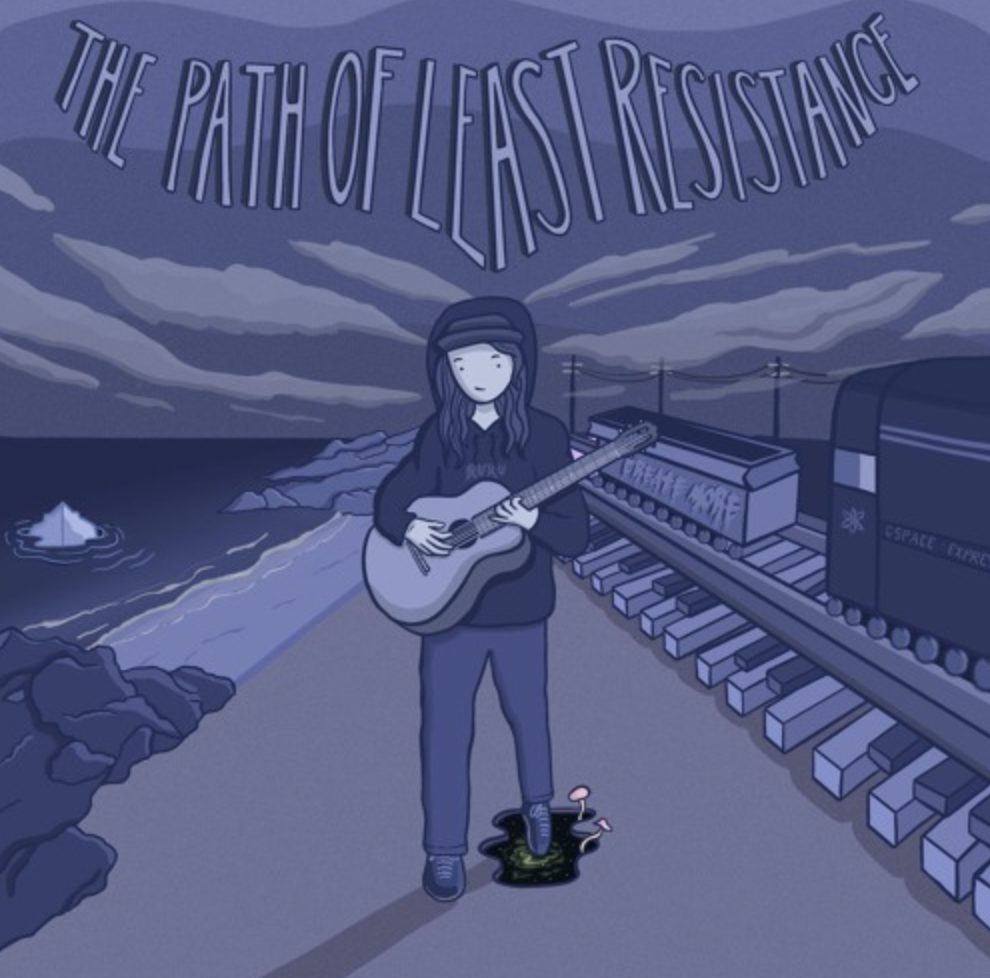 ---
Follow G-Space on Social Media:
Website | Facebook | Twitter | Instagram | SoundCloud | Twitch