MorFlo Records' compilation Alchemy is chock-full of churning bass lines and crushing sound design, appealing to seasoned bass music fans and newcomers alike. 
---
Denver-based bass music label MorFlo Records debuted their first compilation last week titled Alchemy. The compilation includes 22 tracks from up-and-coming bass artists like Mystic Grizzly, sfam, Mersiv, Fryar, Angelic Root, G-Space and more. Many of these acts are beginning to surface from the underground, releasing bodies of work that are sure to meet more ears throughout 2019.
The hodgepodge of electronic influences present in the album makes for a diverse collection of bass-oriented tracks. There's going to be at least one track for every bass music fan out there and plenty of music to binge, so take a listen to Alchemy below and read on for some of my favorite tracks on the release!
Download Alchemy for free via ToneDen today! 
Stream MorFlo Records – Alchemy on SoundCloud:
---
Mystic Grizzly kicks off the album with "Alchemy".
This evolving track from Mystic Grizzly throws sonic wingdings at you left and right. We get a slew of textures here from wet and bubbly to tight and choppy. There is a lot of creative sound design packed into this song and it's an excellent segway for what's to come.
Sfam has us "Scrambled" with their tune.
Sfam is notorious for their percussive focus, with many of their tracks showcasing crispy foley sounds clinking and clacking around the stereo field. "Scrambled" gives us this and then some, featuring a distinctly guttural bass in the drop of this wonky heater. The duo has been stacking quality releases, and "Scrambled" is no exception.
There's no lack of bounce in FiYah's track, "Mercury".
We take off through an eerie intro, building a scene and foreshadowing the melody that the bassline of the drop takes over. This drop gets us bouncing and buzzing, complete with snares that smack your face. The driving rhythms of this track will keep your feet moving without compromising the artistic integrity of a solid intro and conclusion.
Next on our list is Fryar's contribution, "Numb".
This beast of a track has a satisfying crunch between the lead elements and sub that give the song its own character. I was pleasantly surprised by the drum and bass section of the second drop. It's one of few tracks on the compilation that switches things up this drastically. They pulled it off and added some unique flavor to the song and the compilation as a whole.
Get your wobble on with Angelic Root's, "Moon King".
Angelic Root delivers his distinct flavor of deep dub sounds in "Moon King". Taking influence from bass gurus like Yheti, G Jones, and Liquid Stranger, Angelic Root brings his reggae-fused dub roots (no pun intended) and seamlessly blends them with inventive sound design and snappy drums. The lead-in of the track sets a vivid scene, providing a feeling for every other element to rest on. This is something I value a lot in contemporary electronic, especially bass music, where the compulsion to rush the drop often results in half-baked introductions. 
"Morflo Records are some of the most hard-working and dedicated people to come together to release music from a platform I've ever worked with so far and I'm glad to call them family!"

-Angelic Root
G-Space's musicianship and key skills shine on "Challenger Deep".
Combining beautiful piano, whipping bass lines, delayed out percussion, and even some moombahton vibes, "Challenger Deep" is an eclectic track, laughing in the face of anyone arguing bass music is "just noise bro". G-Space flexed his creative muscles on this one. It's a fun song that brings another memorable edge to the compilation.
MorFlo put their best foot forward on Alchemy, presenting new artists alongside consistently strong talent. 
If you're familiar with the underground bass scene, some of these names have come across your playlists. For those eager to discover the next wave of bass artists, you're in the right place. Catch some of these featured artists at the next MorFlo Records Showcase on March 16 in Flint, MI.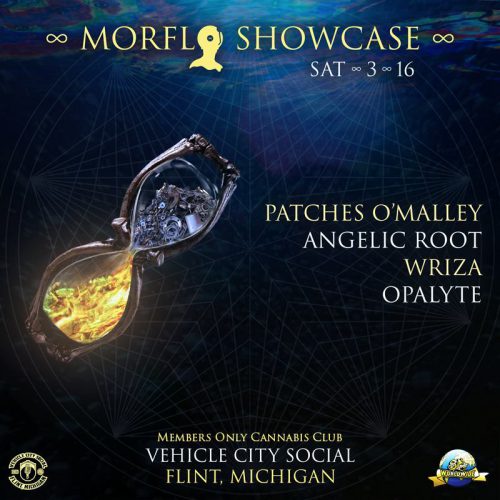 ---
Alchemy – Tracklist:
Mystic Grizzly – Alchemy

mlotik – Metamorphosis

sfam – Scrambled

Mersiv – Hocus Pocus

Wriza X Clefto – Let it Breathe (VIP)

Opalyte – Magnum Opus

FiYah – Mercury

Kyral X Banko – Gold

Fryar – Numb

Knat Turner – Multiply Us (Prod. by Mersiv)

Patches O'Malley – Emerald Tablet

Angelic Root – Moon King

Dapolitiks – Misfit

Unexotic – Eternal Void

Brightside X Akamu – Late

Calvin Hobbes – Polarity

Sather – Astrology

dream pusha – Klamber

G-Space – Challenger Deep

GrymeTyme – Transmutate

Odd Zoo – Lizard Wizard

VibeSquaD – Longevity
---
Follow MorFlo Records on Social Media:
Website | Facebook | Twitter | SoundCloud | Instagram | YouTube