New label nyt club has emerged from the underground and they're kicking things off with their first multi-genre compilation, NOT YOUR TYPE.
---
If you've been following the bass scene over the past few years it's pretty easy to see how much the underground has been thriving. Artists have put out an onslaught of releases and collectives have also been at the forefront, pushing forth forward-thinking sounds that take the scene to the next level. Now, a new imprint has emerged from the depths, nyt club, and they've set off on a mission to break boundaries even further.
There's no better way to launch a label than by showcasing the sounds that will be present on it in the future, and nyt club did just that with the first edition of NOT YOUR TYPE. Featuring 17 tracks from some of the underground's hottest acts including KADENA, ASHEZ, Kurei, DROPWIZZ, and Kuan, the compilation draws from a range of genres and is setting the bar for what this imprint is all about.
After listening to their debut compilation there's little doubt that this new label is already off to big things. So put on your best dancing shoes, listen to the first release from nyt club on SoundCloud, download your own copy on Bandcamp, and read on for a more in-depth look on NOT YOUR TYPE.
Stream nyt club – NOT YOUR TYPE on SoundCloud
---
NOT YOUR TYPE is packed with so many different noises that are right up the alley of anyone who loves artists who bend genres.
Deafadil kicks off the compilation with "I Want It Now" an energetic drum and bass tune that will instantly have you up and moving. The quick basslines and gritty synths will immediately transport you to a dim, smokey nightclub. Robu comes in next with "Double Digits" a booty shaker of a trap banger that will surely have listeners sweeping the floor with their booties. Each element of this track had me giggling with excitement and I couldn't help but groove to it. Then, ELIMINA leans on the forward more experimental side of things with "Cut You Off" and has some ethereal parts but also lots of distorted and experimental pieces found within it.
IANY's "CABRAKAN" is a heater that shows no mercy throughout its entire runtime – this tune is loud and will have you feeling like you're being rolled out like a pile of dough. DROPWIZZ came in swinging with another trap track on the compilation for his tune "ENCRYPT" as well as ANOXEX with "AOAS." Loud and distorted noises echo through the ears when listening to these two and it will make your body move along with the beat as you bump them on a system. And just when you get a second to breathe, KADENA summons a "D3MON" with their addition to NOT YOUR TYPE as they dominate with synthesizers and dirty beat.
Up next is ALPHA TRANSMISSION with "VIBRATE" and much as its name implies the distorted noises featured in it will shake your brain and roll off your body like a raindrop. Just wait till you hear the switch up towards the last half of the track because you'll be chopping at the air in no time at all. TYPO's "OFFSET" is another one that carried those similar vibes with its dark, wobbly sounds that blast listeners off to the cosmos.
A true standout from the compilation was "Phew" from Kuan.. The bassline on this one is packed with gut-punching sounds that will cook any lover of wubs into a floppy noodle. And moments later listeners will have their noses scrunch up into a mean bass face when Kizer's "Out Here" enters the fray and the bass rips through speakers.
"Fried" from Dink The Poof spiced up the collection of tunes with a dose of trap and experimental sounds. From the little squeaks to the chime-like drums and kicks, the elements featured in this track fit together like a puzzle. If you were looking to get down low then YEN's "DEGENERATE" will fill that craving as well, with its mix of genres that are blended together to perfection. Getting back into the trap side of things was BAGG and Buzz Junior's collaboration "Telestic." This felt like that old-school trap sound that you'd hear at a show back in 2012-2014, but with a new-age twist to it to bring it up to the current decade.
ASHEZ consistently drops banger after banger and "10 Pounds Heavier" is another to add to that ever-growing list as it features a deep bassline that will surely entice anyone's hips to swing along with it. The penultimate track comes from Karezza, and if you hadn't transcended to another dimension yet "Tha Portal" will surely set you off. And then KUREI wraps up NOT YOUR TYPE with "Rn <33" while adding a lightweight feel in contrast to other parts of the compilation but still retaining some bass that slaps and keeps listeners on their toes as to what's coming next.
nyt club really shined a light on just what it is the underground can do with the release of their debut compilation. Now that NOT YOUR TYPE is available for the masses we can't wait to see where they plan to take us next, so stay tuned for the next chapter!
---
nyt club – NOT YOUR TYPE – Tracklist:
Deafadil – I Want It Now
Robu – Double Digits
ELIMINA – Cut You Off
IANY – CABRAKAN
DROPWIZZ – ENCRYPT
ANOXES – AOAS
KADENA – D3MON
ALPHA TRANSMISSION – VIBRATE
TYPO – OFFSET
Kuan. – Phew
Kizer – Out Here
Dink The Poof – Fried
YEN – DEGNERATE
BAGG x Buzz Junior – Telestic
ASHEZ – 10 Pounds Heavier
Karezza – Tha Portal
KUREI – RN <33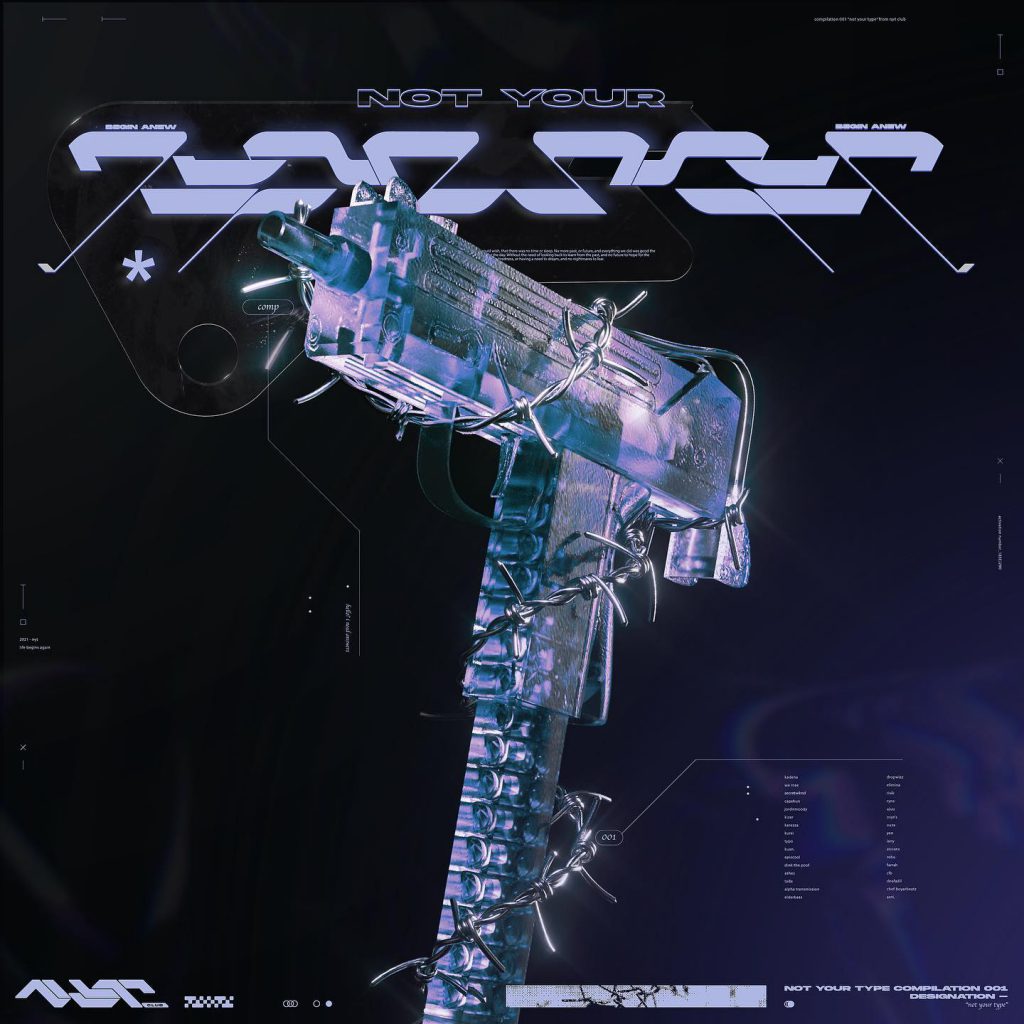 ---
Follow nyt club on Social Media:
Facebook | Twitter | Instagram | SoundCloud