Californian Soil, the latest album from London Grammar, is here and doesn't disappoint with upbeat sounds set on a backdrop of darkness.
---
Indie-pop and EDM are decidedly divergent genres, yet there's a curious overlap in mood and where remixes are concerned there's much convergence. As a fan of indie-pop, it isn't often a go-to genre, but artists like London Grammar rise to the top and create an interesting exception. It's also no surprise that much like many others, my introduction to London Grammar came through remixes of "Hey Now" by Arty and "Strong" by Judah. These songs may have drawn me in, but then I quickly gravitated to London Grammar's original discography and never went back.
So when they announced Californian Soil it came as a delight to their fans around the world. The album has an intriguing and important origin story, coming from the deep self-doubt that frontwoman Hannah Reid was feeling as a female artist. She was feeling powerless in an industry that has a history of undervaluing female talent, and women in general – a history that is coming to the forefront through stories like the recently released documentary Underplayed. This frustration led her to take the lead of London Grammar and write song lyrics that were direct and hard-hitting rather than shrouding her messaging in innuendo.
If Reid had any doubts, bandmates Dan Rothman and Dot Major assuaged those, quickly supporting her in the change. Just like Florence (Welch) wouldn't be the same without The Machine, the trio all know the value they bring to the band. That said, the men recognized the gender issue and knew that supporting Reid in this move would only benefit them all as artists; all the while sending a clear message that gender bias has no place in music. The result is an album that feels like the most complete and honest work from the band along with a new power in Reid's lyrics.
You can purchase or stream Californian Soil from your platform of choice now. Be sure to catch their live performance of the album on YouTube this Sunday and read below for the album review!
Stream London Grammar – Californian Soil on Spotify:
---
From the start of the opening track, it's obvious that this is an album in the truest sense: a singular mood and theme rather than a random selection of songs.
The aptly named "Intro" gets the experience started with church bells and an ethereal chant that feels like a meditation meant to ground us in place and prepare us for what's to come. Then the strings come in, boldly pushing the mood forward. As the layers come together fully, we're being prepared for the depths of the story ahead. "Intro" closes with a deeply modulated voice and reverb that hints at the darker themes underlying the uplifting sounds ahead.
Title track "Californian Soil" comes next with lyrics that tell the overarching story of Reid's awakening as a female artist. This is the story of "a woman finding strength in learning how to stand up for herself." Musically, the track delivers rich layers of percussion, classical strings, electric guitar, and synths that lift the vocals even higher. With atmospheric vibes and beautiful vocals, this ties in nicely with "Missing" following in a similar vein.
The album's tone begins to shift after "Missing" as the euphoric sounds continue but the lyrics tell a deeper, darker story.
The previously released tune "Lose Your Head" tells the story of a previous relationship Reid had with someone who had a "Machiavellian streak." This track pairs perfectly with "Lord It's A Feeling" – both sounding beautiful and upbeat while telling a darker story. London Grammar is greater than the sum of its three members, and if that wasn't clear in the first few tracks, it crystallizes through these two. The complexities of the rhythm, melody, and storytelling will drive you to repeat these tracks over and over until you're sure you've uncovered all of the nuances. Yet you will listen again a few days later and find even more meaning.
"How Does It Feel" is a powerful breakup song and unlike the previous two tracks, the story is entirely in your face with nothing left to interpretation. To drive this home, this is the first song on the album to bring in a driving, electronic beat. It's an unapologetically angry song that will have you dancing not just because of the beat, but because movement is so appropriate to work through raw emotion. The emphasis on electronic sounds carries into "Baby It's You" which finds a gorgeous balance between being an EDM anthem and blissful indie-pop tune.
The next thematic shift occurs as "Call Your Friends" opens with purely euphoric vocals.
"Call Your Friends" and "All My Love" work in synergy together as well – these are the love ballad sounds of popular music fame. However, in classic London Grammar style, they just sound and feel bigger than others in this category. Both are examples where Reid's vocals could stand on their own, but the edition of such broad, luscious soundscapes elevates the final product to new heights.
"Talking" and "I Need The Night" round out this section of the album and feel like a cozy blanket of London Grammar feelings and vibes. But despite feeling like previous releases from the trio, they also feel more mature, more complete. This is impressive as there was nothing ever incomplete in their previous body of work.
The album closes out with "America" which has a fun country vibe to it without going too far and while staying true to the familiar London Grammar style. It's a peaceful, emotional closer that gave me some goosebumps as I swayed gently in my chair. It's a hopeful song about a somewhat hopeless world. I think that kind of sums up the last year in America quite well.
Californian Soil is a perfect evolution for London Grammar – they stay true to their roots while simultaneously blaze new trails.
All of Hannah Reid's pain, frustration, and hope are so clear in this album, and the support she received from her partners is truly inspiring. "We know Hannah. She's gifted and a wonderful, underrated songwriter," says Major. "If she's terrified, then it's our job to be there to support her." Rothman adds, "As we were working on the album, I noticed newfound confidence in Hannah. With that confidence, I saw her take the leap to become the figurehead of the band—and I'm so glad she did because it's something I always really wanted her to do." Well said.
---
London Grammar – Californian Soil – Tracklist:
Intro
Californian Soil
Missing
Lose Your Head
Lord It's A Feeling
How Does It Feel
Baby It's You
Call Your Friends
All My Love
Talking
I Need the Night
America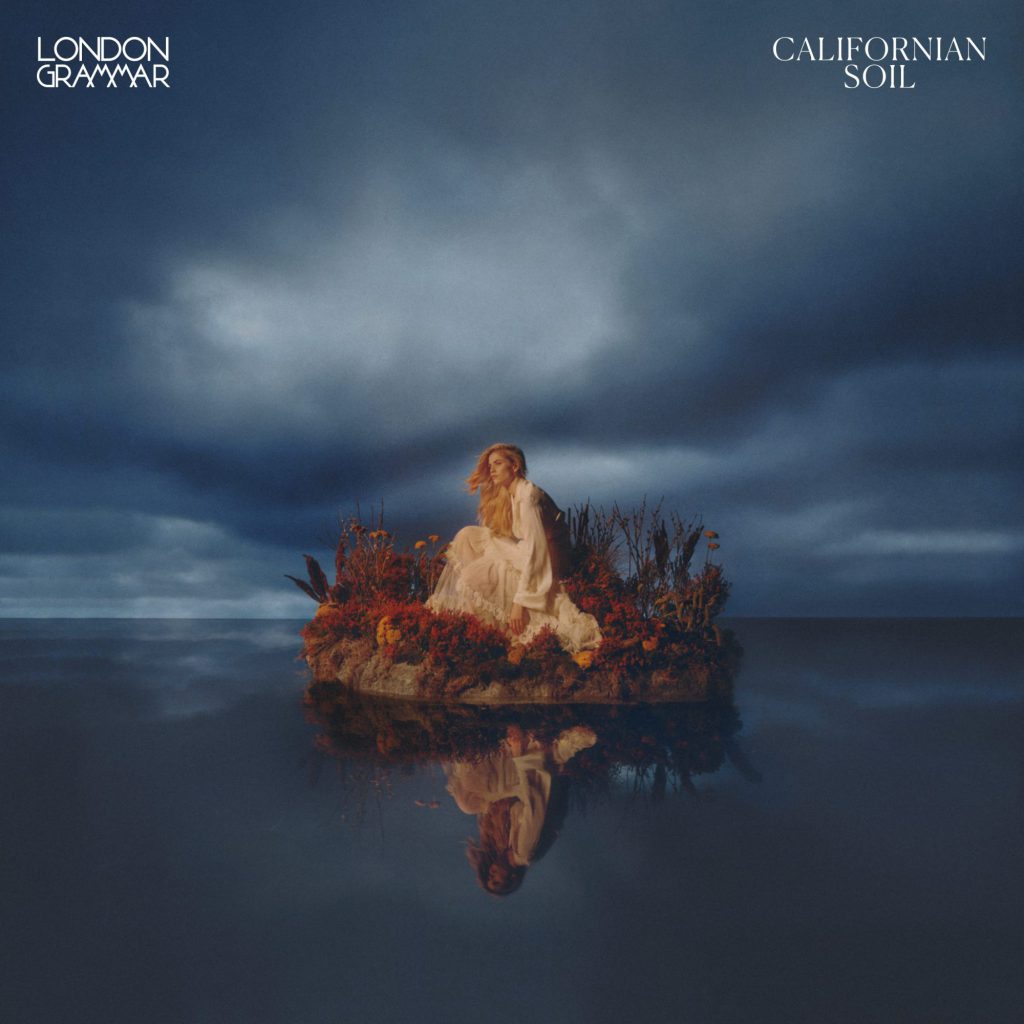 ---
Follow London Grammar on Social Media:
Website | Facebook | Twitter | Instagram | SoundCloud | YouTube