The killa killa news that we all needed is here, Zeds Dead will be gracing a handful of cities with The Revival Tour starting this September.
---
With the world slowly opening up again and festivals and events beginning to return, it feels like there's finally a light at the end of the dark tunnel from the pandemic. The hype surrounding upcoming festivals has begun to take hold and two of the most dynamic artists in the bass scene, Zeds Dead, helped fuel that fire yesterday by tweeting a video and hinting at the possibility of a tour.
Today, that secret was revealed and the duo dropped the details for their first tour back since quarantine with the Deadbeats: The Revival Tour. Yes, that's right, Zeds Dead is back and ready to bless fans across the states at the end of this year. And while there may not have been any hints at who may be going on tour with them, knowing the boys there is sure to be something extra special up their sleeves.
The Revival Tour will start at the beginning of September and carry all the way till January 8 of next year. Cities that Zeds Dead will touch down in include Los Angeles, San Jose, Seattle, Detroit, and Minneapolis among a few other dates including New York for Electric Zoo and Kapolei for Deadbeats Hawaii. Additionally, the two shows on December 17 and 18 are still blurred out, leaving their fanbase guessing at where the duo will land towards the end of the year as well.
Further, Zeds Dead stated that they will not be playing drive-ins or reduced capacity shows that could compromise the quality of The Revival Tour, so make sure to do your part by getting the vaccine and staying safe! Be sure to keep up to date by following their social media pages as well as the Deadbeats website for more news about the tour, lineups, and more.
Tickets go on sale Friday, April 9 at 10am local time via their website, there will be no presales for specific dates so get them while you can! You do not want to miss out on the first Zeds Dead tour back from quarantine.
---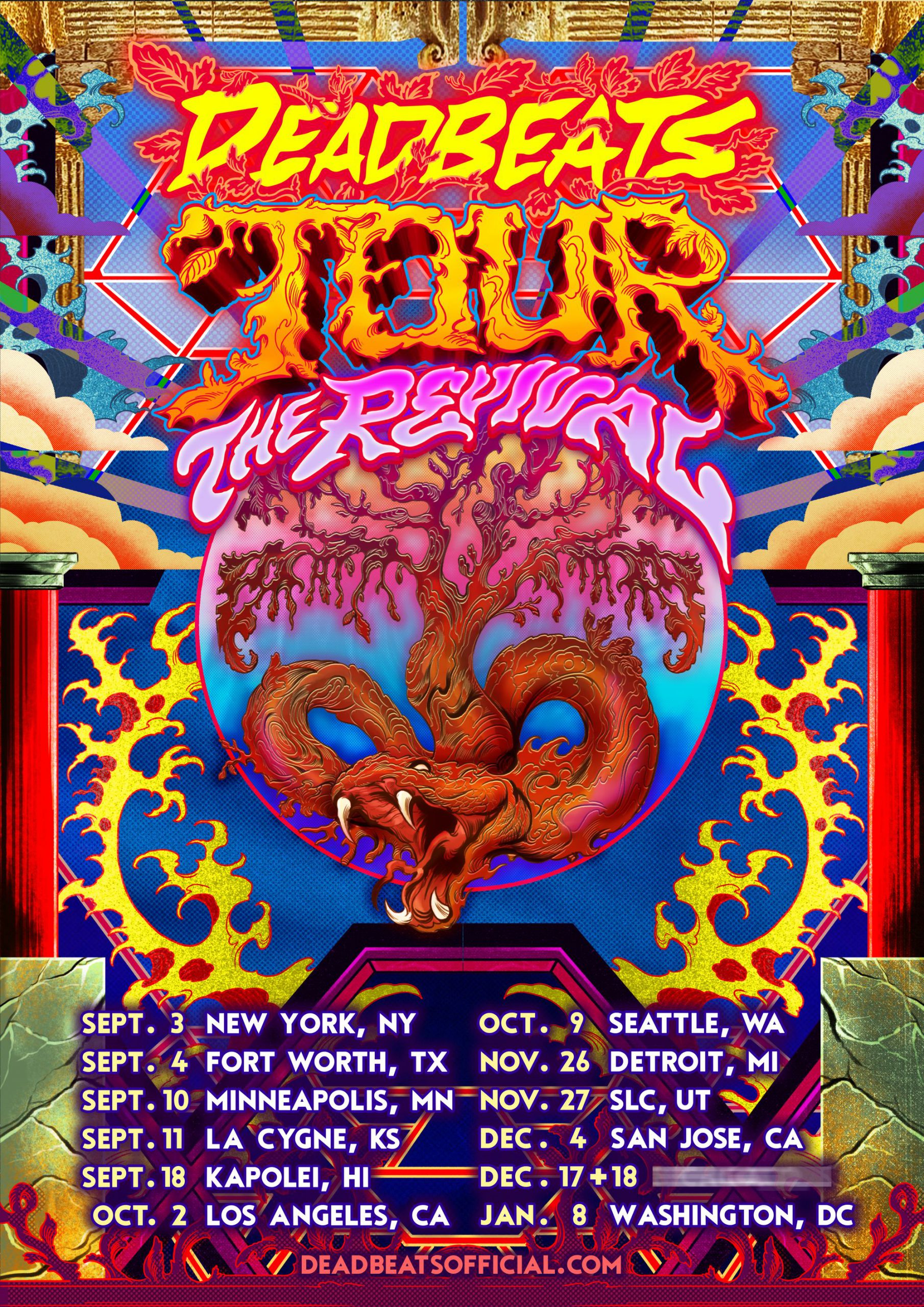 ---
Deadbeats: The Revival Tour Dates
September 3 – New York, NY
September 4 – Fort Worth, TX
September 10 – Minneapolis, MN
September 11 – La Cygne, KS
September 18 – Kapolei, HI
October 2 – Los Angeles, CA
October 9 – Seattle, WA
November 26 – Detroit, MI
November 27 – Salt Lake City, UT
December 4 – San Jose, CA
December 17-18 – ?????
January 8 – Washington, DC
---
Follow Zeds Dead on Social Media:
Facebook | Twitter | Instagram | SoundCloud | YouTube | Twitch
Follow Deadbeats on Social Media:
Website | Facebook | Twitter | Instagram | SoundCloud | YouTube | Twitch