Are you ready to make a splash at Dirtybird CampINN this year? They just delivered a stacked lineup filled with house, techno, and bass goodness!
---
Calling all members of the Dirtybird flock, it's time to trade-in your old bandanas and join a new squad at the debut edition of CampINN. After pushing their 2020 plans to 2021 and announcing that the resort hotel concept at The Avanti Palms Resort in Orlando would be a go on May 14-17, the hype has already begun to build for the debut edition of the event. Now, the lineup has dropped to add even more excitement for future members of the Gator Squad, Flamingo Fam, or Scuba Crew.
Those who take the plunge and head to Orlando in May will be treated to a sound bath suitable for all ears ranging from house and techno to funk and disco, with the right amount of hip-hop bass to get your booty shaking as well. Aside from Claude VonStroke and his alter-ego Barclay Crenshaw, the star-studded lineup includes Soul Clap, DJ Holographic, Mr. Carmack, Shiba San, 2 Live Crew, and Gene Farris, but it gets even deeper from there.
Performances from Mikey Lion, TOKiMONSTA, Justin Jay, Treasure Fingers, and Worthy are sets you simply shouldn't miss, while others from the Dirtybird flock like Walker & Royce, Ardalan, VNSSA, and Sage Armstrong will be throwing down heaters. The non-stop party is also set to shine a light on some freshwater guppies as well for a splash of fun with E.R.N.E.S.T.O, Bruno Furlan, Black V Neck, Choopsie, and Arnold & Lane added in for good measure.
But wait, there's more! Dirtybird CampINN will also feature a plethora of games to take part in while soaking up soak up the Florida sun or settle in for the night. Claude's Cove will host the Great Bingo Revival, alone with crafting sessions, float races in the pool, and yes, even the Florida Man's Game Show – all of which are just a stroll from guest's rooms.
With the health and safety of their guests in mind, Dirtybird has also unveiled their plans for CampINN ahead of the weekend. All guests will be required to wear face masks indoors at all time, sanitation supplies will be plentiful, temperature checks will be conducted at the door, and the festival will also be limited capacity. Additionally, you will need to provide a negative, on-site COVID-19 test or proof of vaccination to attend the event, and once you check in you WILL NOT be able to leave the hotel and return.
Tickets for Dirtybird CampINN 2021 are on sale now and are available via their website and let us know if you plan to attend in the comments!
---
Dirtybird CampINN 2021 Lineup: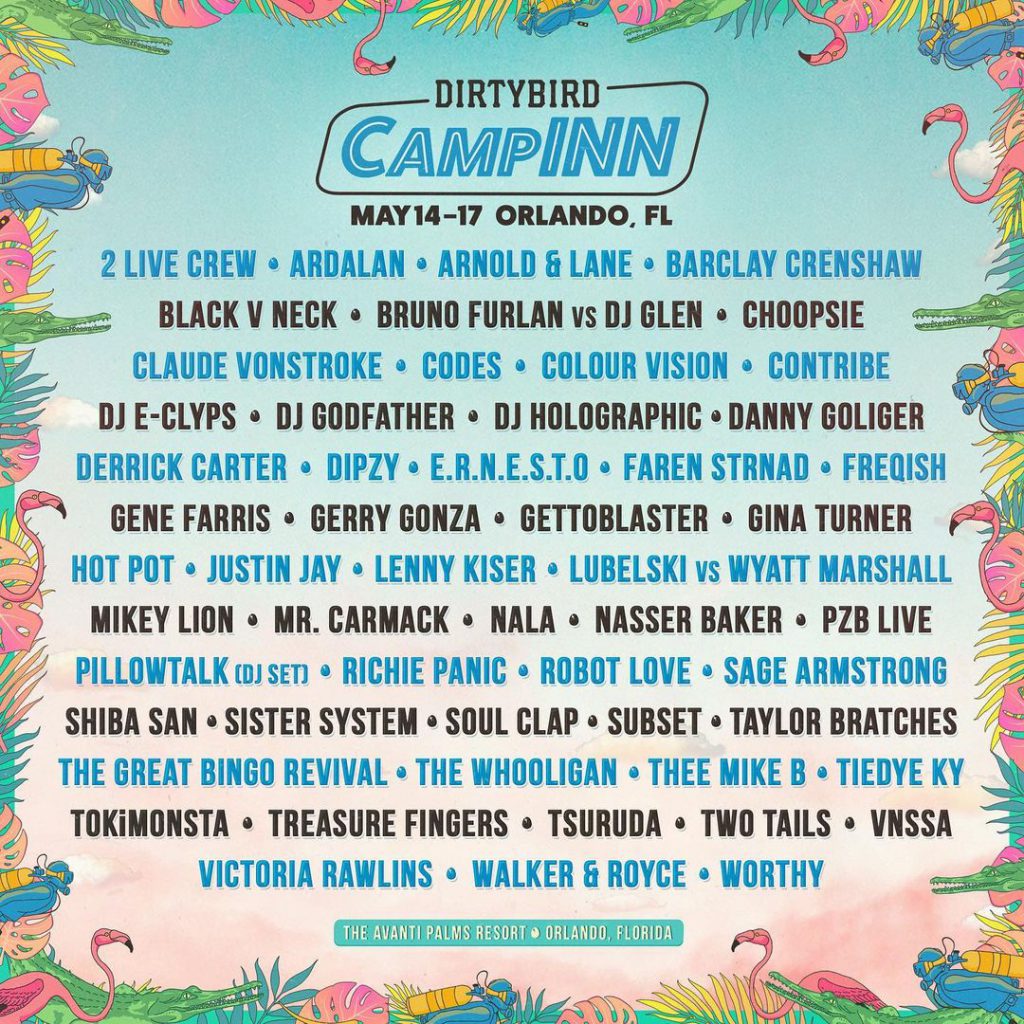 ---
Dirtybird CampINN 2021 – Lineup By Artist:
2 Live Crew
Ardalan
Arnold & Lane
Barclay Crenshaw
Black V Neck
Bruno Furlan
Choopsie
Claude VonStroke
Codes
Contribe
Colour Vision
DJ E-Clyps
DJ Glen
DJ Godfather
DJ Holographic
Danny Goliger
Derrick Carter
Dipzy
E.R.N.E.S.T.O
Faren Strnad
Freqish
Gene Farris
Gerry Gonza
Gettoblaster
Gina Turner
Hot Pot
Justin Jay
Lenny Kiser
Lubelski
Mikey Lion
Mr. Carmack
Nala
Nasser Baker
PZB Live
Pillowtalk (DJ Set)
Richie Panic
Robot Love
Sage Armstrong
Shiba San
Sister System
Soul Clap
Subset
Taylor Bratches
The Whooligan
Thee Mike Bee
Tiedye Ky
TOKiMONSTA
Treasure Fingers
Tsuruda
Two Tails
VNSSA
Victoria Rawlins
Walker & Royce
Worthy
Wyatt Marshall
---
Follow Dirtybird on Social Media:
Website | Facebook | Twitter | Instagram | SoundCloud | YouTube | Twitch