Dezza crafts up an unforgettable voyage through the depths of a progressive soundscape in his new album 44° North, 63° West on Colorize.
---
Canadian artist Dezza has become a fan-favorite for those who love the sounds of progressive house, deep house, and trance. Beginning his journey as a producer in the late 2000s, he's consistently offered up serene soundscapes and has done incredible things in the studio ever since. From tracks like "Hero" and "Honey" to bangers such as "Expanse" and the unmatched "Cold Outside," Dezza has proven he's producing some of the best the genre has to offer.
Related: Want to dive inside the mind of Dezza? Check out our interview with him for a deeper look at this progressive maestro!
Now, after taking the reins on compilations including Enhanced Progressive 400 EP 2 and Colorscapes Volume Two last year, Dezza takes it to the next level by releasing yet another amazing album – his first since Cosmos in 2019. Dubbed 44° North 63° West his latest masterpiece is the product of his work during quarantine, and it's quite a gorgeous one at that. With 19 tracks full of smooth beats, groovy basslines, and melodic soundscapes, that classic Dezza sound comes shining through on this album and it's an absolute hit amongst his fans.
Listen to 44° North 63° West on Spotify or your favorite platform. Read on for my thoughts and some of the standout tracks on this fantastic album from Dezza.
Stream Dezza – 44° North 63° West on Spotify:
---
The album has a smooth and connected feel throughout from the first track to the last.
Dezza has always had a knack for weaving together impressive albums, and 44° North 63° West really explores his versatility in making great music. He opens up the story with tracks like "Real Love," "Lost In You (Falling In Love)," and the previously released "Settle," three melodic pieces that really set the tone for what's to come, and the flow only gets smoother from there.
Standout tunes such as "In Your Arms," "Won't Let Go" and "Ghost" really pick up the energy and adds a groovy aspect to the album.
The movements Dezza has within this album is impressive as it goes from atmospheric tones and laidback vibes to euphoric melodies and heavy basslines. "Ghost" and "Won't Let Go" are great examples of how he channels energy into his music with both tracks bringing unique yet dancey energy that will have listeners craving more.
"In Your Arms" is an outstanding track and it breathes a great amount of life into the album. The tune begins with a beautiful piano chord paired with distorted vocals, leading to an introduction of a heavy bassline, and a super catchy chorus. It's so light and uplifting that you can't help but sway to the sounds that Dezza layered into it.
Paired up with the lively tunes are euphoric tracks like "Midnight Wonder," "Memories," and "Get Away."
Dezza's euphoric tunes really take the listeners to another place with their beautiful chords and lush soundscapes, and "Midnight Wonder," "Memories," and "Get Away" are prime examples of this. Whether with vocals or not, the chords, percussions, and sustained atmospheric synths really give these tracks a pleasant, uplifting feel. Within moments the positive vibes will wash over anyone who tunes in.
Another notable track, "The Koko Effect," offers up in the percussions, bassline, and overarching melody. A heavy bassline booms forward as it introduces an amazing melody that's followed up with a soft piano topline during the middle of the track. It gives an image of a sunny, happy, breezy dreamlike destination where worries melt away.
A few standout tracks really show Dezza's well-roundedness when it comes to deep and progressive house.
"Close Your Eyes" is one of the best tracks on the album as its drums are met with a guitar-led bassline and vocal chops for maximum appeal. The breakdown emphasizes the blaring low-end, leading to a vigorous final drop that will have feet moving. It's simply a tune that cannot be listened to standing still and is some of Dezza's best work yet.
Released ahead of the album, "Tilt Shift" is one of the darkest songs on the album and comes out of nowhere to stun listeners. The song wastes no time, bringing in the blaring low synth and a punchy kick, and the dark, viscous melody paired in contrast with the piano notes sends chills down the spine. The hi-hat rolls are put there to add that extra spice, and it works perfectly to make for a tune that is truly outstanding.
Tracks like "Serendipity" and "Ambedo" provide a cool, laidback feel to help the listener float on the overcasting melodies.
Dezza also explores celestial soundscapes on the album, which are prevalent on tunes like "Ambedo" and "Serendipity." Both of these tracks ease the mind and offer up relaxing tones that will leave anyone feeling as if they're floating in the sky as beautiful melody graces their ears.
Towards the end of the album, Dezza delivers "Oh Na," an easygoing track with tribal-sounding chants added for some extra flair. Birds and guitars are introduced to set the mood, as a harp leads into the kick drum. It's a slower tune with that same synthy bass that's been used in many tracks throughout the album, but its placement is wonderful coming in at the tail end. The same style is echoed by the final track, "Storm." This track really focuses on the sounds and atmospheres used throughout the album. It's a perfect way to conclude the adventure into Dezza's world.
All in all, 44° North 63° West showcases Dezza's versatility as a producer and only solidifies his place as an artist to watch. He's proven time and time again how passionate he is about his music whether it's in the studio, on stage, or on a livestream, and after this massive album we can't wait to see where he takes us next.
---
Dezza – 44° North 63° West – Tracklist
Real Love
Lost In You (Falling In Love)
Settle (feat. Lauren L'aimant)
My Breath (feat. Dan Soleil)
I Wanna Know (feat. EMME)
The Koko Effect
Close Your Eyes
Won't Let Go (feat. Lewyn)
In Your Arms
Ghost (feat. Lauren L'aimant)
Carry Me (feat. Mike Schmid)
Serendipity
Ambedo
Memories (feat. MØØNE)
Oh Na
Getaway (feat EMME)
Tilt Shift
Midnight Wonder (feat HEBE)
Storm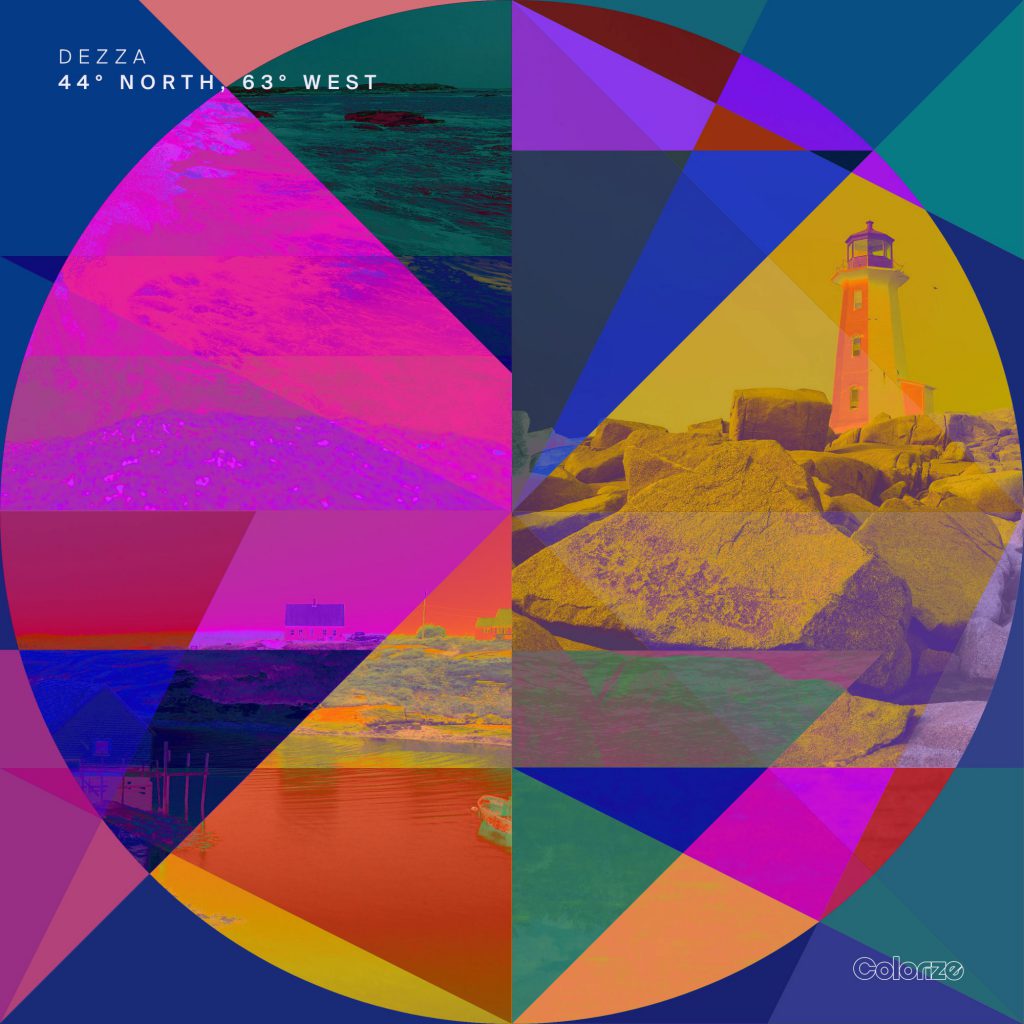 ---
Follow Dezza on Social Media:
 Facebook | Twitter | Instagram | SoundCloud | Twitch