CouchFest 2021 is just around the corner and will host artists and VJs including MYTHM, Mistah, VJ Kobra, Ivy Visuals, and more.
---
When COVID hit last year the underground (and the rest of the music scene) came to an abrupt halt. Fans, promoters, and artists alike were devastated when the things we loved most had to be put on pause. But, with in-person events being few and far between, the birth of livestreams came to fruition. One group of individuals who came together were the creative minds behind CouchFest, a massive livestream that spanned over seven days and featured artists from all over the world.
Last year there were two editions of CouchFest and each one was put on in the hopes of raising money for our favorite artists, as well as giving fans a chance to feel the excitement of music again. Now the next installment of the livestream has arrived with a jaw-dropping lineup for its run from March 22-28 with takeovers from Manuka Records, Whomp Humboldt, Silent Motion Records, Producer Dojo, and Swampwoofer.
Musical artists you can expect to be blessed with sets from are Chad Dubz, Lita Lotus, Mistah, Taiko, MYTHM, Ternion Sound, Supertask, Mungo's HI FI, Leon Switch, Zeplinn and so many more. For the visual artists, as expected CouchFest has brought together some of the most talented creatives in the scene. Actualize, VJ Kobra, Nox Lumina (fka Tenstriip), Ivy Visuals are just a few of the VJ's that will be melting minds and adding their mind-blowing touches for these sets.
This stream is free, with 100% of the funds raised during the stream to the artists that are involved in making it happen. There is a $20 suggested donation for those who want to enter a raffle and have the chance to win some pretty epic prizes. The grand prize winner will win a SUBPAC X1 and C1 bundle, all other winners will receive merch bundles and other goodies donated by artists and sponsors of this massive event.
You can RSVP now for the stream on Facebook and make sure to follow their channel on Twitch to know when the show goes live. For anyone who wants to donate and be entered to win any of the merch bundles, you can do so via their website.
---
CouchFest 2021 Lineup: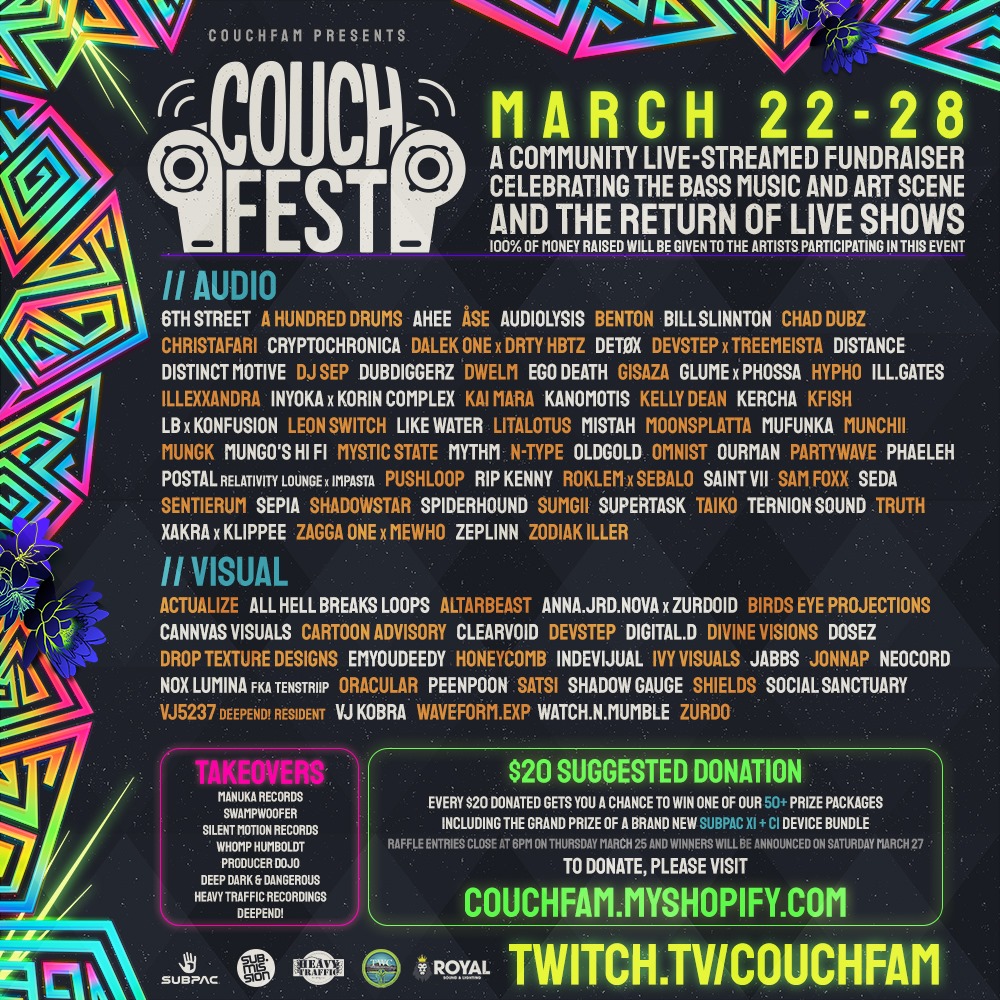 ---
CouchFest 2021 – Lineup By Day:
---
Follow CouchFest on Social Media:
Facebook | Instagram | SoundCloud | YouTube | Twitch