Headbangers rejoice! Today, Excision announced that tickets for Lost Lands will be going on sale next week with Bass Canyon soon after.
---
Even though it feels like time has slowed immensely, it's only been a year since the world locked down due to the pandemic. For a while, it seemed like there was no end in sight, but now there seems to be a light at the end of the tunnel. Although cancellations continue to surface, a few festivals have already been announced for 2021 with fans eagerly awaiting news of their own favorites. Today, Excision helped brighten the day of headbangers near and far with details on Lost Lands and Bass Canyon.
Taking to social media, Excision released a statement filled with hope for the future and plans for the two bass-fueled festivals. "Large scale festivals take many months to plan properly, so we have to accept that if we want live events to be waiting for us at the end of this pandemic, then we need to start making plans for them far in advance," he said. Before diving into his plans for Lost Lands and Bass Canyon, he went on to say that they would be canceling festivals if it is unsafe, stating that "Your safety is my number one priority."
While there is still no date set in stone for Lost Lands or Bass Canyon to take place, Excision will be putting tickets on sale within the next few weeks. Lost Lands is the first to have tickets going on sale next Thursday, March 18, and Bass Canyon will be following shortly after.
Excision also stated that he is working on new safety regulations if the possibility of Lost Lands and Bass Canyon become a reality. But we have no idea what the future holds and while we all want to stay hopeful, we have to keep in the back of our mind that there is a possibility of these festivals getting canceled again. All we can do is cross our fingers and know that there is still a light at the end of this tunnel.
Check out the full statement below and make sure you're following Excision on social media for the latest updates on ticket sales and more.
Read the statement from Excision: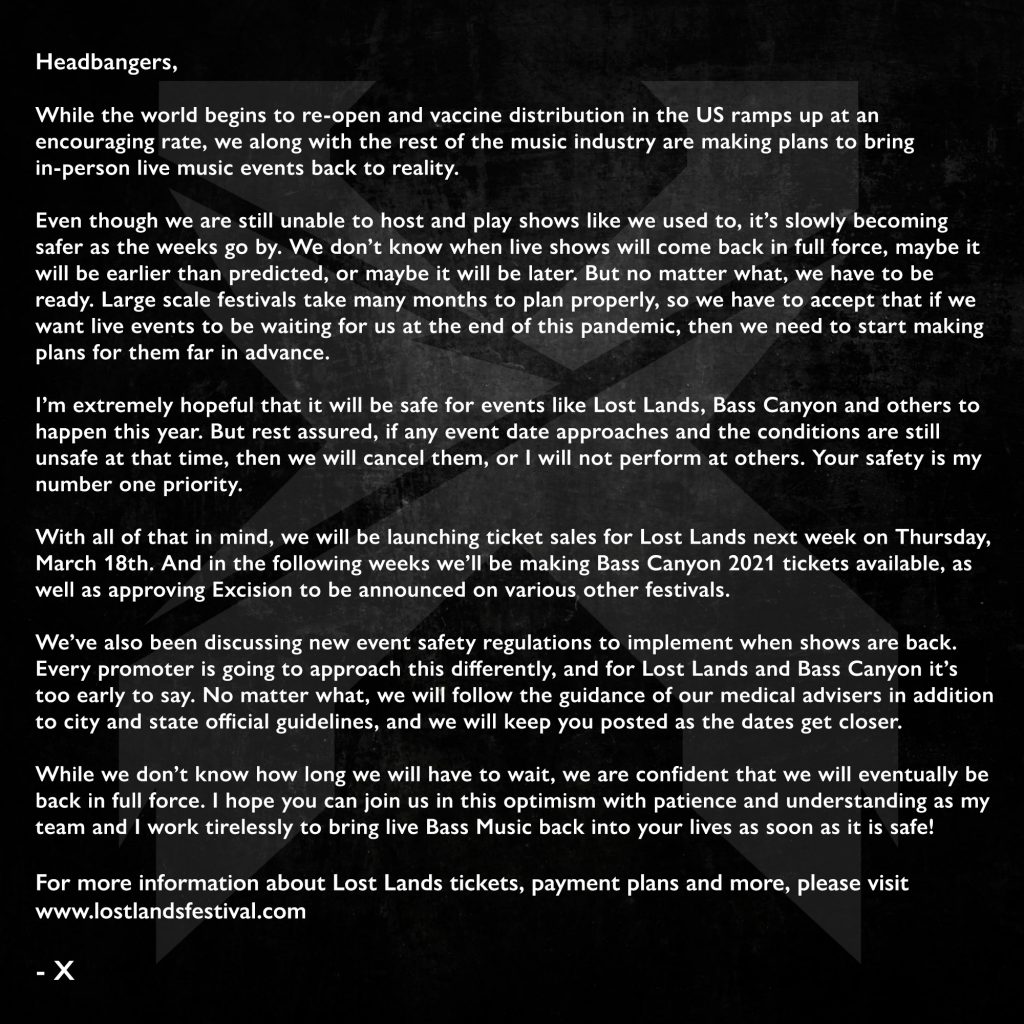 ---
Connect with Excision on Social Media:
Website | Facebook | Twitter | Instagram | SoundCloud | YouTube