You are cordially invited to Dirtybird's Women In Music Digital Festival featuring Mija, Worthy, DJ Holographic, and more!
Ladies and gentlemen of the flock, it's just been announced that Dirtybird and COO Aundy Crenshaw have partnered up with Alicia Keys' She Is The Music and Unitea to develop an incredible multi-day digital festival, Women In Music. Yup, that's right, for four glorious days, the femme-identifying artists who make the music industry shine bold and bright are taking over the decks on Dirtybird's Twitch channel.
Be there or be square on March 11 – 14 as headliner Mija hosts a Welcome To My House session and Black Girl / White Girl shows us how they get down in The Netherlands. LOUISAHHH will be dishing out the thrills with french electro style and you won't want to miss Femme House Collective founder LP Giobbi making her Dirtybird virtual debut. Of course, a Dirtybird event wouldn't be the same without flock family Worthy, Faren Strnad, and Nala so they will be swinging by to push the lit meter to max status!
Beyond the beats, Dirtybird has your physical and mental health in mind, calling upon Gina Turner to kick things off with an energy-centering yoga workshop. More events will be announced as we creep closer to the festivities so stay closely locked in on Dirtybird's socials for updates.
And here is something super cool, if you are a femme-identifying fan, then Dirtybird wants you to send a clip about what being a Women In Music means to you! A few of these submissions will be selected and shared during the event to build positive vibes and bring each and every one of us closer together through understanding and appreciation!
Check out the specific guidelines and submit your Women In Music video by visiting this page, stay tune for the set times, and we will see you all in the chat on March 11 on Twitch!
---
Dirtybird's Women In Music Digital Festival – Lineup: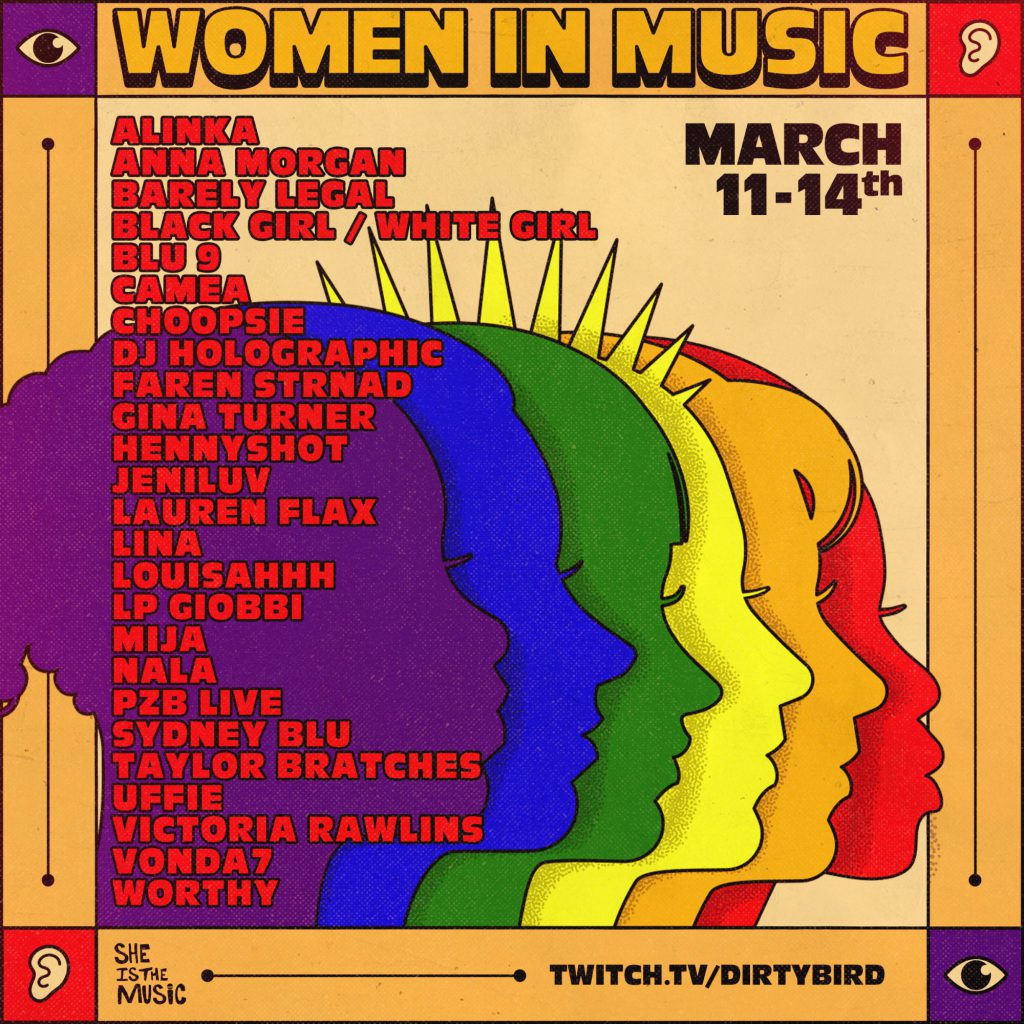 ---
Dirtybird's Women In Music Digital Festival – Lineup By Artist:
Alinka
Anna Morgan
Barely Legal
Black Girl / White Girl
Blu 9
Camea
Choopsie
DJ Holographic
Faren Strnad
Gina Turner
Hennyshot
Jenniluv
Lauren Flax
Lina
Louisahhh
LP Giobbi
Mija
Nala
PZB Live
Sydney Blu
Taylor Bratches
Uffie
Victoria Rawlins
Vonda 7
Worthy
---
Connect with Dirtybird on Social Media:
Facebook | Twitter | Instagram | SoundCloud | Twitch