Pioneering brand Space Yacht continues to lead the pack into the realm of crypto-art with their own Iconography Collection.
---
From being a pioneer in the live event space to launching their own music label Space Yacht has continued to push boundaries in the dance music scene. Now, they've helped push forward into the crypto community with their latest foray into crypto-art. Created by artists who met in real life at Space Yacht events, their second crypto-art collection titled "Space Yacht Iconography" was released right before Christmas and sold out in a mere three minutes on blockchain digital marketplace Nifty Gateway.
As galleries and museums are forced to close their shutters, the digital sphere has become a critical place for artists to showcase their works. Based on blockchain technology, crypto-art is an emergent medium of artistic creation and curation, wherein scarce digital artworks are traded online for rare crypto-currencies. These artworks are also known as "non-fungible tokens" or NFTs.
As the practice of trading cryptocurrencies becomes increasingly ubiquitous, so has the proliferation of digital blockchain-based marketplaces created exclusively for the exchange of cryptos for NFTs. While Nifty Gateway is a popular example, there have also been platforms like Dada.NYC and CryptoKitties.
Space Yacht is no stranger to high-tech experimentation.
Last summer, the innovative party brand began its first pioneering journey into the crypto space by creating the fastest-selling NFTs that Nifty Gateway had ever seen. Selling 230 pieces in just under two and a half minutes, a new precedent was set for the entire dance music scene's potential to create a financially sound online ecosystem for artists to flourish.
Space Yacht's second collection dropped just before Christmas continued to exceed expectations by selling out again in just under three minutes. Entitled "Space Yacht Iconography," this collection boasted digitally animated works by the collective's in-house creatives. The works are inspired by traditional iconography associated with rave culture and the classic Space Yacht party format, including smiley faces, pizza, twerking skeletons, and playfully nihilistic affirmations like "WE ARE SO F☻CKED."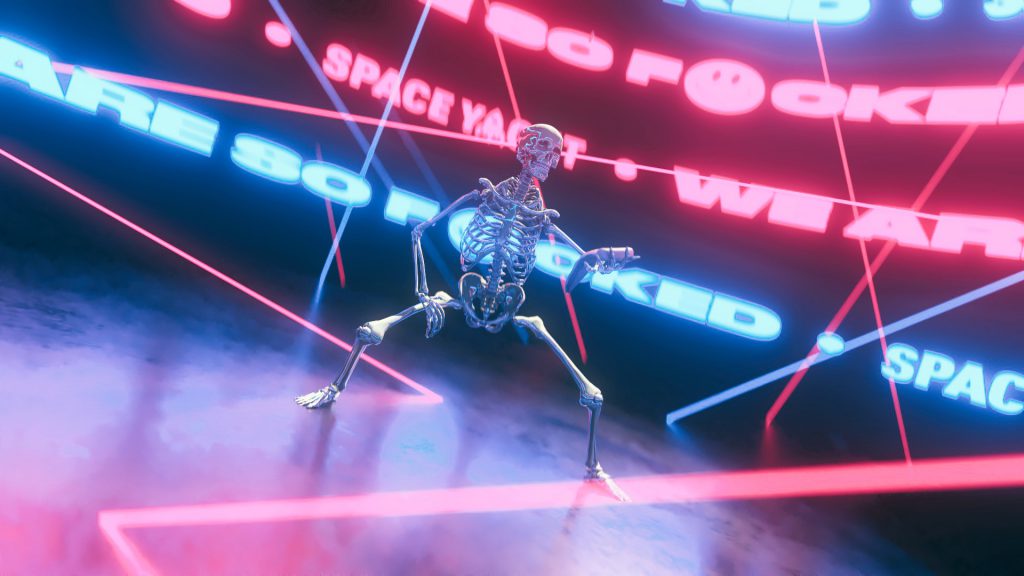 Curators like Space Yacht who are willing to push boundaries and innovate are the champions of the COVID era.
The key to surviving as a curator or party brand during COVID-19 lays in one critical concept: adaptation. Complacency or failure to exploit technology to foster online communities marks the kiss of death for anyone that's been forced to take their regular promoter hats off and put their thinking caps on.
When the pandemic forced Space Yacht's hand to put the brakes on its annual run of 150 global shows a year, its founders pushed ahead within those constraints without hesitation. Moves like launching its online label and collaborating with renowned artist Golweard for its first NFT collection show that Space Yacht is proving to be one of the champions of the pandemic era.
Stay tuned for more collections to come from Space Yacht in 2021 and check out the Iconography Collection on Nifty Gateway. Did you snag a piece of crypto-art in the collection? Let us know in the comments!
---
Follow Space Yacht on Social Media:
Website | Facebook | Twitter | Instagram | SoundCloud