Bassrush Records is off to a great start in 2021 with the release of The Prophecy: Volume 3 featuring Sam Lamar, JEANIE, Farrah, and more.
---
Over the years, Insomniac's Bassrush has become renowned for showcasing the sounds of drum and bass, dubstep, and other bass-infused genres at events all over the world. Their dedication to the heavier sounds has led to stage takeovers, massive club nights, and standalone events, but their imprint, Bassrush Records, has further proven their passion for the bass scene.
First launched back in 2016, Bassrush Records has showcased both established producers and rising stars alike. More recently, they put extra emphasis on the artists that are the future of the bass scene with the launch of their compilation series, The Prophecy. Last year saw the release of the first two volumes that were packed with fantastic tunes, and now they've delivered The Prophecy: Volume 3 to the masses.
The Prophecy: Volume 3 features 11 fresh tunes for headbangers to feast their ears on. Canadian producer Sam Lamar leads the charge with "Broken Machine." Once the glitched-out sounds and heavy drops consume your soul, ENiGMA Dubz enters the fray with his deep and dark style on "Phrogging." A slow-burner that will warp your mind, it's reminiscent of the earliest days of dubstep with its percussion and whispered vocals.
But those two tunes are just the tip of the iceberg for this compilation that dives into the depths of the bass realm. GRL GANG founder JEANIE and southgate. smack listeners with synths and a hypnotic vocal on "Dome" while Wasteurself delivers wonky vibes on "wet." Other standouts include KRILLA's "Full Throttle," "L'homie's "Spaced Out," and Farrah's "Clairvoyance" which all bring unique soundscapes to explore.
If you haven't been introduced to the bass stylings from these rising artists in the scene, then The Prophecy: Vol. 3 is a great place to start. The deep, dark, and unapologetically aggressive sounds found within the compilation solidify the fact that the bass scene will continue to thrive well into the future. We can't wait to see what happens when Bassrush peers into their crystal ball next.
Listen to The Prophecy: Volume 3 on Spotify or your go-to streaming service, and let us know what you think in the comment section.
Stream Bassrush Records – The Prophecy: Volume 3 on Spotify:
---
Bassrush Records – The Prophecy: Volume 3 – Tracklist:
Sam Lamar – Broken Machine
ENiGMA Dubz – Phroggin
Ruvlo – Dirty
KRILLA – Full Throttle
JEANIE and Southgate – Dome
Tryple and Nextars – Mind Hack
JKYL & HYDE – Distortion
Farrah – Clairvoyance
L'homie – Spaced Out
Wasteurself – wet
Weird Waifu – Senpai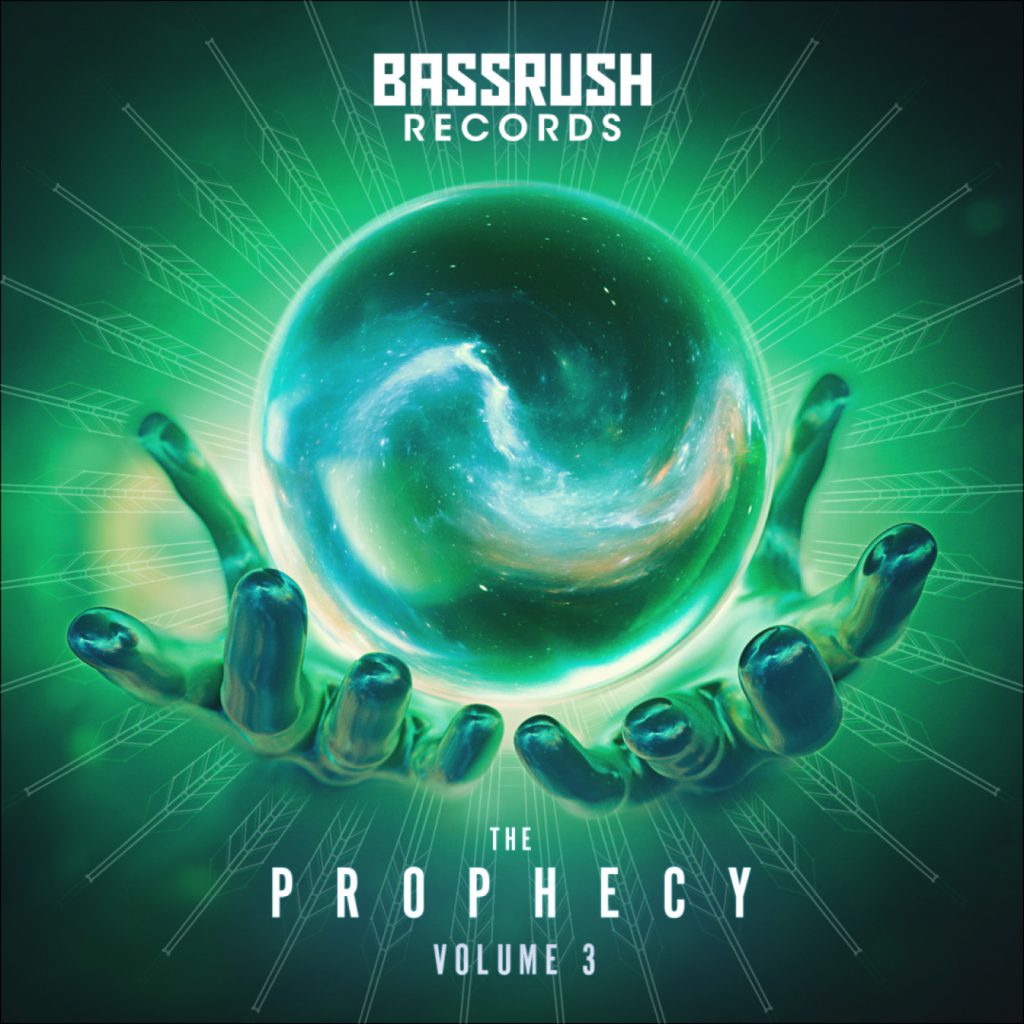 ---
Follow Bassrush on Social Media:
Website | Facebook | Twitter | Instagram | SoundCloud | YouTube | Twitch