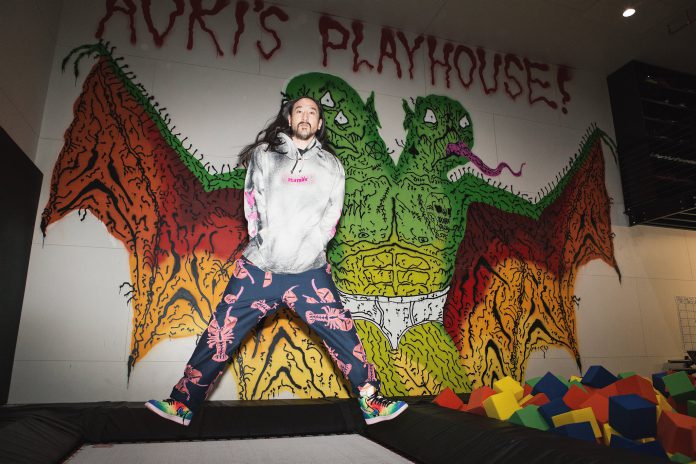 Steve Aoki teams up with other artists in the scene to bring ravers back to their roots with his latest EP filled with dynamic tunes, 6OKI- Rave Royale.
---
Whether through his lengthy discography, label DIM MAK, or crazy antics on stage, Steve Aoki is an artist who has embraced the dance music scene. While he has become renowned for his mainstage hits, his ability to blend different genres together and dive into their sounds has been put on full display. Now, after exploring house music on 4OKI and big room beats on 5OKI, Steve Aoki is looking to energize ravers with his latest in the series 6OKI.
Out now on DIM MAK, 6OKI features six tracks that will fill anyone who tunes in with enough stamina to rave the night away until the break of dawn. Much akin to the previous EPs in the series, Steve Aoki teamed up with artists to take this edition to the next level. Major names including Timmy Trumpet, k?d, Gammer, Brennan Heart, Ben Nicky, and Hasse de Moor all lend their hand to infuse each tune with hard-hitting beats.
Accompanying the release is an adventurous and entertaining series of animated music videos that follows Steve Aoki and the collaborators on their journey to fight villains and prosper through the "Isle of Rave." So check out the music videos for the tracks on Steve Aoki's 6OKI EP on YouTube or listen on your favorite platform, and read on for a deeper look at each tune!
Watch the music videos for Steve Aoki – 6OKI – Rave Royale EP on YouTube:
---
The thematic elements on the 6OKI EP illuminate the marriage of rave music with the energy of an action-packed summertime movie.
Eccentric percussions and pulsating heavy-hitting synths are revamped throughout the songs in different rhythms, styles, and sounds. This can be heard clearly on the lead single, "Tarantino" which was released in October of last year. Teaming up with Timmy Trumpet and STARX to bring the track to life, the prominent guitar riff from the theme of Pulp Fiction ("Misirlou" by Dick Dale and the Deltones) connects listeners with a sense of familiarity as the booming beat takes over.
Aoki's collaboration with Brennan Heart and PollyAnna, "Close to You," lands next and offers listeners a feel-good dance/pop beat filled with mood-boosting melodies. Although it might be the slowest track appearing on the EP, the vocals combined with bouncy hardstyle elements make the tune a memorable one. Especially towards the end of the song where the arcade-like vibrations really capture the narrative visually shown in the animated video as it also includes game-styled chronicles.
As listeners dance and party their way through the rave journey, "BIB" with k?d and "Incoming" with Gammer slam down some serious hype. "BIB" commands listeners to bring it back with a throwback rave melody and a driving bassline that we can only imagine will be lighting up stages when festivals are back. "Incoming" carries a similar vibe as its catchy melody hypnotizes before diving headfirst into the drop with a fired-up tempo. Anyone who listens will be fist-pumping, dancing, or moving their body to the beat to this tune.
Combining the club scene with festival vibes perfectly, "Like It Like That" takes the reins next. Ben Nicky, Spyro, and Maikki join Aoki for this tune and within moments the vocals greet listeners with its pop-melody and catchy lyrics. There's something seductive about the pulsating reverbs, and it'll definitely make anyone want to get down and dirty on that club dance floor. Then to deliver the finishing blow on the 6OKI journey, Aoki and Hasse de Moor put everyone under their "Mind Control" with another stunner filled with ominous vocals and a beat that will dominate the senses.
The 6OKI EP offers a unique experience for fans to join Steve Aoki on a journey into higher-energy, hard dance-infused beats. Not only does it include diverse sounds and a touch of heaviness, but the visual accompaniment proves to be an entertaining follow-along to make this experience something few others could accomplish.
---
Steve Aoki – 6OKI – Rave Royale – Tracklist:
Steve Aoki & Timmy Trumpet – Tarantino (feat. STARX)
Steve Aoki & Brennan Heart – Close to You (feat. PollyAnna)
Steve Aoki & k?d – BIB
Steve Aoki & Gammer – Incoming
Steve Aoki & Ben Nicky – Like It Like That (feat. Spyro & Maikki)
Steve Aoki & Hasse de Moor – Mind Control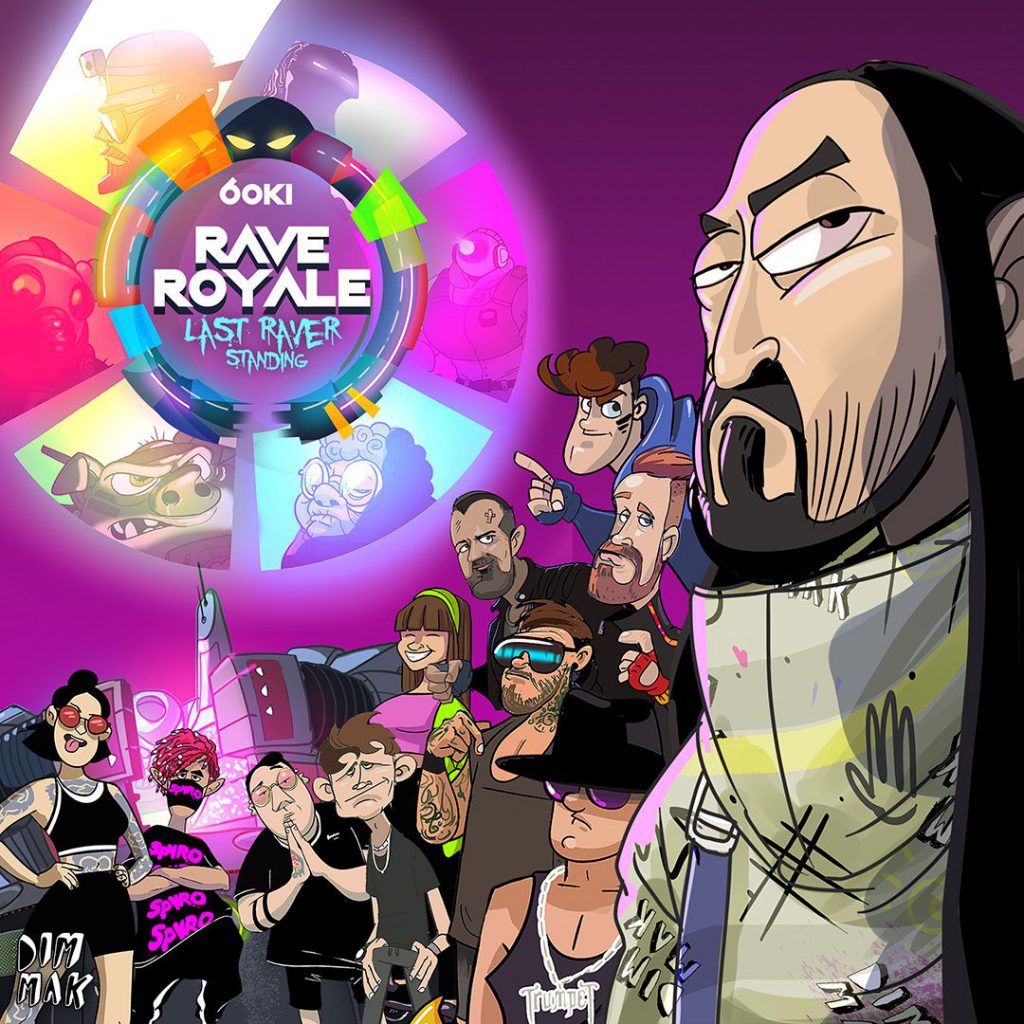 ---
Follow Steve Aoki on Social Media:
Website | Facebook | Twitter | Instagram | SoundCloud | YouTube