Gammer swung by to chat about his latest release on Monstercat, "Brostep Strikes Back," how he stays focused while on tour, and plenty more!
---
Whether you fell in love with him when his sound centered around UK Hardcore or more recently as he dove into the depths of dubstep Gammer has become an artist you simply can't miss. Simply a guy who according to his bio "did that one song that accidentally got big," in reality, he is so much more than a one-hit-wonder. with amazing tracks like "Party Don't Stop" and "Forever" alongside his popular anthem "The Drop".
Now, following performances around the world and the release of banging tunes like  "Party Don't Stop," "Forever," and the festival anthem "The Drop," Gammer has released his newest tune "Brostep Strikes Back" on Monstercat Records. It's a fun, crazy dubstep tune that's sure to have fans bopping their heads. You can hear him play it live on the Monstercat Uncaged Tour with RIOT and Tokyo Machine when it comes to a city near you this fall!
We sat down with Gammer to discuss the creation of "Brostep Strikes Back," his creative process, and what he likes to do when he gets off a long tour. Stream the track below or on your favorite platform, and read on for the chat!
---
Hey Gammer! Thanks for chatting with us. Your newest release, Brostep Strikes Back on Monstercat has spectacular rhythm and sound design. How did you come up with the idea for this track?
I mean, honestly, I just liked the idea of doing an old school Skrillex-inspired drop. No clever sound design, no self-jerking of production techniques. Just something fun and dumb for my sets. Something that would immediately lift the energy of a rave.
You've also been on the road with RIOT and Tokyo Machine on the Uncaged Tour. How do you stay focused and energized with such an intense schedule?
I'm sure it's been said a thousand times, but staying on top of eating clean and a healthy sleep schedule. Doing some mindful 10-minute breathing and headspace stuff before bed helps me fall asleep faster and wake up feeling refreshed. I don't drink or take substances so that obviously helps. And a good support network, I stay in touch with my friends and my therapist calls me weekly in case anything is bugging me. Also, try to stay inspired. On a flight, I'll zone out to a podcast or just download a bunch of music on Spotify and zone out.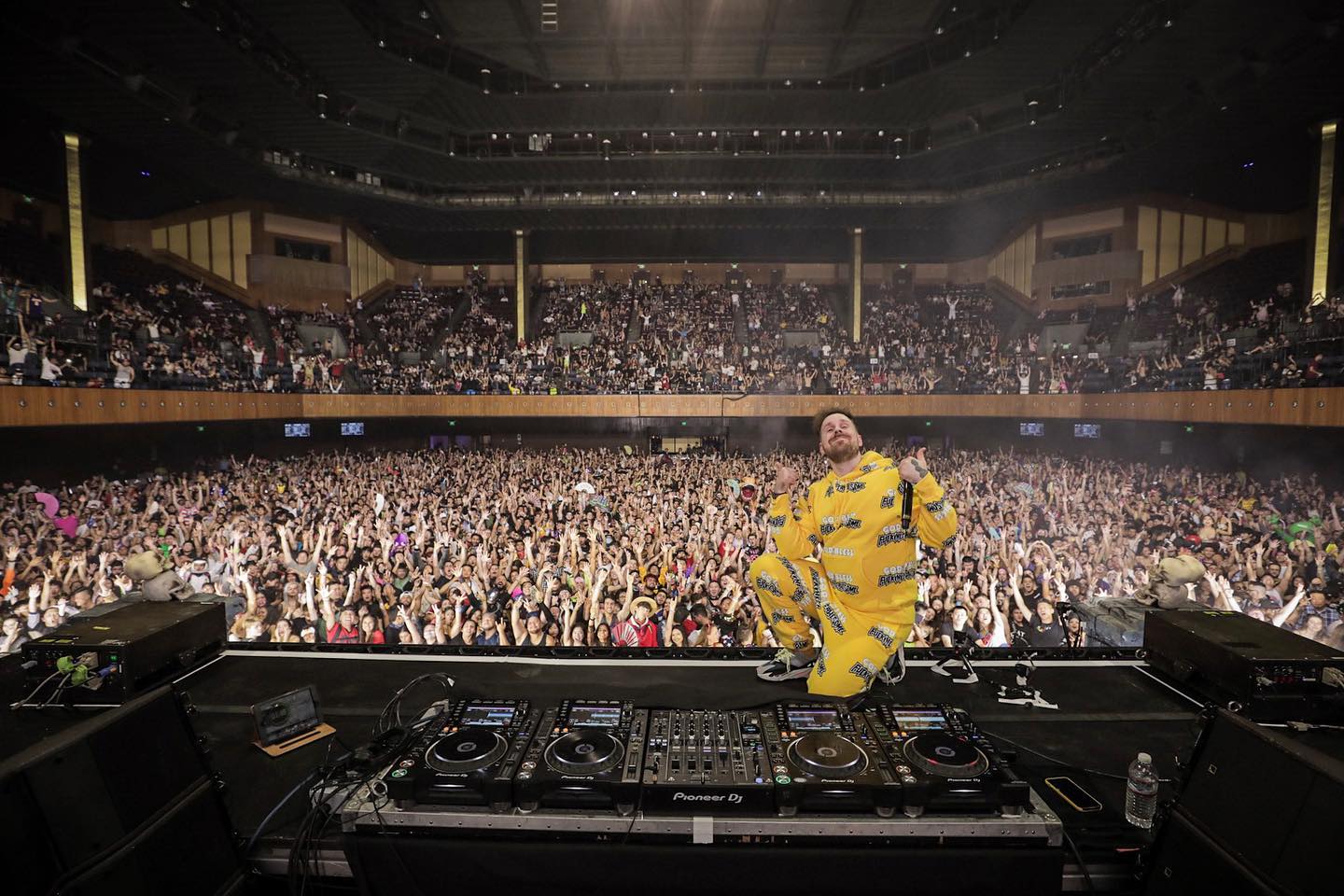 You showed a ton of range in 2019 between bangers like "Crank Up The Dank" and more mellow tracks like "This Is The End". Do you have different creative processes for certain types of tracks or do you have one method that you stick with?
Yea, I mean with the more feels-y tracks, I'll jam with just a vocal and some chords for hours and hours and then strip it back. This is great because it gives me a lot to work with and all the excess ideas can be used for live shows or VIP edits. The more difficult tracks are things like "Crank Up The Dank" or "Lick It," because you're trying to keep it simple and I have to be careful not to overdo it. Mostly, it's about coming up with a core concept and building around that. This is kind of why it takes me so long to finish shit. Because I have gigabytes of just little loops and drops until something really gets me popping.
Let's talk about your relationship with Monstercat. You have a ton of releases under their label, how has your relationship with them grown over the course of your career?
Monstercat is one of the main reasons I am where I am today. I love the entire Monstercat family and the passion that exists within their community. This is why I wanted to work with them. Over time, the bond has grown stronger and stronger, and honestly, I can't wait to keep building with them in the future.
In 2018 you took the world by storm with "The Drop". Looking back at the tune, what was it like to have a track of yours get so much attention on such huge stages like Coachella and Ultra? 
It was wonderful. I mean, I threw the song together in my bedroom and never imagined it being successful. It's also a reminder that sometimes the more organic and simple ideas are the ones that resonate with people the most.
What has been one of the biggest struggles you've faced so far in your career and how did you overcome it?
I mean, it's no secret that I have struggled with my fair share of depression and mental health issues. I'm only just not med-free for the first time since early 2016. Look, I love my work and this lifestyle. But after the rock and roll, the partying, the drinking and everything else, it becomes incredibly isolating. We go from quick sudden highs to long and desperate lows.
By the end of 2018, I had this complete and utter mental breakdown. Once again, self-care and making healthy choices are key. I no longer say yes to every remix or show offer because my mental health has to come first.
Who are some artists that you're really digging right now?
Justice and Porter Robinson always and forever.
What are some of your goals entering the new year?
To actually release some new music?!
Finally, what do you do to relax when you get off a long tour? 
I spend time with my family, shitpost in my Discord group, and play an unhealthy amount of Tekken 7 online.
---
Connect with Gammer on Social Media:
Facebook | Twitter | Instagram | SoundCloud | YouTube