GRiZ, MYTHM, Enigma Dubz, and more have been announced for the latest livestream from Electric Hawk, In Unity Virtual Music Festival!
---
Last year, Electric Hawk continued their meteoric rise with plenty of releases and a series of livestreams that kept their growing fanbase satiated with a variety of sounds ranging from dubstep and trap to wave and techno. Now, after delivering In Unity, their first compilation of the year, they've announced that they're continuing the celebration in style with a new virtual music festival to check out!
Set to take place on January 23-24, In Unity Virtual Music Festival is shaping to be quite the weekend on Twitch for fans of Electric Hawk. They'll be showcasing a number of standout artists over the course of the weekend that include behemoths in the scene like GRiZ to rising stars like Chef Boyarbeatz who will be throwing down some tasty beats.
Of course, the In Unity Virtual Music Festival wouldn't be complete without artists from the In Unity compilation featured over the weekend. Slowpalace, Enigma Dubz, Eyezic, and Tek Genesis will be performing sets you simply won't want to miss, while NotLö and Sky Suite will be going b2b for their set as well. MYTHM, Farrah, and Redrum will also be taking the virtual stage as well, so if you want to be dominated by some epic sounds then they'll definitely take you to the promised land.
Check out the full lineup below, RSVP now to know the moment that the stream goes live, and let us know who you're excited to catch in the comments!
---
Electric Hawk Presents In Unity Virtual Music Festival Lineup: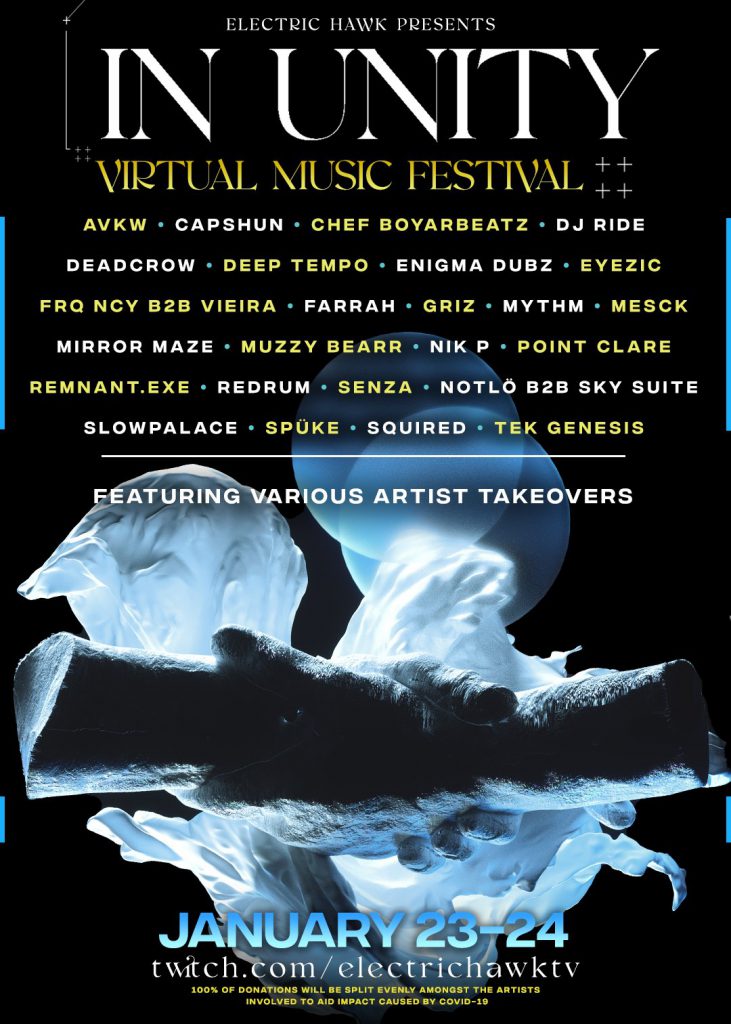 ---
[Event Name] [Year] – Lineup By Artist:
AVKW
Capshun
Chef Boyarbeatz
DJ Ride
Deadcrow
Deep Tempo
Enigma Dubz
Eyezic
FRQ NCY b2b Viera
Farrah
GRiZ
MYTHM
Mesck
Mirror Maze
Muzzy Bearr
NIK P
Point Clare
Remnant.exe
Redrum
Senza
NotLö b2b Sky Suite
Slowpalace
Spuke
Squired
Tek Genesis
---
Follow Electric Hawk on Social Media:
Website | Facebook | Twitter | Instagram | SoundCloud | YouTube | Twitch