Pasquale Rotella and Insomniac Events took us "back to the basics" with their latest event series, Factory 93!
---
Something that has been apparent for quite some time in the electronic music community was the steady decline of underground events that occurred on a regular basis. Gone were the days of breaking into warehouses, finding venues that required maps and precise directions to get to, and calling info lines the day of the event for a heads up. Do they still happen? I'm sure that they still do, but not to the scale they used to be held. They're definitely not nearly as popular as massives and festivals, and much less friendly towards the "mainstream" being involved.
I know that I'm not the only one who's heard stories of parties in the 90's or early 2000's, and who hasn't spoken to some old raver, jaded or not, who talks about "how things used to be". Hang around this scene long enough, and you'll find people who are definitely devoted to storytelling, they aren't hard to find.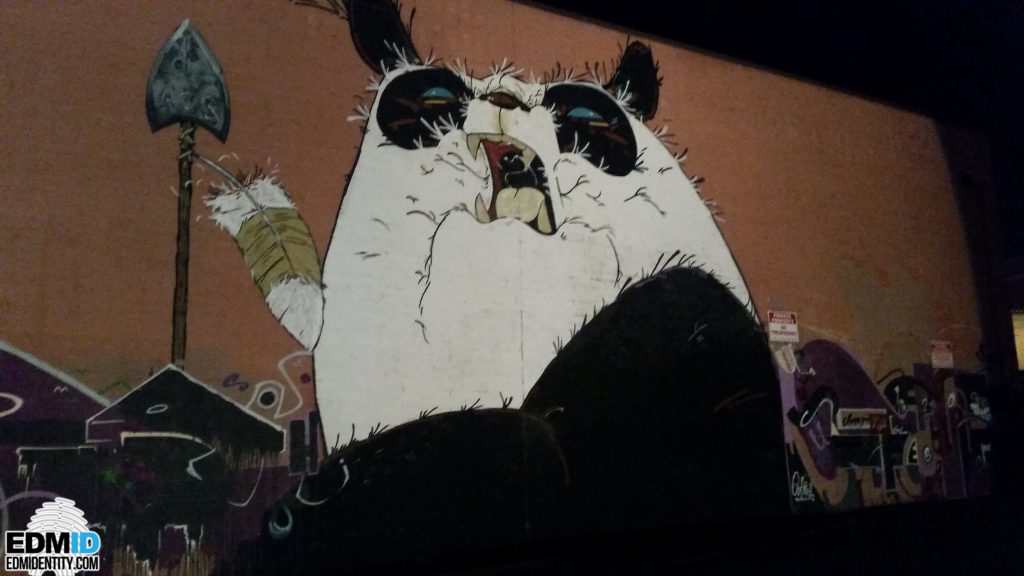 When it was announced that Factory 93 was going to be a warehouse party, my interest was piqued. The negative backlash against the event was immediate before there even was a lineup, venue, or info beyond the name and date of the show was announced. Whether they were blasting the event for not being "underground enough" or that "Insomniac is too big to host this", or even "the ticket price is outrageous for a warehouse party", it seemed like everyone just wanted to complain. "Haters gon' hate" was all I really saw. I don't even remember them using the term "underground" in anything promoting the event, just that it was warehouse vibes. Good or bad, I figured that the only way to know would be to actually attend, so I purchased tickets the moment they went on sale.
Needless to say, I bought into the concept behind the event itself, which was to travel back to a different era of electronic music, an era in which it wasn't about the grandeur it has turned into today, but simply just a DJ, some basic production, and great vibes. I wasn't expecting it to be some grimy, dark, underground event that cost five bucks. Insomniac is a very well-known company at this point, so much so that an event like that wouldn't be possible. My excitement only grew as the lineup was announced with Doc Martin, Santé b2b Sidney Charles, and Hot Since 82. That's right, the first lineup for Factory 93 would be the Knee Deep in Los Angeles.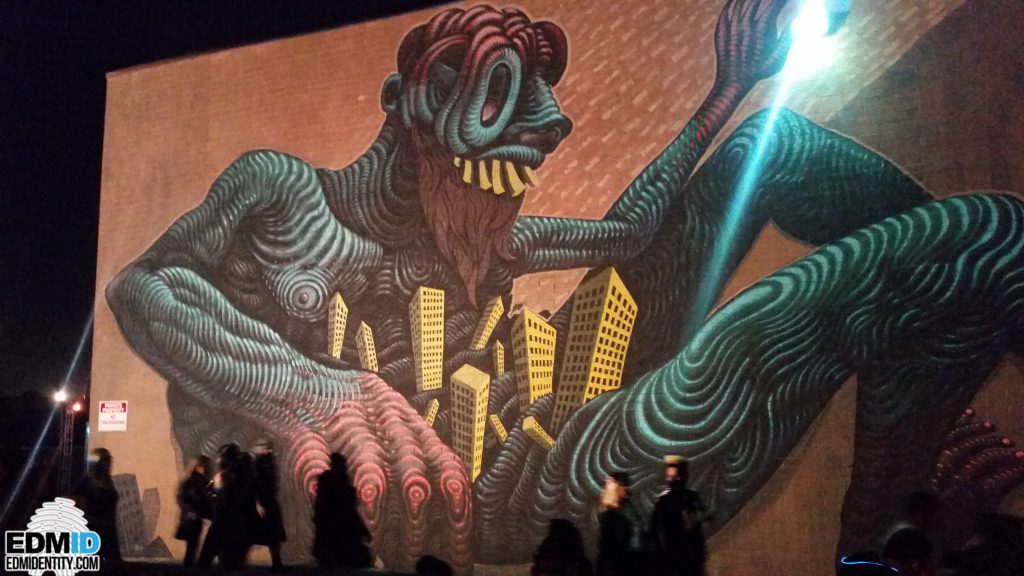 As the date for the event drew closer, I began to question what I should wear, where I would stay, but more importantly where the venue actually was. We waited for the venue to be announced when an info line finally appeared with a message from Pasquale. In it, he mentioned that the address would be available on the day of the event. While this created a slight problem with where to stay after, I didn't really mind, it was just a minor detail that future me could handle.
Before the event we scouted out the spot…
Trying to get our bearings, we decided to swing by the venue beforehand to get a good idea of how parking and the area would be later. It was actually in a warehouse district, close to Dodger Stadium, for those of you who are interested. We grabbed some food at a King Taco close by and met up with some friends to chat up before night fell and the party would begin. Driving back to the venue, the anticipation grew and I became pretty excited for the rest of the evening. Parking wasn't too expensive, and was in a secured lot which definitely is a creature comfort from the recent era of raving.
I could hear the thud of the beat from the warehouse across the streets. When we swung by earlier we had seen some of the load-in and noticed a food truck inside, with a counterpart now on the outside of the venue too. Security had a line that may have looked long from the outside but I entered quickly and with no issues. As you entered, a main bar to the left was the first thing you saw with a lounge area to the right. The thud of the beat was still in the distance, drawing me near.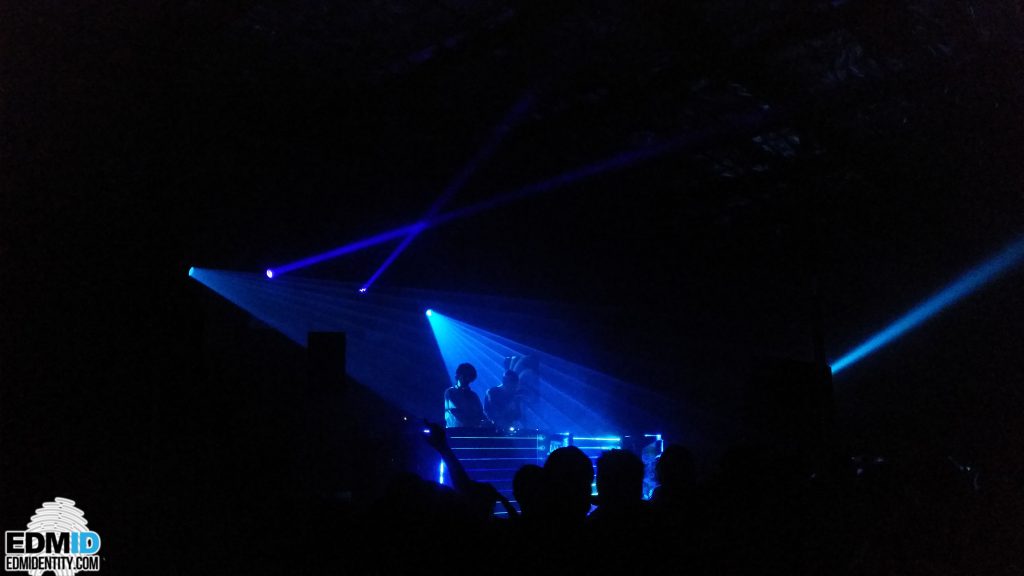 Doc Martin was opening at Factory 93, and his set definitely got the crowd moving and shaking in the next room over that had limited production elements inside. Two more bars lined the walls on the inside of the main room, and it didn't seem like I would be waiting very long to get a drink during the night. It was definitely dark, but the room opened up to the outer area that featured another bar, a grilled cheese food truck, a porta potty bank and some seriously cool graffiti on the outer walls. Plenty of people were already there, mixing and mingling and cooling down in the chilly night.
Next up on the decks was Santé b2b Sidney Charles who kicked it into the next gear inside. Suddenly, more of the production elements began to take life inside both rooms of the venue. Outside of the lights and lasers inside the dance floor area, a unique show was going on inside the entry hall. Risque to the max, the performers toyed with their male subjects on a raised platform, spraying Champagne and whipped cream while covering them in wet noodles. I left after a few minutes of the performers dripping candle wax to go back and dance to the music, it was definitely an interesting experience to say the least.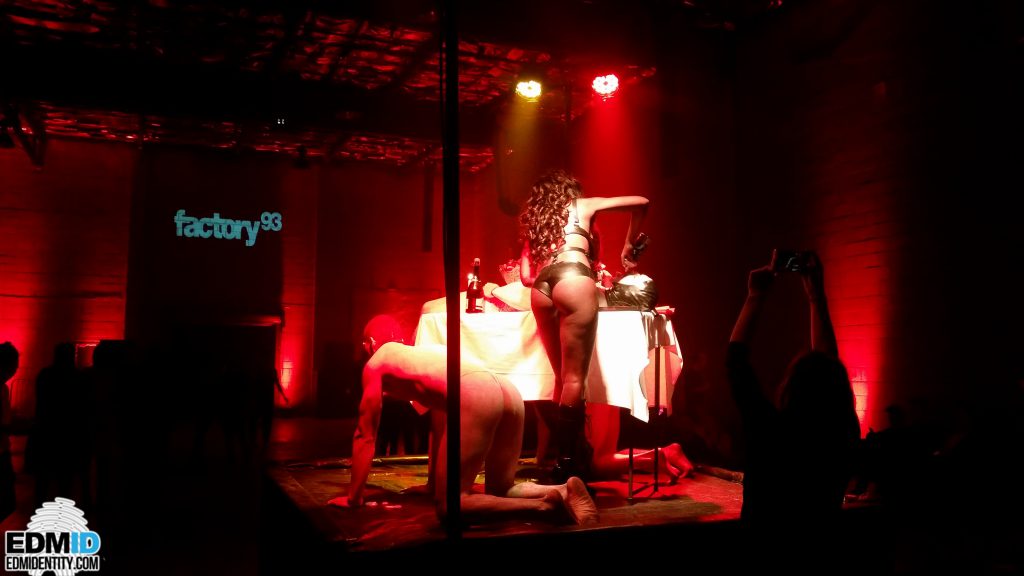 As I walked back to the main room I noticed that Daley Padley, aka Hot Since 82, was casually hanging out with other headliners and having a great time. It was really cool to see the artists and attendees able to be relaxed in an environment together without being over run by fans the entire time. Pasquale too was kind enough to chat and take photos with numerous fans before continuing on with his evening. Other major names were there bouncing around, obviously plenty of Insomniac people but some other DJs as well.
The amount of heat inside the building was rising, creating the perfect temperature for Hot Since 82 to take the stage.
The next three hours were all his as he commanded the crowd with infectious beat after infectious beat. Taking breaks from dancing and grabbing drinks are definitely one way to keep yourself going all night long. If I wasn't grooving out inside, I was chatting with friends both new and old outside. It definitely was necessary to exit the main room from time to time, as the heat did become quite high throughout the show. I hope that Insomniac addresses this in the next edition of Factory 93; perhaps they could bring in some giant fans to help keep it cool.
Looking at the event as a whole, it definitely had a unique vibe that was unlike any party I had been to. Sure, I will agree with the naysayers that it wasn't a true underground, but they definitely did this event right. I didn't mind having some bathrooms, plenty of bar access, a dope sound system and some solid production elements. Oh, and it was also fantastic to not have to worry about my car getting broken into while I danced the night away inside. I personally thought that the money I spent on the tickets was actually right in line with what I would receive in return that night. Plenty of music, great vibes, and one hell of a great experience.
---
Connect with Factory 93 on Social Media: