Electric Hawk is bringing some of the best underground bass music and they've teamed up with Acrillics for their latest livestream on Twitch.
---
Music is such an important part of life. We live for the nights where we dance into the early hours of the morning to watch the sun come up as our favorite artists play. We live for the nights where we dance in small dark rooms, the bass vibrating our bodies. So it's been hard not having live music during the pandemic. But one saving grace that we do have is livestreams, and Electric Hawk is looking to help fill our needs once again with a new livestream event featuring Acrillics.
Already renowned for their Harmony Virtual Music Festival series this past summer, Electric Hawk has proven that the community can come together to vibe out to some beats. (Even if they're in the digital realm.) Now, the burgeoning brand is back with their latest livestream announcement, Acrillics & Co., which is set to take place on Friday, December 4 at 4pm ET on their Twitch channel.
Fans of everything from trap to drum and bass won't want to miss out on the Acrillics & Co. livestream as some of the most talented underground artists from all over the world will be blessing fans with their music. Set to take the virtual stage are artists including Slang Dogs, ASHEZ, SAV, We Rose, Rohaan, anti. and Zeal, and of course Acrillics will be performing as well. And if you're not familiar with these names yet then you definitely should start familiarizing yourself with them soon because they're the next wave of the bass scene and have been releasing some serious heaters.
Big ups to Electric Hawk for always supporting the underground, it's a blessing to still have these streams and be able to enjoy the music we love with one another. Make sure to RSVP to the event, check out the set times below, and tune in on Friday because this stream is sure to help you get your weekend off to a great start. See everyone in the chat!
Tune in to Electric Hawk & Acrillics Present: Acrillics & Co on Twitch:
---
Electric Hawk & Acrillics Present: Acrillics & Co. – Schedule: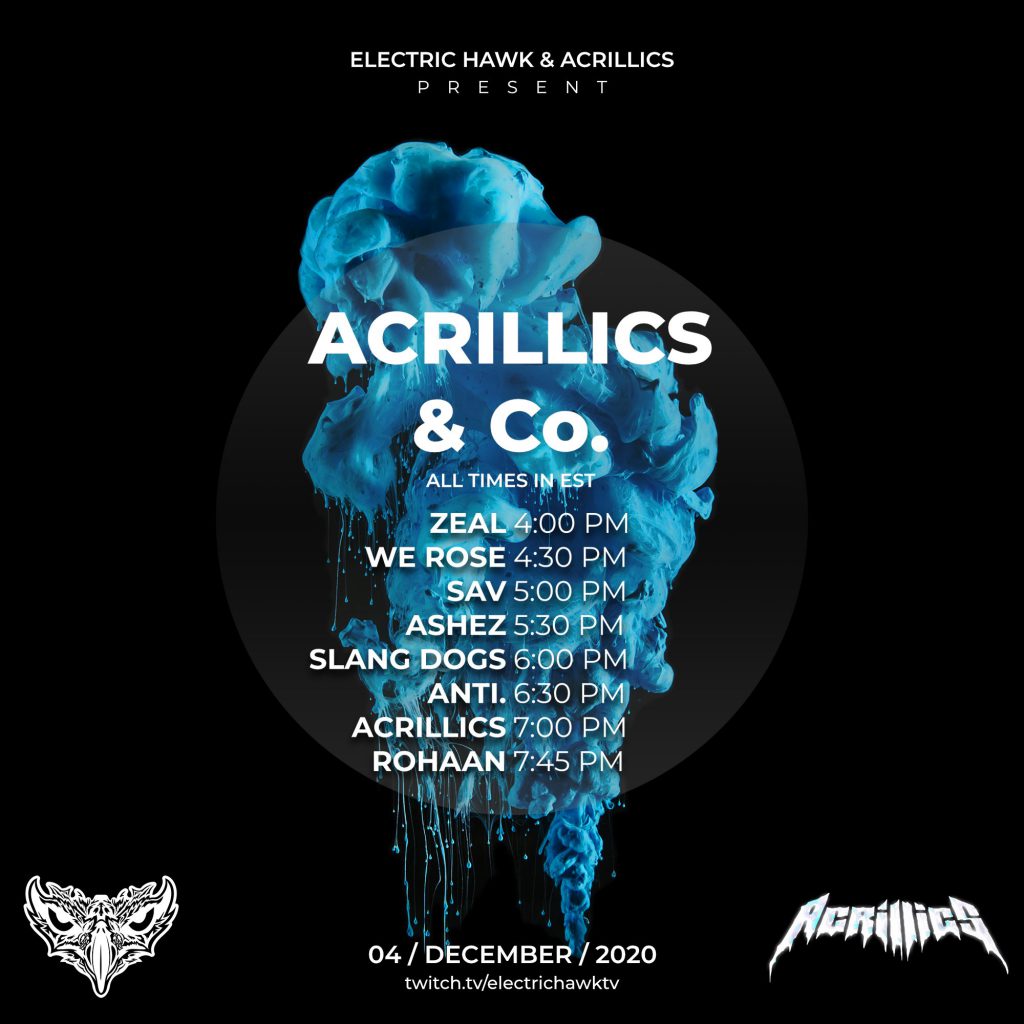 ---
Follow Electric Hawk on Social Media:
Website | Facebook | Twitter |Instagram| SoundCloud | Twitch | Spotify