After the release of "Dat Nite," The Holy swung by to chat about his approach to remixing tunes, rising through the ranks of the scene, and more.
---
Over the past few decades, Canada has become a true hotbed of talent within the electronic music scene. Home to some of the world's biggest DJs and producers in the realms of house, techno, and bass music, as well as some fantastic nightclubs and festivals, the country continues to churn out some of the best in the business. Now, Montreal-based artist The Holy is looking to be the next export from the country to gain global appeal as he dominates speakers with his unique style.
An active member of Montreal's underground scene, The Holy has impressed with his fantastic sets while opening for the likes of Laidback Luke, Justin Jay, Riva Starr, and The Magician. He's also taken the stage to move crowds at festivals like Igloofest and Piknic Électronik, but what has really made him stand tall is the flurry of originals and remixes that grace his discography.
This year alone has seen The Holy deliver fantastic tunes like "Dat Nite" and "Brown Paper Bill," while also putting his spin on The Weeknd's "After Hours" and more recently, Fabrikate's "All Up To Love." Out now on Kookoo Records, that remix of Fabrikate's smasher by him breathes new life into the original by flipping it into his unmistakable deep house style. Featuring captivating chords that draw in listeners and make their feet move, it's a perfect track for any dancefloor. (Even those makeshift ones we've been busting a move on throughout the pandemic.)
As the final weeks of 2020 loom on the horizon we had the chance to catch up with The Holy to discuss his production process, playing one of the final festivals of the year before the pandemic hit, and plenty more. Check out his exclusive guest mix below, read on for the chat, and stay tuned for his album that's due out in 2021!
Stream EDMID Guest Mix 248 || The Holy on SoundCloud:
---
Hi The Holy, thanks so much for taking the time to chat with us today. Congratulations on the release of your tune "Dat Nite," it's a solid house heater that we've been vibing out to! Can you share a little bit about how you produced the tune?
Hey! Thanks a lot, the pleasure is mine! Glad you like my track "Dat Nite," I was jamming with my TB-303 this spring during the quarantine and made that filthy acid lead, so I decided to add a heavy low bassline and some hard-hitting drums. I really liked the creepy vibe to it so I decided to record in my mic "Do you remember dat nite?" in reference to the movie I Know What You Did Last Summer. [Laughs] I released it on October 27 just before Halloween as I thought the timing was perfect!
You also have a number of fantastic remixes under your belt as well that include The Weeknd's "After Hours," Klimaxxx's "Temperature," and even an edit of the Goosebumps theme song. What draws you to certain tunes to put your spin on them, and what's that process like?
Yeah, I love to remix songs! When I listen to a song I know immediately where I can bring it and I flip it as I want. I really love the process of remixing a song. I start by analysing the song, which part I want to keep and I work around this, it's all about trial and error. Once I get the right groove and the vibe I want, I create the arrangement and that's how "The Holy Remix" happens. [Laughs]
Back in February, you played Igloofest in Montreal right before the pandemic turned the scene upside down. What was that experience like? Do you remember there being any concerns about playing?
Igloofest 2020 was definitely one of my favorite gigs! I was playing at prime time, from 9pm to 11pm, just after my good friend Moses Belanger. It was the biggest snowstorm of the winter in Montreal, I was dressed in all white and the crowd was huge and pumped. During my set, I played some original tracks of mine, as well as a lot of unreleased joints that I hadn't played before, and the reaction of the crowd was crazy so I was super stoked!
My performance went really well, I finished my set with rave classics like ATB's "Till I Come," my remix of "Blade" that I was playing for the first time and I wrapped it up with "Feel The Beat" by Darude, haha! It was really sick, I've uploaded my set on SoundCloud if you want to check it out.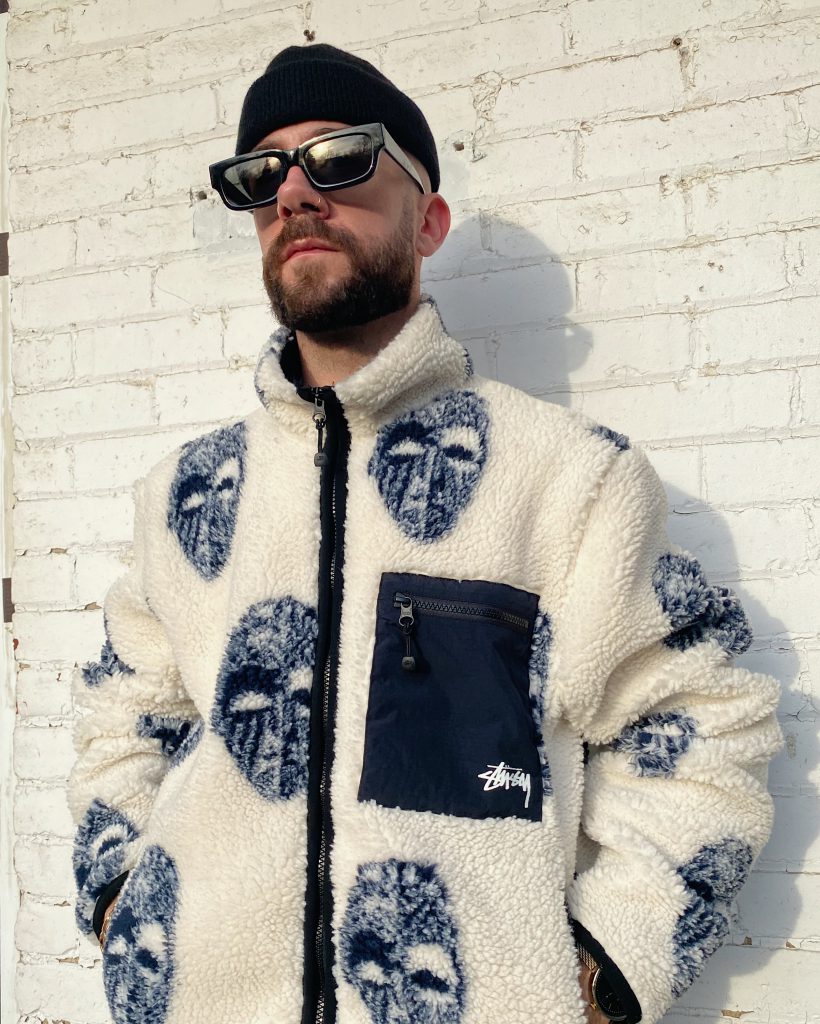 Since then, what has your year been like on a personal and professional level? Have you experienced swings of creativity like other artists have expressed?
I was really pumped after Igloofest. I was producing Rave stuff to play in festivals and clubs. I was really confident and comfortable doing it. When COVID hit I had to make some more accessible music. Music that people can listen to in their everyday life. That's why I'm still waiting before releasing my Rave stuff. It was hard to change my mood and even harder not knowing when I'll be able to play my songs in front of a crowd again. It's still hard to process at this time but I take this time to work hard at the studio in order to have a lot of new stuff to drop when it's all gonna be over.
Let's take things back in time. Who were some of your earliest influences in the music world, and what pushed you to pursue a career as a DJ and producer?
My father owns a reception hall and is a DJ too, so music is in my blood. When I was about 6 years old I already really liked old electronic music like The Outhere Brother, Ace Of Base, and Black Box because my father was playing these during parties. I started DJing at 17 years old because I was really into Justice, The Bloody Beetroots, and Crookers. DJs were the new rockstars and I was really into this kind of music. I took a break from DJing between 21 and 25 because I was working too much and quit my day job three years ago to dedicate most of my time to music, producing, and DJing. There are always ups and downs but it's still one of the best decisions I've ever made.
Over the years you've opened for a number of artists that range from The Magician and Waze & Odyssey to TOKiMONSTA and Kyle Watson. Can you share a favorite moment from one of those past shows that sticks with you today?
Yeah, I had the chance to open for a lot of legends! Always crazy to play before some DJs you admire. My best moment is when I opened for Laidback Luke at Newspeak right after Île Soniq, a huge electronic music festival in Montreal. He was doing a strictly techno set so I had set-up the pace right before him so I've played my best tracks. It was a sold-out, the show and the crowd was crazy, sick night!
Also the night I was playing before Mall Grab was dope, we stayed after hours in the club with some friends till 6am and we were playing our new stuff. It's really nice to have some talk with those big DJs after the gig, some are really genuine and I had the chance to talk a lot about the music industry and the DJ life with them, really inspiring!
Pandemic aside, what has been the biggest struggle you've faced in your career so far? Have you been able to overcome it or is it something you still are working on?
To be honest it's to make music as good as the artists I admire do. It's a lot of work that requires putting in constant work and effort. When you're 100% dedicated to the music you make, you tend to think it's never good enough. I always question myself about whether I releasing the track I'm working on or not. Since last year I'm more confident because I've worked a lot. I think I improved myself and that now, my style is much more defined. I think the best thing is not to be afraid to try new things. This is how I found my own style. The music I make now is really me.
I came up with GKS®, which means "Gros Kick Sal" in French. In English, it means "Big Ass Kick", haha! No matter what type of electronic music I produced, slow or not, the ''kick'' is always huge haha.
With most of the year in the rearview mirror and 2021 quickly approaching, what are some of the goals you hope to achieve in the near future?
Before COVID I was building a show with my bro Fvckrender, the guy who makes all my artwork and projections. He's also a very tight AD. We will for sure be back on track when COVID is behind us!
I already have three EPs done. My first one is a 90's rave house type of EP, and the other ones are House / Techno tracks to play in front of a crowd, so that's why I wait to release it too because I want a proper release with a special event to which the people that I love will be able to attend. For now, I'm working on a project with singers. It's still house music but something more accessible that you can put in your headphones or at a party. Making more radio edits than extended mixes and I can't wait to release all of it!
Finally, since Canada is renowned for its poutine, where is your favorite place to grab some after a show and what's your standard order?
For sure! "La Banquise" is my go-to restaurant when it comes to poutine. You have to order the big ass "Mart" poutine! It comes with hot-dog sausage, bacon, and mushrooms. However, if you try it, prepare yourself to go to bed right after and sleep reaaal tight!
---
Follow The Holy on Social Media:
Facebook | Instagram | SoundCloud | YouTube