On Sacrament, Slang Dogs mix dark and eerie soundscapes with broken-beat drums and deep basslines for a unique take on drum and bass.
---
Electric Hawk consistently pushes the envelope when it comes to the freshest sounds in dance music and the most recent release is pushing it even further. Sacrament, the new EP from bass duo Slang Dogs, explores drum and bass through a unique lens: a pagan ritual deep in the forest.
Everything from the sound design to the cover art (hand-drawn by Daniil) perfectly fits the haunting theme. Throughout the EP's three tracks, Slang Dogs masterfully use tempo and syncopated rhythms to tell the riveting story. Each one represents a different part of the journey, from wandering into the woods to the ultimate demise of the travelers. These tracks will leave your heart beating and your hair standing on end!
Stream Sacrament below, download or stream it on your favorite platform, and read on to get my thoughts on this groundbreaking EP!
Stream Slang Dogs – Sacrament on Spotify:
---
The opening track "Follow" sets the stage for what's to come.
Haunting voices dance over a steady drum pattern as the song begins, but soon all hell breaks loose as "Follow" delivers a flurry of deep bass and broken-beat drums. Slang Dogs waste no time in throwing the listener right into the story with a song that's sure to get the adrenaline pumping.
The duo continues to push the boundaries of rhythm on the next track, "Altar." By now, the travelers have reached the ritual location. As the beat drops, the glitchy bass pattern almost reminds me of a palpitating heart inside of a completely terrified wanderer. There's an undeniable thread between the first two tracks which really helps to establish the storyline. I'm hoping that Slang Dogs give us a full visual journey to pair with this EP!
"Demise" is a perfect capstone to the intense, driving energy of Sacrament.
The drums may not be as raucous on "Demise," but low whispers and an eerie synthesizer line do more than enough to keep the evil energy of the EP alive. The bass is especially strong on this track, as the low wobbling line perfectly undertones the rest of the sound design. The track fades out with whispers and we are only left to imagine what could have happened to those who witnessed the pagan ritual.
Slang Dogs have created something special with this EP and I can't wait to see how they build on it!
This EP felt truly unique to me in a number of ways. The haunting themes pair wonderfully with the up-tempo, high energy music and I'm excited to see what Slang Dogs do to keep the adrenaline flowing on their next project. I'll be keeping my eye on Electric Hawk until then!
---
Slang Dogs – Sacrament – Tracklist:
Follow (3:00)
Altar (3:25)
Demise (3:27)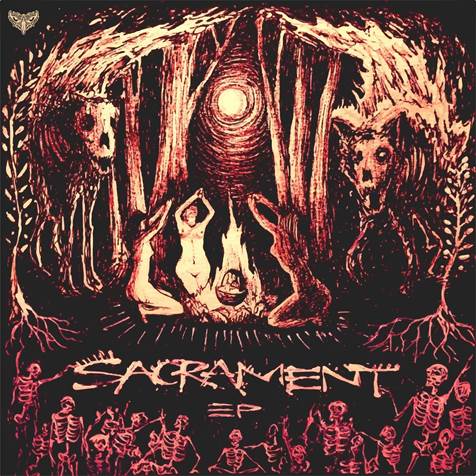 ---
Follow Slang Dogs on Social Media:
Facebook | Twitter | Instagram | SoundCloud