Bass music's favorite LGBTQ+ icon Wreckno dropped in to talk about playing ReVibe Wellness Retreat, collaborating with GRiZ, and more.
---
It isn't every day that an artist as special and as groundbreaking as Wreckno arrives in the bass community, but when it does happen, the entire scene feels the impact. With his irresistible personality and equally amazing music, this DJ and producer turns everything he touches into gold. His ever-growing catalog provides an outlet for diversity and inclusivity, with lyrics that convey pride in his own identity and celebrate the LGBTQ+ community as a whole.
Wreckno made waves in the dance scene this past June with the release of "Medusa," his collaboration with fellow gay bass icon GRiZ. The track, which was released during pride month, is an invitation for LGBTQ+ individuals everywhere to express themselves through bass music. Recently, he played ReVibe Wellness Retreat, a socially distanced hotel music festival in Myrtle Beach, SC, where he delivered a fresh array of bass hitters and club-friendly house tracks that got everyone on their feet and dancing.
We got the chance to catch up with Wreckno on all things ReVibe Wellness Retreat, goals for the future, collaborations, and so much more. Be sure to check it out below, and stream "Medusa" on Spotify below to get a taste of what the Wreckno hype is all about!
Stream GRiZ, Wreckno – "Medusa" on Spotify:
---
Hi Wreckno, thank you for taking the time to chat with us today! You recently played ReVibe Wellness Retreat, where you threw down as always. What was the most memorable part of playing the festival for you?
I loved the balcony aspect of the festival so much! Getting to watch other artists' sets from the comfort of a hotel room with friends like NotLö and Super Future was def my favorite part of the weekend! I missed them and the live music environment a ton.
You switched it up in your ReVibe set, going from playing wobbly bass tracks to upbeat house tunes. What was your approach to track selection going into this performance, did you plan out your set a bit or were you just vibing and letting loose?
I absolutely LOVE switching from bass or trap to house-y type tracks because sometimes you really do need a funky switch up in the vibe. I'd planned most of the set that day, other than maybe the last 10 minutes of it.
2020 has been a crazy year for artists and fans alike. What's the experience been like for you playing shows as the pandemic continues to decimate the scene?
Well honestly I've just been so blessed to be among the handful of artists getting the opportunities to play during this sh*tty f*ck ass time in life. It's been amazing but also stressful due to traveling during a pandemic…it can make you feel like you're doing something wrong, even if flying is somewhat safe and something that so many others are doing to stay afloat financially. I just hope we can get through this all sooner rather than later.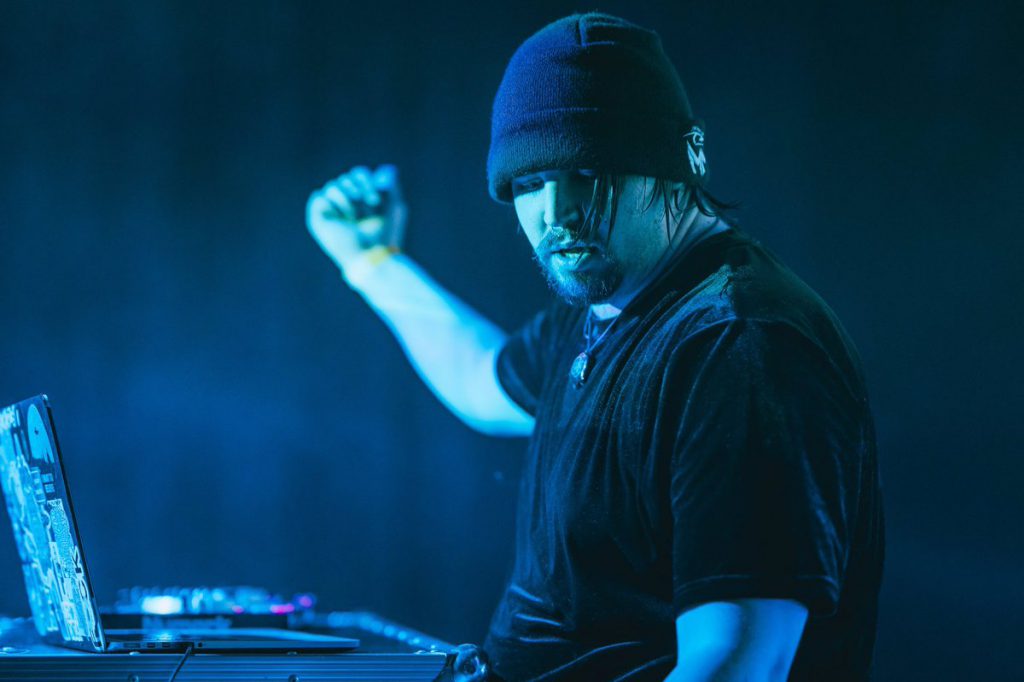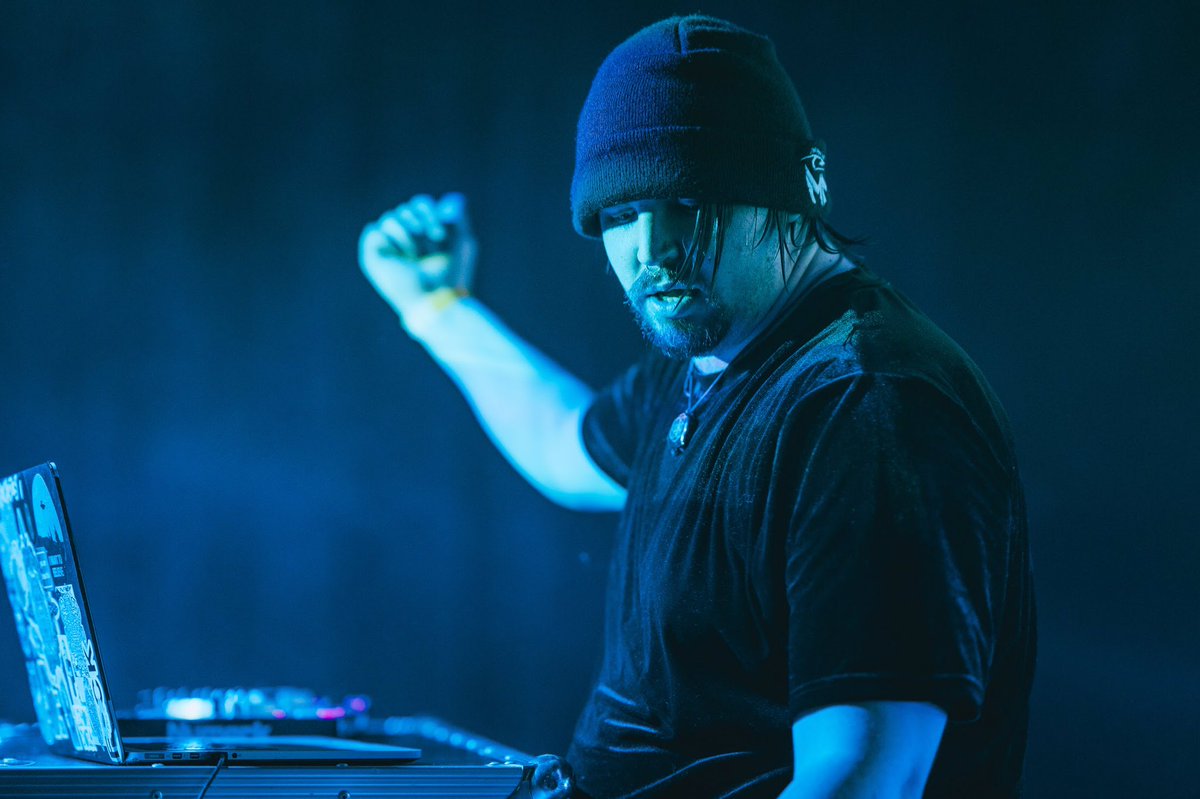 This past summer, you teamed up with GRiZ and released the LGBTQ-anthem "Medusa" for Pride month. What was it like collaborating with him on the track? Did you expect the massive response it has received from fans?
AHHHHH MEDUSA. Literally WHAT THE F*CK! I collabed with Griz on one of the most badass queer songs I've literally ever heard….UNREAL. It still feels unreal, and I can't put into words all that it's done for my life and career, even amidst a pandemic. I look up to Grant so much and used to drive 8 hours round trip from Northern Michigan just to catch one night of Grizmas, so I've been a stan.
I expected people to love Medusa but seeing people from all over the world making TikTok videos and listening to it is incredible to me. When I was younger, I gravitated towards empowering queer artists like Mykki Blanco, Cakes Da Killa, and Brooke Candy…their collective message of "I'm powerfully queer and FUCK YOU if you aren't with it" always resonated with me. I think even though a lot of EDM originates from queer POC, we really haven't had many strong gay voices in the current scene. I will be eternally grateful to Grant for including me in a track that 15-year-old me would have absolutely GEEKED over. I'm so proud to be part of the LGBTQIA+ representation in EDM.
You also joined forces with fellow ReVibe artist MAD Pritch on your song "Hook." What inspired this collab and can you share what the production process was like on the tune?
I LOVE MAD PRITCH! Maddie is the sweetest angel of a lady, and I've loved watching her bring her voice and creativity to the scene. Myself and my brother (Koko Villa) actually started that track in November 2019, while drunk and playing with "sadboi chords" in FL. He started looping the lead you hear in the track, I just started belting "yeah you got me, yeah you got me good!" and then outta nowhere, we had this beautiful chill yet emotional song on our hands.
I think Maddie was into it as soon as we sent it to her, she was literally the first voice I thought of when considering who to feature on it. Big shouts to Ruku as well for her lovely verse, and my brother Kota for having the talent of tapping into those pretty and ethereal sounds. Love everyone on that track so much.
Many artists have expressed that they've encountered creative blocks this year, while others have been flying through tracks in the studio. How have you kept your motivation levels up over the past eight months?
I'd say the first few months were fairly easy because Super Future (I love you Nick) and I were fresh off our first co-headline tour. Having that momentum to feed off of really put me in a "OKAY B*TCH, GET SH*T DONE" mindset. Grant sending 'Medusa' in April, while my management and I were already planning a pride month EP made March-August fairly easy. After Medusa dropped the absolutely LEGENDARY QUEEN that is DEV (from Like A G6/Bass Down Low fame) asked to work on a track and that really kicked my sh*t into overdrive creatively.
I have to give a huge shoutout to the Solace Presents team in Indianapolis, as well. Being neighbors with Ujuu, JordnMoody, and WileyCoyote really kept my drive to create up because THEY'RE ALL SO F*CKING GOOD. Working and bonding with them made this summer feel so much less lame. I look up to their work ethic and it honestly kept me writing and creating while I was starting to fade off.
'FTSU' by JordnMoody, Ujuu, and I got picked up by Wakaan too, so it was like "wow WE DID THAT!" I will say the last few months though I've had little to no drive and the pandemic fatigue has set in. Hoping to dip out of it soon. (Thank you to every collaborator still waiting on verses from me, love u)
Social issues have been at the forefront of the dance music community this year from Black Lives Matter and honoring the LGBTQ+ history of the scene to holding people accountable for sexual abuse and misconduct. As an openly gay artist in the bass music community, what has your experience been like?
I would say I've had a really great experience as a queer artist in bass music. I loved the bass/festival community because of how accepted I felt in those spaces, so it wasn't a shock to me that people were accepting of the project. I think the main annoyance has been people just taking it as a gimmick. Having people reach out and be like "hey bro I didn't take you seriously AT ALL! But now you're collabing with bigger artists – I totally get it!" is probably the most backhanded thing I've gotten.
Part of me gets the mindset because frankly there's been some corny sh*t in EDM…but THIS IS LITERALLY ME. I can only imagine what women and POC in this industry deal with on that level simply for not being a white male. It's like you're begging for people to take you seriously while lineups are constantly dominated by cis-gendered-hetero white men. With that being said, I do think there has been a huge shift toward a more future-forward and accepting mindset in the scene the last few years, I'm proud to be part of it too.
Finally, this year has been such a massive one for you but it's clear you're just getting started on some even bigger things in the future. What goals do you have for 2021 and beyond?
I'm still learning more about myself and growing every day. Through this pandemic, I've somehow continued to push myself creatively and give the people listening closely art that they can relate to and enjoy. If I had a goal for 2021, it would be to stay consistent and creative while finding the balance to be doing what I need to do for my mental and physical well being…..and to be more gay.
If I had a goal for beyond, it'd be to get booked 30 minutes from where I grew up, at Electric Forest in Rothbury….and to perform 'Medusa' with Griz literally anywhere. It could be at a fucking Arby's parking lot, I just wanna jump around and be gay as hell with him…….did I mention "be more gay" is the goal? 😉 
thx for having me EDM Iden-tiddy! <3
---
Connect with Wreckno on Social Media:
Facebook | Twitter | Instagram | SoundCloud