ReVibe Wellness Retreat made its debut this Halloween and delivered a safe weekend of bass, funk, and spooky vibes amid the pandemic.
---
As the pandemic continues to rear its head, the music festival industry has had to get creative in finding ways to bring artists and fans together to enjoy live events in the safest way possible. While livestreams, drive-in shows, and pod concepts have seen prevalence in the dance music scene lately, another type of socially distanced event – the hotel music festival – has sprouted in the place of traditional events, and ReVibe Wellness Retreat is helping lead that charge.
A light shone down upon bass and funk music fans when ReVibe Wellness Retreat announced their two-day, socially distanced hotel festival at the DoubleTree Hotel in Myrtle Beach. Taking place over Halloween weekend, it featured two stages for bass legends and funk masters to throw down their spooky sets and get crowds moving to the beat. A hotel festival was something I never considered as a possibility, yet my interest was piqued and I knew I needed to check it out for myself.
Sunny skies and beachfront scenery provided the perfect backdrop for a weekend of back-to-back bass sets.
My crew and I departed Indianapolis around 9pm Thursday night and embarked on the 11-hour drive straight through. Upon arrival at the DoubleTree Hotel, we were greeted with a beautiful beachfront view and the vibrant blue waters of the Atlantic Ocean. Check-in proved to be one of the only mishaps of the weekend – though it was advertised on the ReVibe website that check-in would start at 10am, it wasn't until about 11am that the crowd of eager festival-goers finally received our packets containing our credentials. It was a minor blip in an otherwise smooth-sailing event.
Each stage had its own affiliated side of the hotel, meaning Frequency stage ticket-holders were located in the Frequency building, while Vibe stage ticket-holders were located in the Vibe building. This meant you were only viewing the stage of the ticket package you paid for, however you could purchase a booth at the opposite stage to get in on all the action. Additionally, single-day passes were available which allowed guests to simply purchase a Frequency or Vibe booth, and no hotel room.
Because we're bass music lovers, my crew was located in the Frequency building, and once we arrived at our room the excitement kicked into full gear. The room was spacious and the balcony was big, allowing us to deck it all out in string lights, star projectors, and tapestries as we saw fit. Food trucks and room service were also available to fill the hungry bellies of festival-goers, and it definitely did not disappoint.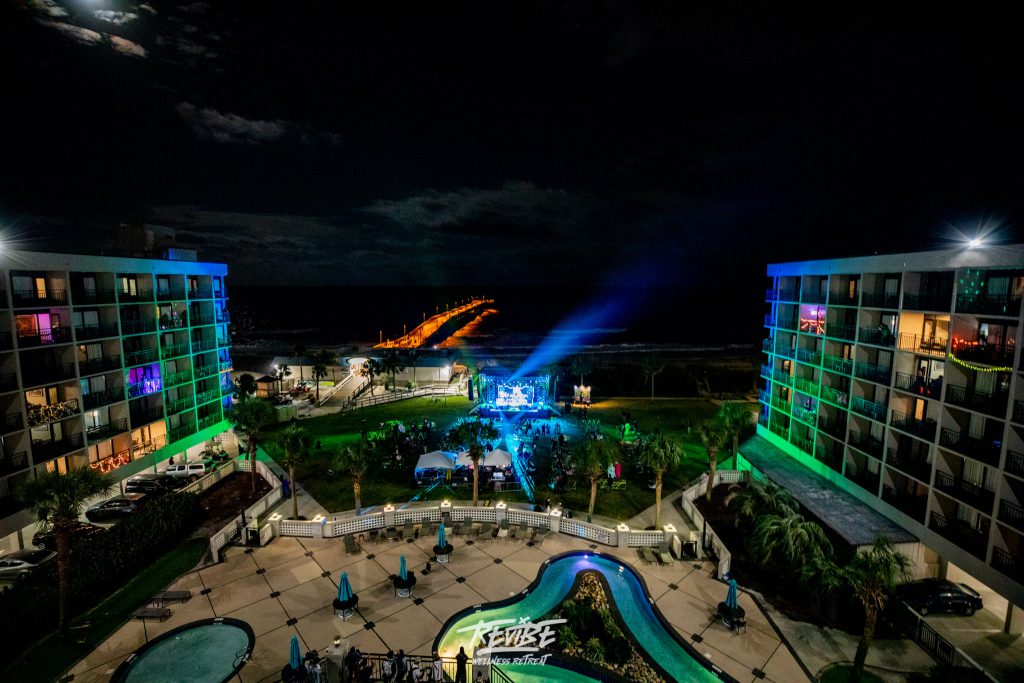 Safety regulations were put in place to ensure guests could enjoy the festival without risk.
The festival had a number of COVID regulations in place, including a strict mask-wearing policy that made sure guests kept their's on at all times outside of their hotel rooms. Security roamed the main grounds and asked anyone with their mask lowered to put it back up over their mouth to assure everyone's safety, that was something that was very comforting to see. It was pleasing that everyone seemed to take this rule seriously, as I never saw someone without their mask on.
Although the Frequency and Vibe booths were originally advertised to be socially distanced platforms that held no more than four guests each, this ended up being a bit different than anticipated. Instead, the 'booths' turned out to be spray-painted boxes in the grass instead of something more secure.
I did notice that as the weekend progressed the crowd got closer to each other to the point that social distancing effectively diminished. Personal responsibility comes into play here, so my crew and I decided to stick to the safety of our balcony for the most part as did many others. This is something that could be improved upon in future editions if they happen while the pandemic continues to rage on.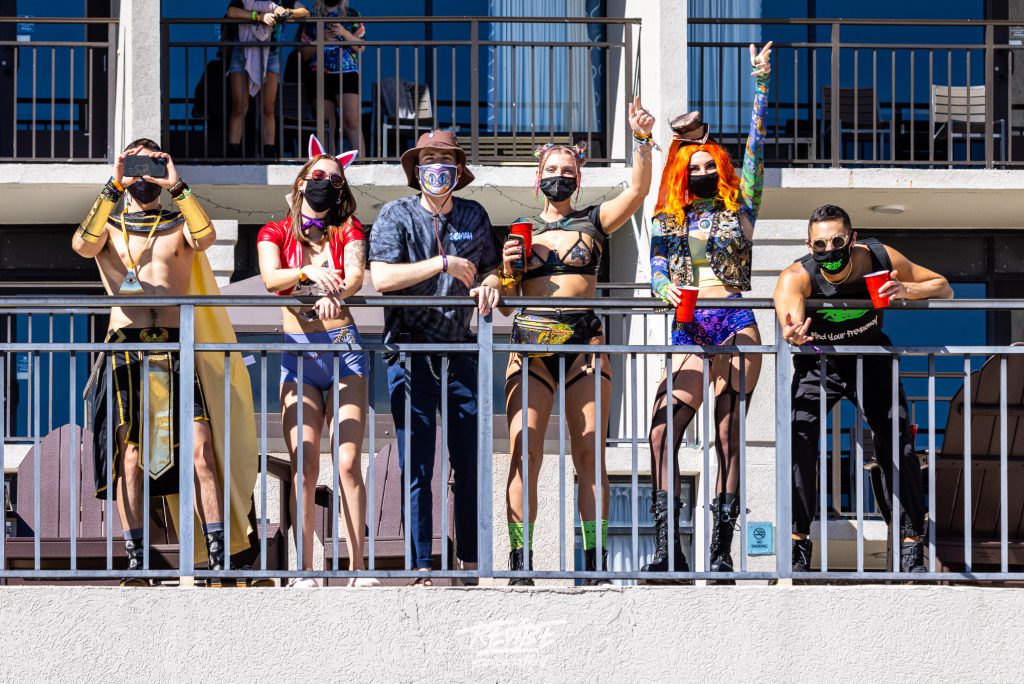 Every artist that played during the weekend brought something new to the table and blew me away with their exceptional sets.
One of my favorite aspects of this festival was that the lineup featured a diverse mix of big names and up-and-comers alike. I got to see some of my favorite artists while discovering new favorites all at the same time. Among my favorite newly discovered artists of the weekend was A Hundred Drums, who delivered an otherworldly set chock full of deep bass and mesmerizing sounds.
I also was stoked to see some names I've been dying to finally see live, including Wreckno whose set was by and large the most vivacious and fun of the weekend. His energy and stage presence was absolutely unmatched. I was also super thrilled to finally catch a set from MAD Pritch, as she's based in my college town and I've heard a lot about her from the local dance scene there. After this weekend, she quickly became a new obsession of mine.
Being the WAKAAN fan that I am, TVBOO was a big one for me – he showed up dressed as Elvis Presley, persona and all, which was hilarious and the perfect complement to his endless delivery of wubs and wonks. Mersiv closed out the weekend at the Frequency stage with more WAKAAN madness, elevating everyone's consciousness with his hypnotizing bass sounds. It was unforgettable.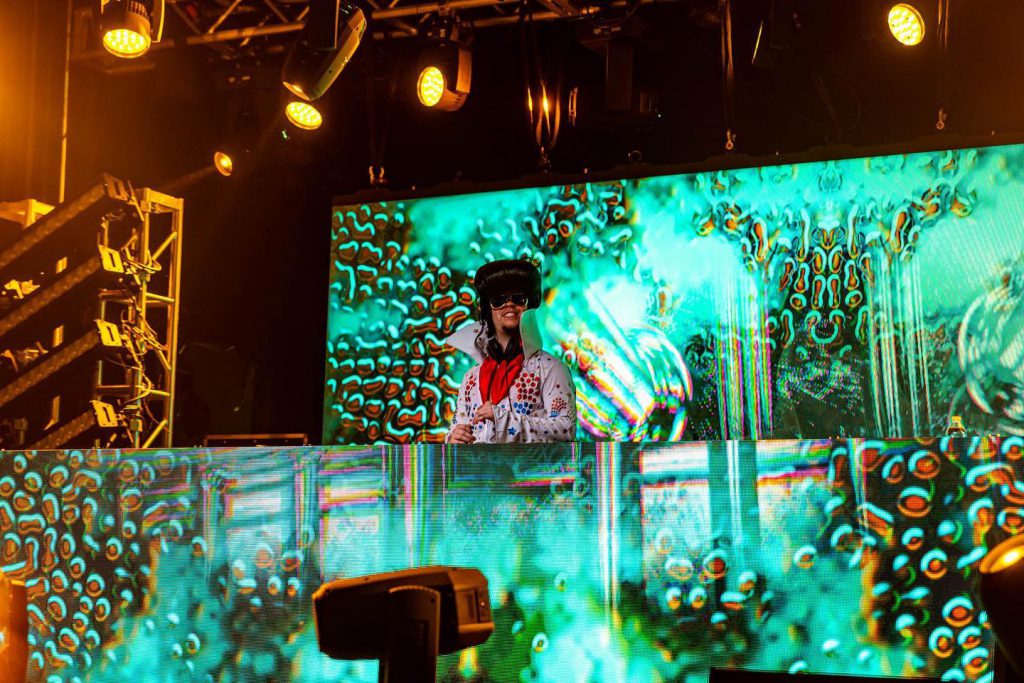 Even though I only got a glimpse of the Vibe stage, it was clear that the vibes were through the roof there as well.
My crew and I headed over to the Vibe stage on Saturday to catch Break Science's set, which was groovy beyond belief. We caught word from a nearby group that none other than Pretty Lights would be making an appearance via livestream during Break Science's set – after staying for a while, we decided this was surely just hearsay and made our way back to our hotel room.
Sure enough, Pretty Lights did indeed come out of hiding to grace ReVibe with his virtual presence, playing two songs for the crowd – and I MISSED IT. As a big fan of his, it was a huge loss for me, but an absolute gift to the people of ReVibe and the dance scene in general.
Overall, ReVibe Wellness Retreat was a light in the dark that is 2020, and I'm anticipating what they have in store for us moving forward.
Despite a few areas of improvement, ReVibe was truly a special experience for everybody involved. In this time of uncertainty and the entertainment industry being turned upside down, it's hard to know exactly how to carry out an event, and they did it well. If there's one thing I took away from ReVibe, it was getting to see all the smiling faces and costume-clad dancing bodies come together once again to celebrate life's greatest joys: music, community, and Halloween. I can't wait to see what they'll be cooking up in the future and would definitely recommend attending!
---
Follow ReVibe Wellness Retreat on Social Media: