Common Creation perfectly blends funk and bass music elements together with the release of Gold Soul Galaxy, out now for your listening pleasure.
---
Calling all fans of funky, bass-filled tunes, Common Creation is the artist for you. His style is influenced by genres including glitch-hop, electro-soul, and dubstep, while he also infuses classic hip-hop elements, live drumming, and other instruments to add some extra flair as well. His Irresponsible EP with Matheny is a great reflection of the heavier side to his sounds, while Digital Daydream shows off that soulful side. Now, we get the best of both worlds with the latest EP from Common Creation, Gold Soul Galaxy.
Out now, this five-track EP is a wonderful offering of experimental sounds to explore. In fact, Gold Soul Galaxy is like hopping on a magic bus with Common Creation and being transported to a land of groovy bass and bright, happy colors. From his heavier side showcased on "Come Selecta" to the soulful sound on "Wave Flex," this EP is a psychedelic experience for the mind, body, and soul.
Common Creation is going to make a huge splash in the music scene with such an eclectic sound design. So sit back, relax, and let the sounds of Gold Soul Galaxy take you on a journey through space and time. Stream the EP on your preferred platform and let us know your favorite track is in the comments!
Stream Common Creation – Gold Soul Galaxy on Spotify:
---
Gold Soul Galaxy is one of my favorite pieces of music released in quite some time. As soon as it started playing I felt this wave of calming emotions rush over me.
"Wave Flex" kicked things off for the EP and this was the best way to pull listeners in. I felt like I was in an animated music video from the '70s with flowers and other psychedelic visuals dancing around me. Common Creation started the track off nice and slow with beautiful sounds that will have listeners feeling like they are walking around a funky forest. The synthesizers and scrunchy bass line had me bobbing my head while it was playing. Even though it is a more mellow track, it still has some bass that will be sure to have anyone who hears it making that 'Ooooooh' face.
Coming up next on the EP was "Gold Soul," a beautiful future bass style track that filled me up with warm feelings immediately. Common Creation blended in so many different sounds with this one. I could hear chimes whispering in my ear and kicks that hit just right as they built up into a drop that will have listeners smiling from ear to ear. "Gold Soul" is the perfect track to blast while cruising through some fresh powder on the mountain or posted up in your hammock just soaking in all the good vibes around you.
Common Creation switches up things a bit with "Come Selecta." A heavy tune with a thick bassline sure to have you shouting, but jumps back in after to those sweet, soulful vibes.
As soon as the drop hit in "Come Selecta" I felt the meanest bass face start to form and it reminded me of a song by Boogie T or GRiZ. The synths drag you back and blast you off, making this a nice change from the more mellow tunes on this EP. I am really looking forward to hearing this one rinsed out at a festival when they come back, it's going to be the greatest feeling getting down at a dirt stage and hearing this track blaring through speakers.
"Close Wonder" sees Common Creation team up with Adam Stehr, and it's such a gorgeous track. The keyboard you can hear playing throughout paired with subtle bass and what sounded like someone scratching a vinyl made this one really stand out. Listening to his made me want to sit in a window, listening to old vinyl records, and watch the rain fall from the sky outside. You just can't help but smile while this one dances throughout your eardrums.
Gold Soul Galaxy comes to an end with "Take Your Time." For Common Creation fans, you have most likely heard this track already seeing as it was released last month, but for those who haven't heard it your ears are in for such a treat! The trumpet that plays in the background gives this that extra little boost to make you fall deeper in love with the track as your heart is filled with beautiful sounds. But just wait, towards the end things switch up a little bit as glitch hop is mixed in with smooth and funky noises. You won't regret giving this one a spin.
---
Common Creation – Gold Soul Galaxy – Tracklist:
Wave Flex
Gold Soul
Come Selecta
Close Wonder feat. Adam Stehr
Take Your Time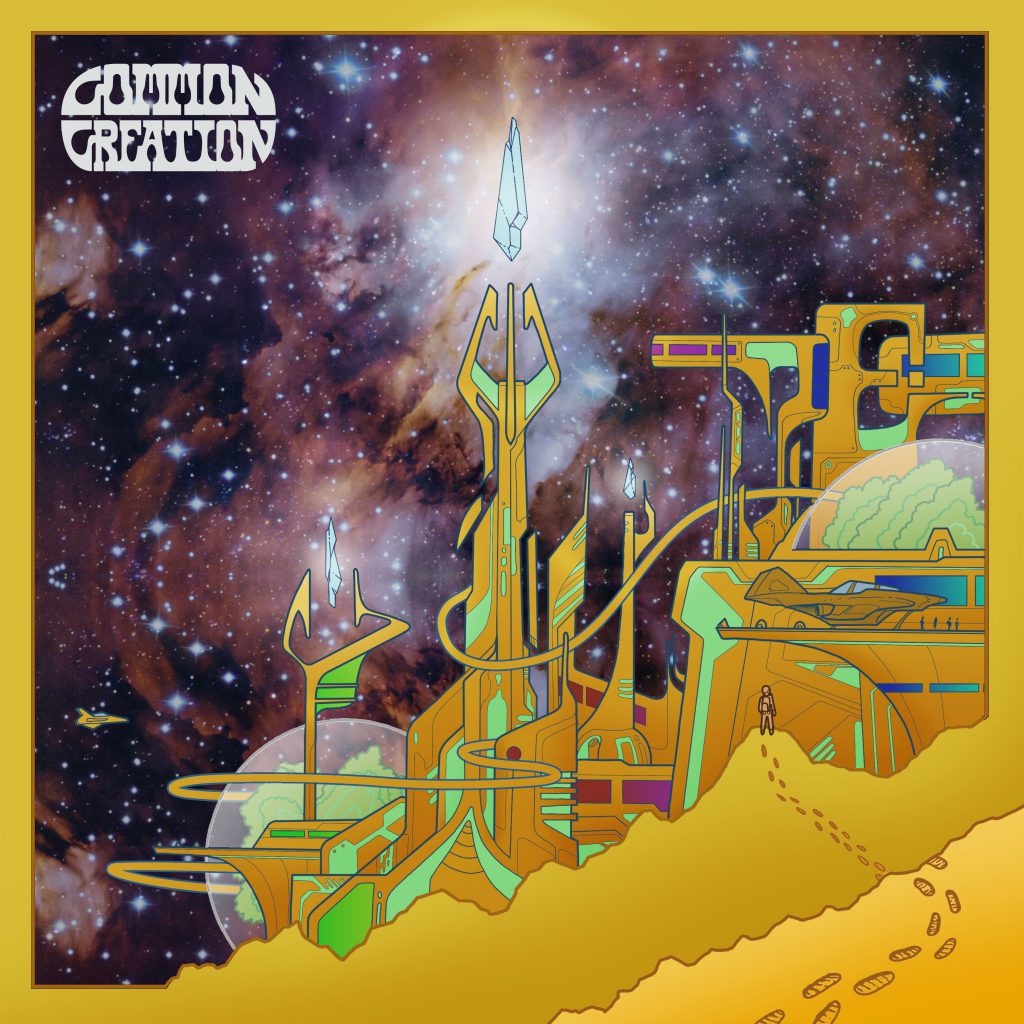 ---
Follow Common Creation on Social Media:
Facebook | Twitter | Instagram | SoundCloud | Spotify