Insomniac announces that 12th Planet will bring his Swamplex show to the Park N Rave concert series for a special Friday the 13th edition!
---
After announcing that Desert Hearts would be taking over the Park N Rave concert series on November 14 – 15 last month, Insomniac is now giving bass music lovers something to be excited about on Friday that same weekend. That's right, they've teamed up with legendary artist 12th Planet to bring his Swamplex show and make Friday the 13th even more surreal at the NOS Events Center.
Over the years, 12th Planet has solidified his place among the greats in the bass music world. One of the first to bring the sounds of dubstep to speakers across the US, this Los Angeles-based artist has since gone on to help further grow the community with his work for SMOG Records and more recently, Disciple Recordings as he heads Disciple Round Table. Constantly pushing the boundaries of his own sound while taking the stage at some of the world's top festivals, his sets have become legendary for packing a punch with plenty of headbanging energy.
Earlier this summer, 12th Planet worked with Insomniac's Bassrush brand for the unique Swamplex Mixed Reality showcase in the virtual world that was a blast, so we can't wait to see what they'll be bringing for this edition of the Park N Rave. While the rest of the lineup has yet to be revealed, we expect some heavy-hitters who will make this night one that fans won't forget for some time to come.
Related: Want an inside look at what the experience at the Park N Rave series is like before you make your decision to attend the show? Check out our review from the debut edition with Maceo Plex and the Kayzo show as well!
Each car pass grants entry for up to five people, with additional companion upgrades available for a maximum of eight total. Gates open an hour and a half before the scheduled show time and you MUST be at the venue before it begins, so early arrival is strongly suggested as spots are on a first-come, first-served basis. Details and more FAQs on approved items, safety guidelines, and more can be found via Insomniac's website.
Car Passes for 12th Planet's Swamplex Park N Rave are available now. Head over to their website to purchase passes and let us know if you plan to attend in the comments!
---
12th Planet's Swamplex Park N Rave Lineup and Details: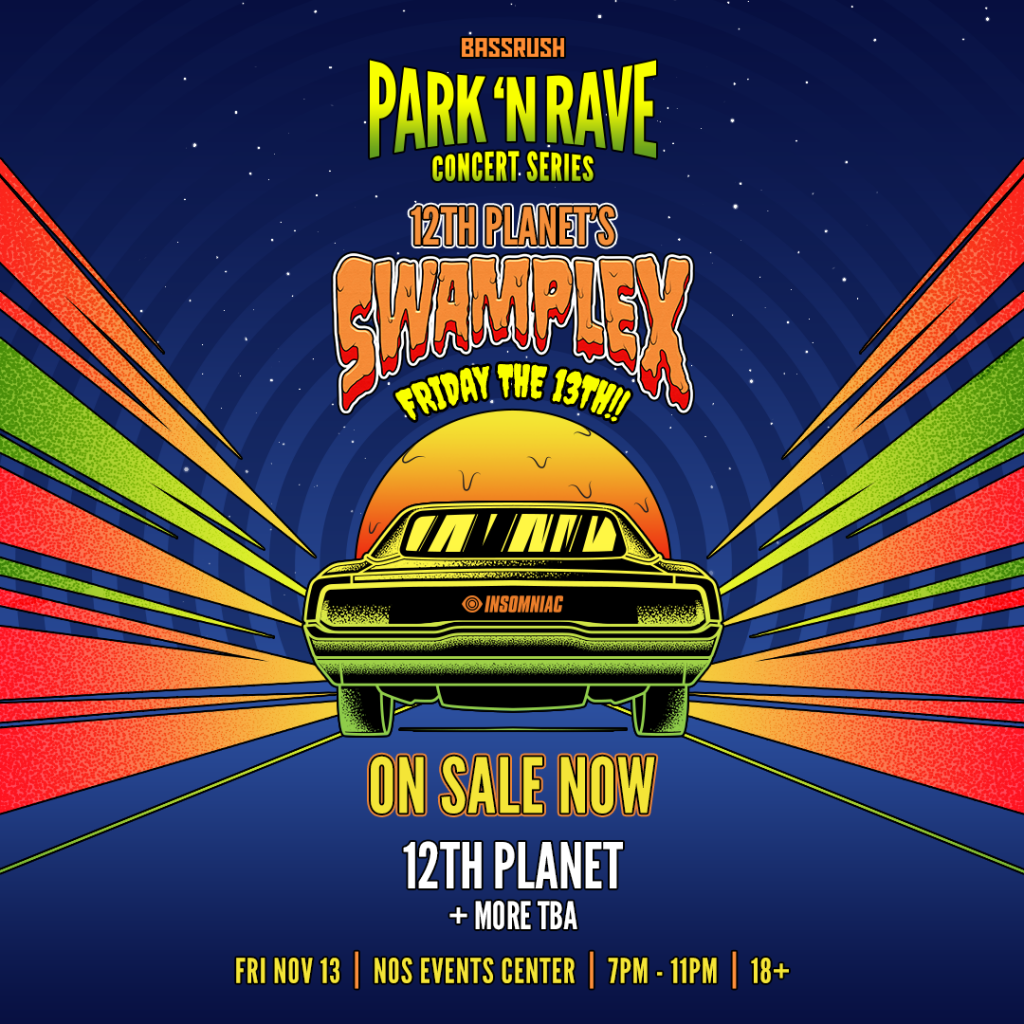 ---
Connect with 12th Planet on Social Media:
Website | Facebook | Twitter | Instagram | SoundCloud | Spotify