The Insomniac Park N Rave with Kayzo, k?d, and Pixel Terror was like a scene from an action movie—insanely epic.
---
The year started on the right note. I kissed my boyfriend at midnight during Alesso at Countdown NYE with all the positive vibes circulating. Just like everyone, I had big plans for 2020—like a trip to Miami, EDC Las Vegas, my very first Lost Lands, and so many other things. But COVID-19 abruptly changed everything for everyone.
Things we loved were stripped away from us, and the pandemic wasn't the only thing beating us all down. Stuff like the foolish administration, racism, police brutality, voters suppression, the death of Ruth Bader Ginsburg and Kobe Bryant, and climate change was a lot to digest. There was no way of escaping it. I couldn't run away to safe spaces like the gym, movies, or live shows. I had to sit and deal with the chaos happening around me, and my mental health was unraveling at the seams. I was hungry for something familiar. 
When Insomniac announced the Park N Rave concert series, I didn't pay much attention at first.
I had my reservations about drive-in shows when they began to surface. I didn't see the value in them, they weren't worth my time, but as the pandemic continues to progress, they're the closest thing to a live show that I'm going to get for a while. So, when Insomniac announced the edition of their Park N Rave series with Kayzo, I was instantly interested. I can't lie.
My group and I tried to coordinate before tickets went on sale and failed miserably. Due to the lag in text responses, we missed our chance. Tickets sold out quickly for both Friday and Saturday. Hey, another disappointment this year. But, a few days passed and a friend reached out to my sister about two open spots with their pod for Saturday. We jumped at the opportunity. 
Disclaimer: Our friends actively get tested for COVID due to their jobs, so we felt safe to attend, and we did. 
The week leading up to the event restored feelings that I haven't felt in a long time. I like to call it pre-event jitters. I had something to look forward to for the first time in ten months. The feeling was so foreign that I couldn't believe it was happening. Before I knew it, it was rave day, and I woke up pumped. That energy made the drive to the NOS Events Center feel like it took us less than an hour from Los Angeles. 
Entry into the event was easy peasy, lemon squeezy. 
Like many advised, we arrived at the venue early. In fact, by ten whole minutes. We pulled into the parking lot and picked a line to wait in. Someone instantly came over to scan our ticket, check our IDs, and hand out wristbands. Doors opened at 5:30, and it was a seamless experience. Security was a breeze. The check consisted of opening our doors and checking the trunk of our car. Before I knew it, we were driving to the orange section to settle in our little space.
Words can't describe the feeling of getting set up for my first event during the pandemic. It was a contradicting combination of excitement, anxiety, and minor paranoia. Our group brought Halloween decorations to decorate our area. I was impressed by the size of our space, especially with our group of six people. The staff on-site provided details about how to order drinks, food, and merch by showing us the sign with the QR code to place all orders and which porta potty to use.
Most importantly, we were informed to stay in our pod and wear our mask unless eating or drinking. The rules were simple and easy to follow. We continued to set up with our cooler, lawn chairs, blankets, and boxes of Little Ceasar's pizza. I couldn't get over the freedom of bringing in our own food, snacks, and non-alcoholic beverages. It was nice having a dedicated space, and the contactless ordering sweetened the deal.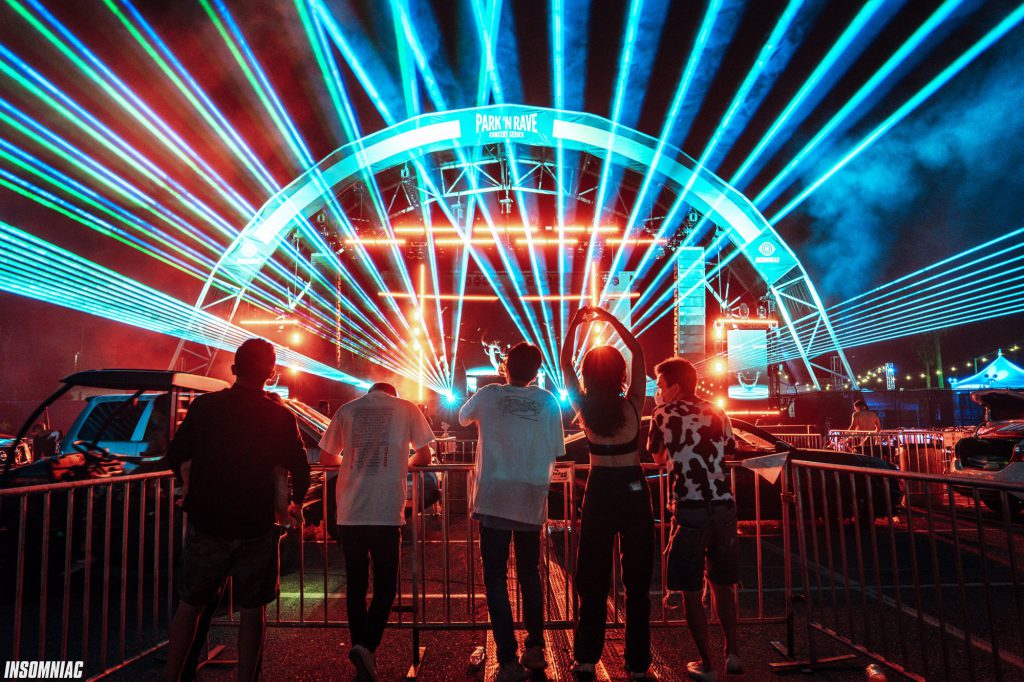 My biggest concern was for the sound quality because I wanted to feel the bass.
Insomniac is superb in the safety department. I've never felt unsafe at an Insomniac event, so I wasn't too anxious about their dedication to our safety during a pandemic. But a drive-in rave is entirely different from a regular event when it comes to staging production, including visuals and sound. 
Luckily for us, we found a sweet spot. Even though we were in the first row of the last section, our space was directly in the middle of all four speakers, surrounded by epic bass. However, this wasn't the case for everyone. As I went to the restroom, I noticed that the sound completely shifted towards the row's end. I could hear an echo, and the bass wasn't as prominent. I'd be interested to see if Insomniac could include two more speakers towards the end of the last section, so everyone has the same sound quality experience. 
Pixel Terror, k?d, and Kayzo were absolute perfection.
From start to finish, all three sets were divine. Pixel Terror and k?d brought the heat. I'm such a lazy raver that I prefer to sit most of the show, but Pixel Terror had me dancing the entire time! They played everything from riddim, future bass, and even some groovy house with a spin on it. 
I was impressed by k?d's flawlessly transitions and range. I felt like I was in a never-ending level of Dance, Dance Revolution at one point, and I loved it. His energy was consistent and left an impression on every soul. I highly recommend that you follow, listen, and see both artists at your next possible show.
Kayzo didn't play any games. You can tell how much every artist missed playing a live show. With the latest release of his The Year the World Stood Still EP, I was expecting to hear my favorite tunes of the EP "Malice," "Breakdown," featuring SYN and Zero 9:36. The 90 minutes went by too fast, but every second was perfect. Pods were riding the rail, and it felt like a true bass show. Overall, the vibe was indescribable. I could feel the boost in my mental health and loved that our community is still powerfully connected. 
Even with the good vibes flowing, it's essential to be responsible and conscious of the pandemic.
My experience at the Park N Rave was a success. I enjoyed the experience enough to purchase passes to Insomniac's BOO! Halloween with Joyryde on Friday. But I do feel there's more room to evolve the experience and make it that much better. One thing I want to see Insomniac invest more in is the stage production, it's something that could be bigger or higher for increased visibility. That, as well as the additional speakers I mentioned earlier, would take the Park N Rave to the next level.
I highly recommend the Park N Rave to anyone that feels comfortable enough to attend. If you are in the at-risk category, please take extreme precautions because your health comes first, always. My sister and I got tested following the event as an extra precaution. The cleanliness of the venue was up to par. I noticed staff cleaning out the porta-potties consistently, and there are plenty of handwashing stations. I'd advise bringing your own hand sanitizer. Remember, if you attend and there's an emergency—Ground Control is present and available, and there's a medic tent. 
Most importantly, please stay in your pod. It's so easy to get wrapped up in the moment and forget that we're in a pandemic, but we are still in a pandemic. Stay safe, friends.
---
Connect with Insomniac Events on Social Media: