Insomniac debuted their Park N Rave concert series in Southern California last weekend with Maceo Plex, and it was a rousing success.
---
This year has been quite a wild ride and one that no one was truly prepared for. It's been filled with swings of emotion and bouts of depression for many as the world continues to face the pandemic and experience uncertainty of what the future will hold. I'd be lying if I said it hadn't affected me as well, because the initial optimism in the earliest days of 2020 evaporated in an instant once the gravity of the situation took hold. Throughout it all, though, one of the few brands that have kept me centered is Insomniac.
Satiating my own cravings for dance music during the first few months of the pandemic with a flurry of Virtual Rave-A-Thons, Insomniac helped keep me sane as the world continued to spiral into madness. But as the summer months arrived, livestream fatigue set in and a seemingly endless number of drive-in raves began to surface. Some went off without a hitch, while others… not so much; this new format to see live music in a somewhat safe manner definitely drew my attention.
While I was initially hesitant to support drive-in raves (and still feel as if they should be looked at on a case-by-case basis), my craving for live music grew and grew. In fact, this year has been the longest time I've spent away from live music over the past decade of my life, and the lack of doing anything at all really ate away at my own mental health. So, when Insomniac stepped into the batter's box and announced that they were bringing their Park N Rave series to the NOS Events Center, I knew I needed to go and at least experience what this "new normal" really was.
If there is one company in the scene that I've grown to trust since I began raving, it's Insomniac. They may not have been perfect over the years, but I've found that they are one of the few who truly do their best to stick to their word and provide a safe environment for attendees. I knew they'd be bringing actual sound to the event. I also knew they'd be bringing an awesome artist to play. But the deciding factor for me to attend the Park N Rave was really the trust that they'd be throwing the show in the safest way possible, and they absolutely delivered on that.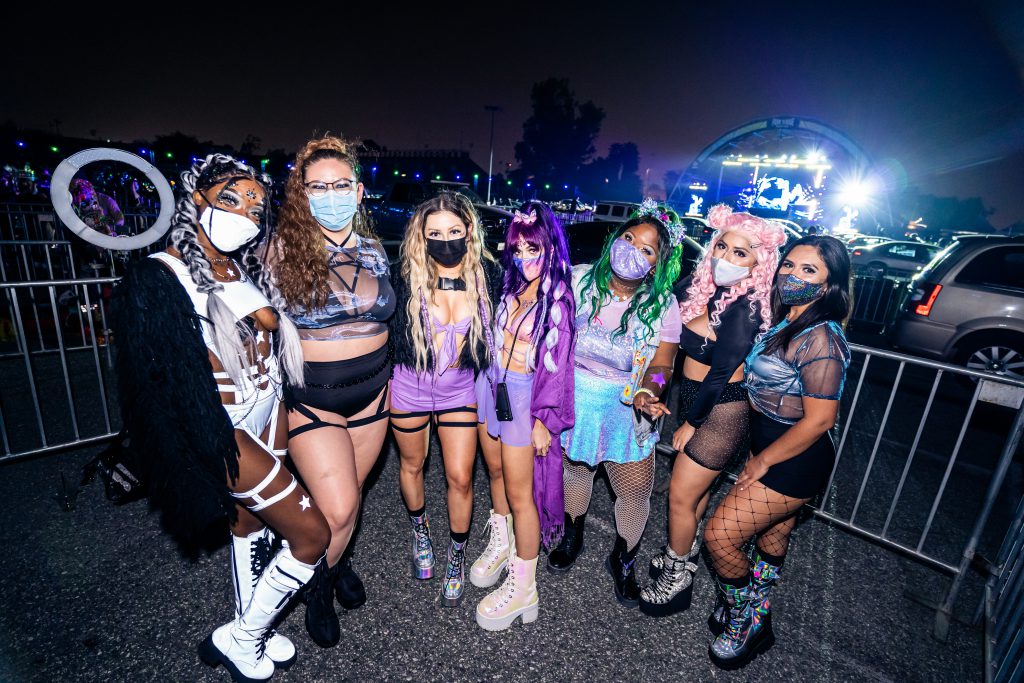 Insomniac pulled out all of the stops to make the debut weekend of their Park N Rave series one that was fantastic.
Ahead of the on-sale date, I assembled my crew for the show, selecting a few friends who I knew have also been safe and would quarantine along with me in the leadup to the weekend. We opted for the Yellow Lot, as the price seemed to be the best fit for our budget, especially for the debut edition of the Park N Rave. Once I received the email with a receipt, an excitement that I haven't felt in months swept over me, along with those pre-show jitters festival-goers know and love.
When the day finally came to make the trek to San Bernardino, it all felt surreal. I've made this drive close to a hundred times (if not more), but there was extra emotion riding along. Why? Because nearly a decade ago, I was a starry-eyed raver making his way to the first edition of Escape From Wonderland, a festival that would inevitably change my life. This time around I wouldn't get the chance to explore the world Insomniac put together, but as we arrived closer to the gates there was a warm, comforting sense of returning "home."
Entry to the Park N Rave was one of the most painless experiences I've had going to a show.
We arrived at the parking lot and lined up among the other cars packed full of other ravers blaring music from their speakers. The ID and ticket check were quick; security just looked inside our car and the trunk itself, but within minutes we were driving to the Yellow Lot to get our spot.
Once there, we unloaded the car and got situated. I was impressed with how much room Insomniac gave each placement, as well as the distance between each pod. Unlike other drive-ins, the cars were placed perpendicular to the stage, another pleasant surprise to avoid unnecessary lights beaming into your pod when someone locked their car behind you.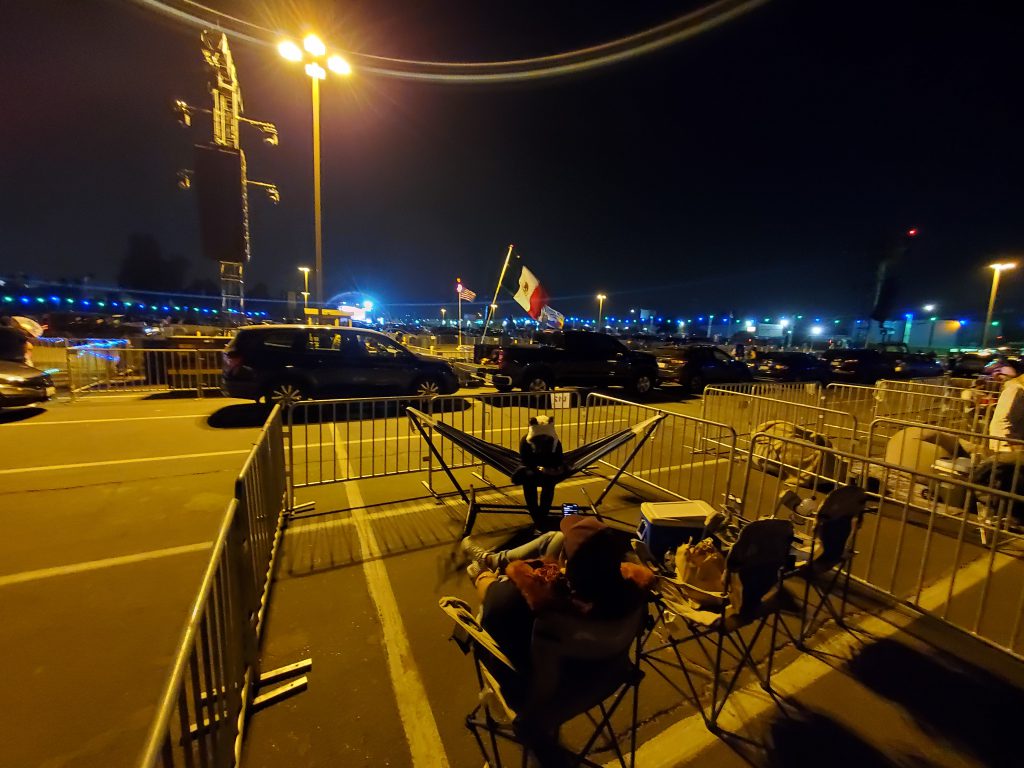 While my group was only three people in total, it would have still been comfortable with the five that come with the pass itself.
Ravers around us spent time decorating their spaces with lights, inflatables, and their own seating, and Ground Control came by quickly to welcome us to the show. They told us the rules, offered assistance with the app, and mentioned they'd be patrolling the whole night if we needed anything. Additionally, Ground Control made sure everyone was wearing their masks throughout the whole show.
Hearing that the previous night had some issues with delivery times to get food and drinks as the night went on, we opted to order early. The app was quick and easy to use, and the prices were actually quite a nice surprise at a much lower point than your typical festival fare. The food did come much faster than the drinks (which were limited to two per order, by the way), and arrived by way of staff on bikes or a golf cart. And if we needed anything else from the general store or wanted to get merchandise, it was only a few taps away.
My only complaint while waiting for the show to begin was the playlist of music they were blasting out. Don't get me wrong, I love Chris Lake, Fisher, and the rest of the tech house artists out there today just as much as anyone else, but after hearing the same songs five or six times I began losing it. They did have an informational announcement as well, but I hope for future editions they perhaps expand that playlist a bit more for those of us who arrived early.
Besides safety, one of the biggest concerns I have with drive-ins is the sound quality, and Insomniac exceeded my expectations.
I honestly can't imagine listening to a set from an artist I love through my car's FM Radio. I don't have a bad system, but if I'm paying for a live music experience I want a full on speaker setup. True to their word, Insomniac brought full, immersive sound to the Park N Rave that was booming. Granted, we did get placed close to a speaker and the far left side of our lot did have a slight dip in loudness, but it still was crystal clear.
The two artists playing on Saturday were Maceo Plex and Silent Servant, the latter of which I wasn't too familiar with. The situation with the lineups for the weekend was actually one of my bigger gripes because I wish Insomniac was forthright about who would be playing each day prior to tickets going on sale. Both artists ended up playing some amazing tunes and overall, I was satisfied with both sets, but I do hope that in the future they would release the full lineups ahead of time. (I would've loved to catch Doc Martin and/or Rabbit in the Moon.)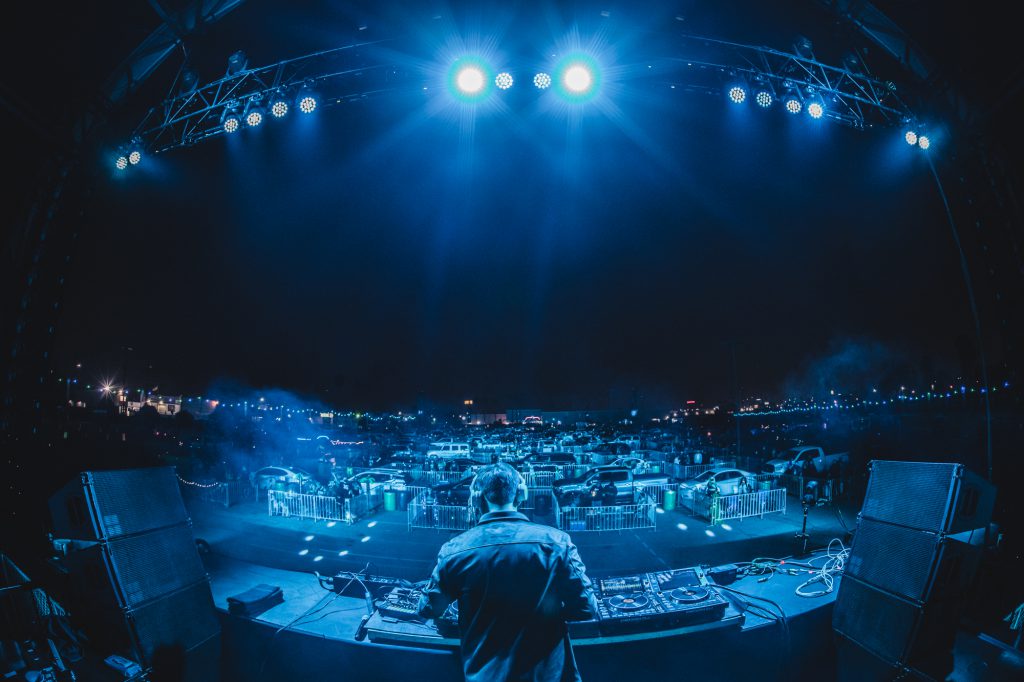 The cleanliness of the venue and the crowd itself were also two things that stood out to me.
We all know how disgusting porta-potties can get at festivals, but Insomniac really did a great job of keeping the facilities clean throughout the show. There was an ample number of porta-potties throughout the venue at the end of each lane, all of which were cleaned regularly by their staff. On top of that, there were ample sanitizers and washing stations as well. And as for lines to use them? Rarely did they exceed more than one or two people, all of whom remained distanced (but still were friendly!).
Everyone I encountered at the Park N Rave was friendly, and more than anything just happy to be at a live show. I didn't witness anyone breaking rules, jamming pods with more people than what they were supposed to, or being rude. Our neighbors were all having a blast, and the few times I was close enough to talk to someone outside of my group, that sentiment of gratefulness the show was even happening was commonly shared. There was even someone by the porta-potties who was attending their first rave; better now than never, I'd say.
Overall, I had a positive experience at Insomniac's Factory 93 Park N Rave, and it is something I will consider attending in the future.
The price point is slightly prohibitive for me to attend each one, nor would I just go unless it's an artist I really enjoy, but I fully believe that Insomniac has put together the best possible experience for their headliners. While they were one of the latest to enter the realm of drive-in shows (having hosted their only other one in Arizona during the height of the first wave), there are few promoters who can pull it off and make attendees feel like it was a real show.
If you've been craving live music and are looking for a proper sound system, high level of production, and safe atmosphere, Insomniac's Park N Rave series is something you should consider attending. I know that I'll be back for a future edition in the coming months, and I'll make sure to wave at you from the comfort of my portable hammock.
---
Connect with Insomniac Events on Social Media: