Baked Up announces new label Hot Out The Oven Records with their Escape The Madness compilation featuring Tek Savvy, Saratonin, and more!
---
If there's one collective that has been quickly rising through the ranks and delivering some tasty treats to speakers near and far, it's Baked Up. Keeping their growing fanbase satiated during the pandemic with livestreams on Twitch and releases from artists among the ranks of the Baked Dozen, they've now looked to cook up something even more special… a new imprint called Hot Out The Oven Records.
Looking to bring the freshest sounds to the dance music scene, Hot Out The Oven Records has arrived in style with a debut compilation featuring some of the finest tracks that their collective has produced yet. Dubbed Escape The Madness, this 12-track release puts their mission on full display with artists like Tek Savvy, Milazzo, and LovelyBones who all threw down some absolute stunners.
Other standouts on Escape The Madness include Lazy K with his track "Glock On My Hip," Saratonin with "Gimme Da Chocolate," and Ron Austin with "Not Ok But It's Ok" who channels the feelings many have experienced during this difficult year. If this compilation is any indication of what they're baking up at Hot Out The Oven, then expect even more forward-thinking tunes from these rising stars in the scene!
Escape The Madness by listening to the compilation on Spotify or your favorite platform, and stay tuned for more tasty treats from the Baked Dozen crew!
Stream Escape The Madness on Spotify:
---
Escape The Madness: Baked Dozen Album 2 – Tracklist:
GIZMO – Still Getting It
Gratum – What We Telling Them
JADIP – Earth
James Gary – Talk To Me
Lazy K – Glock On My Hip
Little Fohx, Zoe Zobrist – Out Of My Mind
Milazzo – Lemme Tell Ya
Ron Austin – Not Ok But It's Ok
Saratonin – Gimme Da Chocolate
Tek Savvy – Mescaline In Vegas
LovelyBones – MMMHMMM!
Zkosta, Elon Degenerate – Focus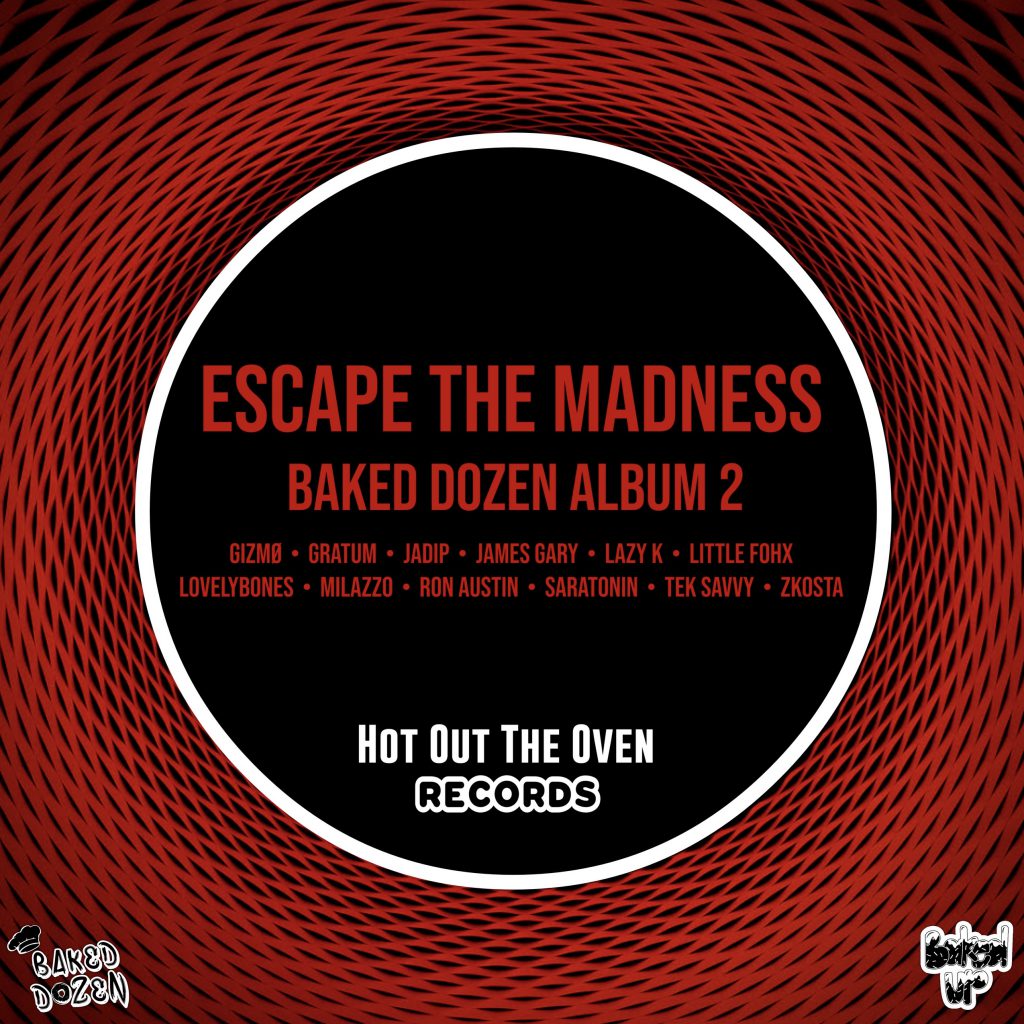 ---
Follow Hot Out The Oven Records on Social Media:
Website | Facebook | Twitter | Instagram | SoundCloud | YouTube