Get ready to be transported to a world of hauntingly evil tunes as Figure marks the arrival of Halloween with his latest album, XI Monstrum.
---
Figure is a name that needs no introduction as his music has graced the scene for nearly a decade. Every October over the past decade, he has put out a series of Monsters albums that are full of dubstep/drumstep tunes and samples from different horror movies. Fans can always look forward to new music from the producer when spooky season rolls around, and this one is no different. XI Monstrum from start to finish is an epic album that will have anyone's jaw drop to the underworld.
This year we are blessed with 10 new tunes as well as an album intro. The order that the tracks are placed in the perfect manner to tell a story of someone being taken through the depths of hell itself. Starting with "The Unholy" Figure grabs listeners' attention and draws them into a tale of incredible, chilling tunes. If you get scared easily, you might want to listen to this album with the lights on.
If you like when things go bump in the night, make sure you stream Figure's XI Monstrum on your favorite platform and read on for a deeper look at this horror-infused album.
Stream Figure – XI Monstrum on Spotify:
---
After completely captivating my attention with "The Unholy," I got chills the moment the drop hit on "The Devils Reaper."
Only one track in and my body was covered in chills from head to toe. Kicking things off with a bang, "The Devils Reaper" is a solid mood-setter for everything to come with the rest of the album. Throughout different parts of the song you hear a creepy voice saying "Your deal is done" and "I am the Devil's reaper." Right after, Figure comes in swinging with growling drops and gut-punching basslines. He mixes things up towards the end of the track, adding some heavier kicks that give the song that perfect feel.
Our adventures continue with "Welcome To Your Death," a collab with 2FACED. The track is full of chunky bass that will have anyone who listens making a nasty bass face. I love that heavy dubstep that makes you feel like your brain is being wrung out like a rag. Both of these producers' sound designs mesh so well together, making for an incredibly epic tune.
Then, Figure switches things up with "Cannibal Inferno."
"Cannibal Inferno" adds a different twist to the album, where Figure switches up the BPM in different parts of the song. Some of the drops are filled with fast breakbeats, while other drops have that more slowed down, "whip your hair around" dubstep. I loved the last bit of this song which was smooth but still nasty, while the mixed-in drum sounds added that extra oomph.
Following up "Cannibal Inferno" is "If It Bleeds" with rapper Born l. He has such a smooth flow that is the perfect addition to any track, but especially a heavy Figure track. I felt my entire body vibrate throughout this song; the wobbly kicks and bass made me giddy with happiness. This is one you definitely want to listen to at full volume.
Coming up next is "Lilith's Invocation," my favorite track on XI Monstrum. Though it is the shortest song on the album, it still packs a punch with chilling synths and slow, thick bass. Figure really takes his listeners on a journey through a dark and foggy universe with this one. We are being led through the fires of hell as Lilith whispers haunting things in our ears.
Get ready to feel the wrath of Abaddon with the seventh track on XI Monstrum.
Continuing on in this adventure of an album is "Abaddon's Wrath." Abaddon is said to be an angel of the abyss and a place of destruction, as well as a bottomless pit that's opened up by the dead. This track is full of furious, loud dubstep and deep monster growls saying "I will destroy." Small sections of this track sound very heavy metal-influenced with enraged, low-octave vocals that make for a fantastic pairing.
"Ravenous Flesh" with Contakt takes us onto the next part of our journey. A creepy demon voice enters, and immediately afterward we are hit smack-dab in the face with an unworldly-heavy drop. Listeners will hear an organ playing in parts of this track, echoing and twisting throughout their ears while giving the song that extra haunting energy.
Next up on the album is a track with a drop that could awaken the dead.
The drops in "Dead Shall Rise" brought me back to when I first started going to shows almost a decade ago. It has those sounds you would be whipping your head back and forth to. Midway through the song, he speeds up the BPM and adds a little hardstyle spin to it. However, it quickly drops back into that classic Figure dubstep.
Track number 10 on XI Monstrum is Point.Blank and Figure's collab "The Gates Of Hell." The two smashed this tune, sticking to that classic 2010-2012 Dubstep vibe where I felt like I was listening to music on the UKF YouTube channel. Both of their sound designs blended perfectly together for this track. Another favorite of mine for sure.
This last track is the perfect way to wrap up the eleventh edition of the Monsters series.
The hair on my arms stood up from the moment this track began. It is by far the heaviest track on the album, with Figure and Ryan Browne showing no mercy. But with a track titled "Ancient Evil," I'm not surprised. You will feel like you just got eaten and spat back out when you listen to this. For fans who love that super angry dubstep, this is the tune for you.
Figure has and will always be a staple of the dubstep community. He stays true to his passion and continues to put out epic works of art with these iconic October releases. Halloween this year might not be full of too many tricks, but at least we have 11 new treats.
---
Figure- XI Monstrum – Tracklist:
The Unholy
The Devils Reaper
Welcome To Your Death feat. 2FACED
Cannibal Inferno
If It Bleeds feat. BORN I
Lilith's Invocation
Abaddon's Wrath
Ravenous Flesh feat. Contakt
Dead Shall Rise
The Gates of Hell feat. Point.Blank
Ancient Evil feat. Ryan Browne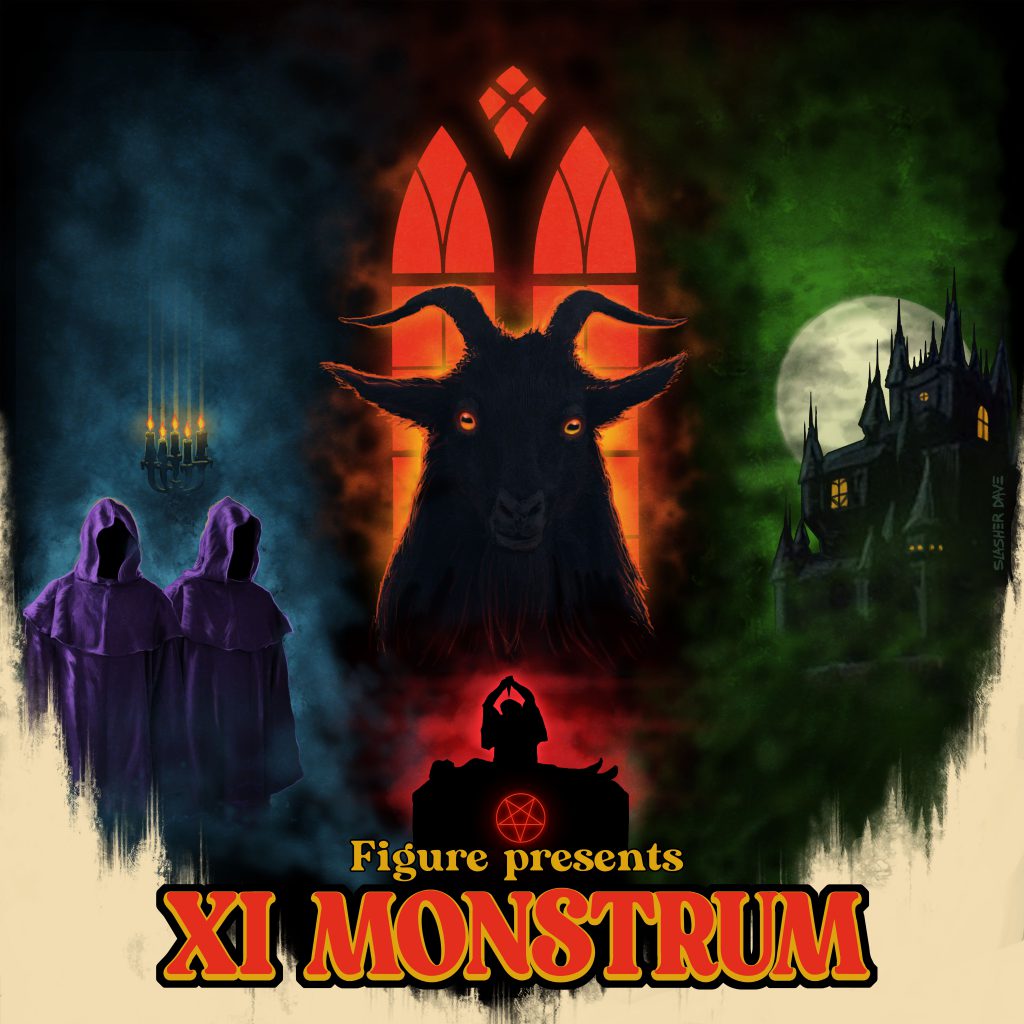 ---
Follow Figure on Social Media:
Website | Facebook | Twitter | Instagram | SoundCloud | YouTube | Twitch | Spotify