No Halloween plans? No problem! Grab a hotel pass for the ReVibe Wellness Retreat, a socially distanced music festival in Myrtle Beach.
---
While festival lovers have been twiddling their thumbs wondering when the festival hiatus will finally come to an end, the ReVibe Wellness Retreat team has been cooking up something special to keep them satiated. The vertical, CDC-compliant music festival will take place in Myrtle Beach, SC over Halloween weekend, October 30-31, and will feature some of your favorite bass-bumping acts from Buku and Truth to Manic Focus and Russ Liquid.
Catch some of the biggest names in bass and funk and immerse yourself in the pure bliss of festival life, all from the safety of your own hotel room balcony. Attendees can choose which stage they would like their balcony to face, with options including the Vibe Stage for funk artists and the Frequency Stage for bass artists. Attendees also have the option to reserve a vibe booth at the opposite stage to experience a little bit of everything while getting a top-of-the-line – and socially distanced – view of the wonkiness and funkiness.
Music sets aren't the only thing festival-goers will get to experience – the ReVibe Wellness Retreat will also feature meditation sessions, yoga workshops, and various other wellness activities for attendees to indulge in some mindfulness and regroup after dancing and grooving all night. Other various amenities include food and beverage service, access to Ubers after check-out, and contactless purchasing of artist merchandise. Wellness and wubs – it really doesn't get better than this.
ReVibe has gone above and beyond to ensure that festival-goers will have the safest experience possible given the current conditions. Guests will have contactless check-in and check-out of their hotel, their own personal hotel rooms to watch all the action from, and will be required to wear masks at all times when outside their rooms. And, of course, security and medical personnel will be available to further ensure the safety and health of guests. More details can be found in their guide.
Get down, get spooky, and most importantly be safe this Halloween – ReVibe Wellness Retreat is truly an experience you're not gonna want to miss. Hotel rooms for both the Vibe and Frequency stages are still available, so make sure to grab them via their website!
---
ReVibe Wellness Retreat 2020 Lineup: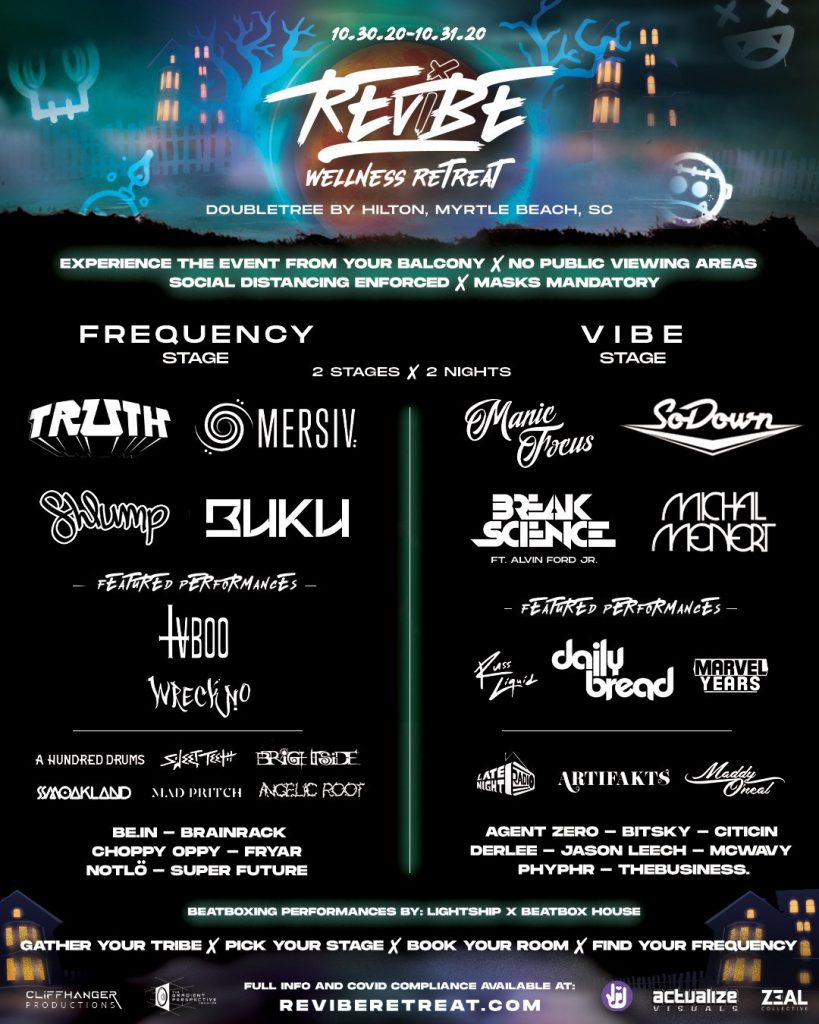 ---
ReVibe Wellness Retreat 2020 – Lineup By Artist:
Frequency Stage
A Hundred Drums
Angelic Root
Be.in
Brainrack
Brightside
Buku
Choppy Oppy
Fryar
Mad Pritch
Mersiv
Notlö
Shlump
Smoakland
Super Future
Sweet Teeth
Truth
TVBOO
Wreckno
Vibe Stage
Agent Zero
Artifakts
Bitsky
Break Science (ft. Alvin Ford Jr.)
Citicin
Daily Bread
Derlee
Jason Leech
Late Night Radio
Maddy O'Neal
Manic Focus
Marvel Years
McWavy
Michal Menert
Phyphr
Russ Liquid
SoDown
TheBusiness.
---
Connect with ReVibe Wellness Retreat on Social Media: